Send Us Your News
To submit a class note, email us or submit mail to UVA Lawyer, University of Virginia School of Law, 580 Massie Road, Charlottesville, VA 22903. Please send your submissions no later than Aug. 1 for inclusion in the next issue.
1991
Klamath County (Oregon) Circuit Court Judge Dan Bunch was promoted to brigadier general in the Air National Guard in February. Bunch served in both the U.S. Navy and Air Force before joining the Judge Advocate General program in 2000, becoming a senior member of the JAG Air National Guard Council, and most recently assistant to the Air Force deputy judge advocate general, advising at the Pentagon on matters involving the Air National Guard. He was appointed to the bench in 2009, and later elected to a six-year term. In a recent article about his promotion, Bunch said those in his position learn that excellence in civilian life often helps improve performance in their military service, and vice versa.
Richmond Commonwealth's Attorney Michael N. Herring has been awarded the 2016 Harry L. Carrico Professionalism Award by the Virginia State Bar for his contribution to the improvement of the criminal justice system in the commonwealth. He received the award, presented by the VBA's criminal law section, at the annual criminal law seminar in Williamsburg in February. 
Jane Paulson was elected the Oregon chapter president of the American Board of Trial Advocates for 2015-17, and is the first woman to serve in that position. She received the 2015 Oregon Women Lawyers Justice Betty Roberts Award for her contributions in promoting women in the legal profession and the community.
Paulson is a partner with Paulson Coletti in Portland, where she focuses her practice on medical malpractice and personal injury law. 
1991
James D. Meade has joined DLA Piper's private equity practice as partner in New York City, where he will focus his corporate practice on private equity transactions. He was previously with Proskauer Rose.
Paul Quinn joined Akerman as partner in the national corporate practice group and will practice in Chicago and Fort Lauderdale, Fla. Quinn represents private equity funds and their portfolio companies in leveraged acquisitions and dispositions. Quinn and his wife, Andre'a, welcomed their first child, Jaclyn, into the world in August.
Rodney A. Satterwhite was listed among Virginia Business magazine's legal elite for 2015 in labor/employment law. He is a partner with McGuireWoods in Richmond. 
Jeff Stredler is senior associate general counsel with Anthem in Virginia Beach, Va., where he manages much of the company's government business litigation. He was named to Virginia Business magazine's legal elite for 2015 in the corp­rate counsel field.
Taras "Terry" Szmagala Jr. was appointed senior vice president of public and community affairs with Eaton Corp., a power management company in Cleveland. He will be responsible for representing Eaton with governments at the international, national and local level, as well as overseeing the company's community involvement and corporate contributions programs. Szmagala joined Eaton in 2007 and most recently served as senior vice president, deputy general counsel.
P. David Tarter was re-elected mayor of the city of Falls Church, Va. He began his new term in January.
Christopher Wilkinson joined Orrick, Herrington & Sutcliffe as partner in the employment law group in Washington, D.C. He was previ­ously associate solici­tor for civil rights and labor management at the U.S. Department of Labor.  
1992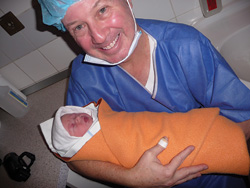 George Collins and his wife, Marketa, were thrilled with the birth of their second child and daughter, Stella Frances, on Dec. 1. The family resides in Prague.
Bert Goolsby LL.M. published a new novel, "Purple Yarn," that describes a series of murders in the late 1880s that strain the friendship between Tyler Spurlock, a frontier lawyer, and Loice Eubanks, a county sheriff, as they attempt to bring the killer to justice.

Elizabeth Mcconahy Jenkins was elected as a director of Middleton Reutlinger in Louisville, Ky. She is a member of the litigation practice group, where she focuses her practice on family law, including divorce issues, custody, child support, mediation, and wills and other estate matters. 

Katharine ("Karee") Smith Santos gave up the practice of law to stay home and raise her six children. Now that her youngest has entered kindergarten, she and her husband, Dr. Manuel P. Santos, have co-authored a marriage advice book, "The Four Keys to Everlasting Love."
1993
Kelly T. Currie returned to Crowell & Moring in New York City as partner and member of the white-collar and regulatory enforcement group and the litigation and trial department. He was a partner with the firm from 2010-14 and rejoined after serving as acting U.S. attorney and chief assistant U.S. attorney for the Eastern District of New York.
C. Dean Furman was elected vice president of the Louisville Bar Association, a voluntary 3,000 member organization. He also began a two-year term on the board for Louisville Literary Arts, a nonprofit dedicated to enriching the city's literary arts. Furman is a founding partner with Furman & Nilsen.
Lisa Reisman was selected as a runner-up in the 2016 Santa Fe Writers Project for her submission, "5 Months 10 Years 2 Hours," which was published by Outpost 19 last year. Her book is an unflinching account of her grim diagnosis and recovery from a malignant brain tumor.
1994
Zebulon D. Anderson is listed in North Carolina Super Lawyers 2016 and Best Lawyers 2016 in labor and employment litigation. He is a partner with Smith Anderson in Raleigh, where his practice focuses on representing private and public employees in all aspects of employment-related litigation.
Helgi Walker was featured with her colleagues at Gibson, Dunn & Crutcher on the cover of the December issue of American Lawyer for their win as litigation department of the year for 2015. R. Hewitt Pate '87, general counsel of Chevron, which hired Gibson Dunn when claims of pollution in Ecuador were made against the company, was quoted in the article.
1995
Steven E. Blumenthal has been elected partner with Waller Lansden Dortch & Davis in Nashville, Tenn. He concentrates his practice on information technology and works extensively with information technology vendors and their customers. 
Louisiana Supreme Court Associate Justice Jeannette Theriot Knoll LL.M. will retire from the bench at the end of this year. Before ascending to the state's highest court in 1997, Knoll was a prosecutor in Avoyelles Parish and a judge on the state's Third Circuit Court of Appeals. She is one of the first women to serve on the Louisiana State Supreme Court.
Rhonda E. Quagliana has been appointed to serve as a substitute judge in the general district and juvenile and domestic relations courts of the 16th Judicial District of Virginia. She is a partner with St. John, Bowling, Lawrence & Quagliana in Charlottesville.
Peter Vincent '95 has spent his entire career, both inside and outside of the U.S. government, working on the thorniest national and international security issues. But his recent discussion on "60 Minutes" of the capture of El Chapo Guzman, the infamous Mexican drug kingpin, brought some attention that even Vincent, a former high-profile public servant, didn't anticipate. (See the full story.)
1996
Jamie Baskerville Martin joined Williams Mullen in Richmond, Va., as partner in the health care section. She represents hospitals, physician groups and other health care entities in mergers, joint ventures and other relationships. Martin was named as Best Lawyers' health care law lawyer of the year in Richmond in 2014 and 2016.
Candace Blydenburgh was listed among Virginia Business magazine's legal elite for 2015 in environmental law. She is a partner in the toxic tort and environmental litigation department with McGuireWoods in Richmond. 
Rebecca Edwards LL.M. was appointed to the High Court of New Zealand in August 2015. She is based in Auckland.
John A. Horn has been named U.S. attorney for the Northern District of Georgia. Horn served as acting and interim U.S. attorney starting in January 2015. A career prosecutor, Horn has been with the U.S. Attorney's Office in Atlanta since 2002, first as chief of the appellate division and deputy chief of the narcotics/Organized Crime Drug Enforcement Task Forces section, and then as first assistant U.S. attorney.
1997

Jennifer Morgan Delmonico was elected to the board of directors of the Connecticut Business and Industry Association for a four-year term. She is the managing partner of Murtha Cullina in New Haven, Conn., where she primarily represents clients in the manufacturing, technology and health care industries. Delmonico is vice chair of the Greater New Haven Chamber of Commerce and serves on the executive committee of the federal practice section of the Connecticut Bar Association and as a James W. Cooper fellow of the Connecticut Bar Foundation.
Jeffrey B. Hubbard is a partner at Putney & Hubbard in Bedford, Va. He and his wife, Laura, have two children, Sarah and Josh. The Hubbards own and run Elysian Ridge Farms & Apiary from their mountaintop farm in Goode, where they raise registered Berkshire hogs and sell local honey and eggs.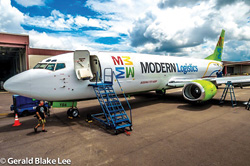 Gerald Blake Lee, a former New York City police detective, is a founder of Brazil's third-largest airline, Azul Linhas Aéreas Brasileiras. His most recent venture, Modern Logistics, an air freight company that aims to cut transport time between manufactur­ing centers and transport hubs, was featured by Bloomberg in October.
Transportation logistics are challenging in Brazil, where there are few rail options and most goods travel by truck on rough roads. Lee's carrier will cut transportation time for some products from 10 days to a few hours. DXA Investments, a private equity fund in Rio de Janeiro, and John Owen, co-founder of JetBlue, are major investors in Modern Logistics, which plans to begin flights this year. 
Riché T. Mcknight is a senior vice president and global head of litigation at William Morris Endeavor IMG, a preeminent sports and entertainment agency headquartered in New York City. His role as litigator includes oversight or direct involvement in WME's literary, music, motion picture, sports and television-related businesses. 

Shalu Rastogi joined Blank Rome as an associate in the finance, restructuring and bankruptcy group in New York City and concentrates her practice in commercial lending and assetbased and acquisition finance. She joined Blank Rome through an OnRamp fellowship, a re-entry program that matches experienced women returning to the workforce.

Andrew R. Stewart joined Vinson & Elkins as counsel in Washington, D.C., where he focuses his practice on environmental and natural resources law. He was previously with the Environmental Protection Agency, where he held several positions since 2003. Most recently he was acting division director of EPA's Office of Civil Enforcement, where he managed complex enforcement actions and litigation affecting a range of industries, including energy, chemical manufacturing, agri­business, mining and telecommunications.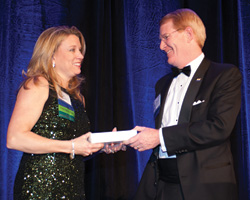 At the Virginia Bar Association's annual meeting in January, Lori D. Thompson received the 2015 Roger D. Groot Pro Bono Publico Award for outstanding pro bono work and community service. Thompson has contributed nearly 3,000 volunteer hours, established a pro bono committee while president of the Roanoke Bar Association, and served as LeClairRyan's firmwide pro bono coordinator. She recently represented a veteran whose home was foreclosed on while he was on active duty in Afghanistan, successfully obtaining a decision in his favor that will help many other military personnel in similar situations.
Thompson is a shareholder and office leader with LeClairRyan in Roanoke, where she focuses her practice on business litigation and bankruptcy. She was named Roanoke Best Lawyers' lawyer of the year for bankruptcy litigation in 2015.
1998
Matthew Bassiur is vice president, head of global intellectual property enforcement with Alibaba Group Holding Limited in Hangzhou, China. He leads a team that works with international brands and retail partners, industry associations, government regulators, law enforcement and other organizations to advance the company's anti-counter­feiting and IP rights protection efforts. Bassiur was previously vice president and deputy chief security officer with Pfizer.
Corey Jennings has been selected by the U.S. Securities and Exchange Commission, where he is special counsel in its Office of International Corporate Finance, to serve in the 2016 Excellence in Government Fellows Program. The EIG Fellows program offers participants the opportunity to work with other leaders from across the federal government, as well as with nonprofits and with the private sector. Jennings will remain in his full-time job during the 10-month program. Jennings has been with the SEC for 16 years. Since 2009 he has specialized in filings and issues related to China, the Cayman Islands, the British Virgin Islands and Japan. 
1999

Joseph S. Brown received the 2016 National Federation for Just Communities Community Leader Award and was elected to a three-year term on the board of the Summit Foundation, a non­profit that provides support services to individuals with developmental, social and behavioral challenges. He is the diversity partner and practice leader in employment litigation with Hodgson Russ in Buffalo, N.Y. 
Michael L. Hadley was appointed to the management committee of Davis & Harman in Washington, D.C. He is a partner in the employee benefits group, with a practice concentrating on benefits legislation and policy and ERISA issues for financial institutions.
Lt. Col. Eric P. Merriam left active duty in the U.S. Air Force to accept an associate professorship at the University of Central Florida in Orlando, where he teaches in the legal studies and political science departments. He remains a judge advocate in the Air Force Reserve.
Matthew S. Petersen was elected chairman of the Federal Election Commission in December. He was nominated to the FEC by President George W. Bush and has served on the FEC since 2008. Petersen was first elected FEC chair in 2010.
Michael C. Rakower was recognized by Super Lawyers as a top 100 lawyer in the New York Metropolitan Area for 2015, and his firm was again recognized by Super Lawyers as having a premier commercial litigation practice in the region. Michael writes, "In November I traveled to China on business and had the pleasure of meeting Jiayun Huang LL.M. '11 of Shimin Law while in Shanghai. My wife and now business partner, Sali Rakower, recently joined the firm, which has been renamed Rakower  Law PLLC. UVA admitted two of our paralegals, making us a 'feeder firm' for UVA. Rakower Law now boasts language capabilities in Mandarin Chinese, Korean, French and Arabic, and we are a few steps closer to building a New York–based law firm with a global presence."