1970s Class Notes

1970
Kenneth M. Greene has been ranked number one in banking and finance in North Carolina by Chambers USA. A shareholder and director with Carruthers & Roth in Greensboro, N.C., Green received recognition earlier in the year from Super Lawyers and Business North Carolina, being listed in their "Legal Elite."
In August, Elaine R. Jones, former president and director-counsel of the NAACP Legal Defense and Educational Fund, spoke in Richmond at a memorial service for civil rights attorney Oliver Hill. Hill played an important role in the U.S. Supreme Court's decision in Brown v. Board of Education in 1954 and fought tirelessly to desegregate schools.
Sam Manly has recently been appointed to the Supreme Court of Kentucky's Criminal Rules Committee, which reviews and recommends changes in the rules to the court. Manly is past president and a member of the board of directors of the Kentucky Association of Criminal Defense Lawyers. He was a member of the Kentucky Criminal Justice Council from 2002 to 2006, where he helped prepare a comprehensive revision of the Kentucky penal code. He lives in Louisville, where his practice includes defending citizens accused of criminal offenses at trial, on appeal, and in post-conviction relief matters in Kentucky and throughout the United States. His civil practice includes constitutional law and litigation; commercial, business, and antitrust litigation; intentional tort litigation; and estate, probate, and trust matters.
Neil G. McBride was appointed to the American Bar Association's Standing Committee on Legal Aid and Indigent Defendants. McBride lives in Oak Ridge, Tenn., and currently serves as general counsel to the Legal Aid Society of Middle Tennessee and the Cumberlands, a non-profit, 30-attorney firm that gives free legal aid to low-income people in 48 counties of middle and east Tennessee.
Bridgewater College President Phillip Stone was appointed to the Virginia Bar Association's Commission on Professionalism. Stone, along with 27 other lawyers and judges forming the commission, will develop principles of professionalism that, if approved by the Virginia Supreme Court, will serve as a teaching tool for law students, a guide for practicing attorneys, and a public statement on the importance of legal integrity.
1971
After 25 years serving as a magistrate, county judge, and now district judge in Colorado Springs, Colo., Rebecca Snyder Bromley is retiring and taking senior judge status—working 60 days per year. Bromley writes that she looks forward to having more time for other activities.
Ronald D. Castille is serving on the Pennsylvania State Supreme Court and will become chief justice in 2008 when the current chief justice steps down. Castille is a former Philadelphia district attorney and was recently featured in the Philadelphia Inquirer.
Thomas A. "Tad" Decker was named president and CEO of the newly restructured Cozen O'Connor in Philadelphia. Decker's appointment marks the first time that the role of CEO has been held by someone other than firm founders. Decker concentrates his practice in general corporate law with an emphasis on mergers and acquisitions, corporate governance, and alternative dispute resolution.
William C. Lemmer was recently elected senior vice-president of Cameron International Corporation, where he has been vice-president, general counsel, and secretary since 1999. Cameron, an oil and gas equipment and services company, is based in Houston.

1972
George W. House was recognized as one of North Carolina's Top 100 Super Lawyers in environmental law in North Carolina Super Lawyers. House practices with Brooks, Pierce, McLendon, Humphrey & Leonard in Greensboro, N.C.
Judge Samuel Johnston has announced that he will retire in June 2008 from the Campbell County Circuit Court in Lynchburg, Va. He served for three decades in a job he describes as a combination of preacher, lawyer, counselor, therapist, and accountant. Johnston estimates he has presided over more than 40,000 cases, divorced 8,000 couples, and conducted about 500 marriages. He is stepping down from the bench a few years earlier than he might have wanted to because he has Parkinson's disease.
J. Michel Marcoux and his wife, Mary, celebrated the marriage of their daughter, Fontaine Henriette, to Samuel Drayton Haskell in Washington, D.C., in 2006. (The couple lives in Birmingham, which is Mary's home.) Earlier in 2006, their son, Valmore Michel Magloire, married Steele Stagmaier Thomas in Atlanta. (They also live in Birmingham and commute to Tuscaloosa for law school and graduate study in history).
M. Elizabeth Medaglia has joined the Office of Administration of the Executive Office of the President as general counsel. Medaglia assumed her new position in the Bush administration after nearly 25 years with the Jackson & Campbell firm in Washington, D.C.

Michael D. Mopsick has been named a 2007 Florida Super Lawyer by Law & Politics. Mopsick is the managing partner of Buckingham, Doolittle & Burroughs' Boca Raton office. He is also a shareholder and member of the litigation, real estate and construction, and trusts and estates practice groups. He serves on the firm's board of managers as vice-president. Mopsick represents clients in trust and probate litigation and in commercial litigation in state and federal courts.
An August 13 article in Legal Times,"McKee Nelson: The Richest Guys inTown," spotlights the dramatic growth of the Washington, D.C.-based firm,where William Nelson is founding and managing partner.
Jim Tanous joined Erie Insurance Group in Erie, Pa., as executive vice-president, secretary, and general counsel in April.
1973


Kenneth E. Ahl has joined Pelino & Lentz as a partner in the firm's business and tax and estates practice areas in Philadelphia.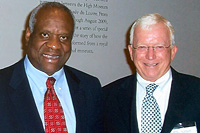 Jack T. Camp, chief judge for the U.S. District Court's Northern District of Georgia, was a host for part of the 11th Circuit Judicial Conference for circuit lawyers from Alabama, Florida, and Georgia this spring. In attendance was Supreme Court Associate Justice Clarence Thomas. Camp was appointed to the federal bench from private practice in 1988 by President Ronald Reagan.
Marschall Smith is now senior vice-president of legal affairs and general counsel at 3M Co. Prior to joining 3M, Smith was with Brunswick, a manufacturer of boats and bowling balls.
1974
Whittington W. Clement, a partner at Hunton & Williams in Richmond and former Virginia Secretary of Transportation, was elected chair of the State Council of Higher Education for Virginia, the coordinating board for the Commonwealth's system of higher education.
Tim Davis was named a 2007 Super Lawyer in Northern California, a distinction given to the top five percent of Northern California lawyers as voted by their peers.
Richard "Rick" Gary was honored by the Rudlin Torah Academy, Richmond Hebrew Day School, at its annual Chesed Awards dinner. The award for chesed, which literally means kindness in Hebrew, was given to Gary based on his volunteer work and his leadership role in the Jewish and greater Richmond community. Gary is a partner at the Richmond office of Hunton & Williams.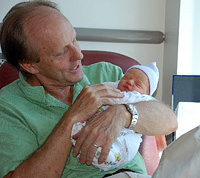 Ray Hornblower and his wife, Cynthia, welcomed Natalie Morgan (7 lbs. 2 oz., 20"), born June 21. The Hornblowers live in New York City.
James C. Sargent, Jr., is chairman of the litigation department, appellate law, with Lamb McErlane in West Chester, Pa. He was named a Pennsylvania Super Lawyer for 2007 by Law and Politics magazine.

1975
Thomas E. Cabaniss was named managing partner of McGuireWoods' Richmond office. Cabaniss had been in the Charlotte office since 1998. He focuses his practice in real estate and commercial lending, banking, and creditors' rights.
Steve Kruft joined Credit Suisse in New York as a director in the legal and compliance department, responsible for fixed income derivatives. Kruft was previously with Swiss Re Financial Services.
In October, Nicholas A. Lotito taught a class in U.S. criminal law at Vladivostok State University of Economics and Service in Russia through the Center for International Legal Studies.

Don C. Martin, in the Phoenix office of Quarles & Brady, was named one of the top five percent of attorneys in Arizona and New Mexico in business litigation in the June 2007 issue of Southwest Super Lawyers.
James Allen Newell retired after 19 years as managing attorney at Freddie Mac in McLean, Va. He was previously counsel to a commercial real estate developer, a private practitioner in Charlottesville, and a U.S. soldier. In 1996, he became chair of the ABA Business Law Section Ad Hoc Committee on Uniform State Laws and Electronic Contracting, which made recommendations to the National Conference of Commissioners on Uniform State Laws regarding electronic contracts. These recommendations resulted in the Uniform Electronic Transactions Act. Newell promoted the federal Electronic Signatures in Global and National Commerce Act and oversaw Freddie Mac's Preliminary Specifications for Electronic Loan Documentation and eMortgage Handbook. He also co-authored two law review articles, "Electronic Commerce and Negotiable Instruments," 31 Idaho L. Rev. 819 (1995), and "Coming To A Screen Near You—eMortgages—Starring Good Laws and Prudent Standards—Rated XML," 62 Bus. Law. 295 (2006). This spring, to honor Newell's friendship, judgment, wit, humor, and musical talent, his Freddie Mac colleagues created a scholarship at the Law School for incoming law students who demonstrate financial need.
Terry Sullivan was named to the 2007 list of "Best Lawyers in America" for personal injury litigation by Best Lawyers. Sullivan credits his legal success to "personal hero" Dean Al Turnbull '62, who played a major role in Sullivan's acceptance to the Law School.
1976
Peter E. Broadbent, Jr., has been recognized as a Super Lawyer by Virginia 2007 Super Lawyers in Richmond magazine. Broadbent is a partner at Christian Broadbent in Richmond, where his areas of practice are general business law, communications law (particularly cable television law), and intellectual property (trademark, copyright, licensing, and Internet law).

William P.H. Cary was recognized as one of North Carolina's Super Lawyers in North Carolina Super Lawyers. Cary practices employment and labor law with Brooks, Pierce, McLendon, Humphrey & Leonard in Greensboro, N.C.
Daniel J. Hoffheimer authored "The Essential Attributes of Professionalism," which was published in the Journal of Practical Estate Planning in January 2007. Hoffheimer is a partner at Taft Stettinius & Hollister in Cincinnati.
Edward J. Levin was named the 2006–07 Distinguished Maryland Real Property Practitioner by the Section of Real Property, Planning and Zoning of the Maryland State Bar Association. Levin practices in the Baltimore office of DLA Piper, where he has been for the past 30 years. He and his wife, Cheri '76, have two sons. Paul is in his second year at the Law School, and Benjamin is a senior at the Park School in Baltimore County.
Stephen C. Neff '76, LL.M. '77, S.J.D. '88, is a reader in public international law at the University of Edinburgh School of Law. He has lived in Scotland since 1983. This year, his most recent book, War and the Law of Nations: A General History (see In Print section), was awarded honorable mention by the American Society of International Law for its contribution to creative scholarship.
In August, Vance E. Salter was appointed as appellate judge at the Third District Court of Appeal of Florida in Miami. This is an intermediate court of appeal for all trial courts—criminal, civil, family, and probate—in Monroe (the Florida Keys) and Miami-Dade Counties. He will leave his position as a litigation partner with the Miami office of Hunton & Williams.

Don Shuller was named to the 2008 Best Lawyers in America list. He is in the Cincinnati office of Vorys, Sater, Seymour and Pease, and practices in the area of real estate law.

1977
J. Herbie DiFonzo recently co-authored two articles with his wife, Ruth Stern: "Devil in a White Coat: The Temptation of Forensic Evidence in the Age of CSI" and "Addicted to Fault: Why Divorce Reform Has Lagged in New York."
Stephen W. Earp was named to Business North Carolina's 2007 Legal Elite listing as one of the top lawyers in the environmental field. Earp is currently a managing partner at Smith Moore in Greensboro, N.C. Named one of the 2007 Best Lawyers in America, Jim Flegle was also elected treasurer and national representative of the Dallas chapter of the American Board of Trial Advocates.
Ann Gordon writes that her husband of 21 years died on December 31, 2006, after a lengthy and heroic battle with hepatitis C, a liver transplant, and end-stage liver disease. He worked until a week before he entered the hospital.
Gordon has been a foreign service officer in the U.S. Department of State since 1985. After serving overseas in a variety of positions, she returned to Washington in 2001 to become consular officer in the visa office, rendering security advisory opinions. She became an international relations officer in the State Department's Bureau of Oceans, Environment, and Science in 2004. She works on arctic issues, with special emphasis on polar bears. Gordon has traveled to Siberia four times and to Tromsø, Norway, for her work. In summer 2008 she'll decide whether to retire or go overseas one last time.
Gordon tutors three children, volunteers with the Chesapeake Bay Foundation, reads with a book group, takes ice-skating lessons and a yoga class, swims, and gardens. She also spends as much time as she can with her brother, who lives in Chevy Chase, Md., and her 17year-old nephew and 13-year-old niece.
Peter Hursh is in his third year as managing director of ECG Advisors, a Los Angeles-based consulting firm that advises boards of directors, their compensation committees, and significant shareholders on executive compensation, directors' pay, governance practices for compensation committees, and expert witness testimony. He has clients throughout the U.S. and has taught a class on executive compensation at the Law School.
Gloria Cordes Larson was named the seventh president of Bentley College in May. Larson, who was chosen as the most powerful woman in Boston by Boston Magazine (2003), says she is "over the moon" as she assumes her new position. Larson served as secretary of economic affairs and later of consumer affairs and business regulation under Massachusetts Governor William Weld. Before that, she was deputy director of consumer protection for the Federal Trade Commission under President George H.W. Bush.
Poe Leggette was named a 2007 Super Lawyer for Washington, D.C., by Law & Politics magazine. The ranking is based on an independent survey of more than 35,000 lawyers in the nation's capital. Leggette is a partner at Fulbright & Jaworski, where he co-chairs the firm's energy practice group.

John F. "Jack" Meck was named one of Pittsburgh's top 50 attorneys by Pennsylvania Super Lawyers 2007. He's been named one of the Top 50 Super Lawyers in Pittsburgh and a Pennsylvania Super Lawyer since 2004. He's in the estates and trusts group at Eckert Seamans, working in probate, beneficiary representation, and trust and tax litigation, as well as trust and estate planning and administration. Meck is a member of the fiduciary litigation committee, a fellow of the American College of Trust and Estate Counsel since 1991, a member of the Pennsylvania Joint State Government Commission's Advisory Committee on Decedents' Estates Laws, and past chairman of the Probate and Trust Section of the Allegheny County Bar Association. Meck lives in Fox Chapel, Pa.
Currently working as counselor on international law in the Office of the Legal Adviser, U.S. Department of State, Paul Stephan looks forward to returning to the classroom in Charlottesville in January.
1978


Kim H. Bullerdick recently joined Ballard Spahr Andrews & Ingersoll in Phoenix, where his focus will be mergers and acquisitions, transactional finance, securities, and environmental practice. He was previously senior vice-president of Giant Industries, Inc.
Mark Duvall is managing counsel at the Dow Chemical Company's legal department, doing environmental, health, and safety regulatory work. Duvall has recently been writing and speaking on the regulation of nanotechnology.
Laura G. Kuykendall has been named a 2007 Super Lawyer in Ohio by Ohio Super Lawyers. Kuykendall is a litigation partner at Vorys, Sater, Seymour and Pease in Columbus, Ohio.
Hal Litchford, a founding shareholder in Litchford & Christopher in Orlando, has been named a Florida Super Lawyer for the second year in a row. Litchford practices mainly in litigation, trial, and appellate law.
Blake D. Morant was named dean of the Wake Forest University School of Law. Following his military service, Morant spent seven years practicing law in Washington, D.C., first in private practice and then with the Washington Metropolitan Area Transit Authority. His academic career began in 1988 and has included positions with American University's Washington College of Law, the University of Toledo College of Law, the University of Michigan Law School, the University of Alabama School of Law, and, most recently, Washington & Lee University School of Law. Morant also has been a visiting fellow of University College, Oxford.

In June, Geoffrey S. Yarema was appointed to the National Surface Transportation Infrastructure Financing Commission. Along with other industry experts, Yarema will serve on the new federal advisory committee Congress created as part of the Safe, Accountable, Flexible, Efficient Transportation Equity Act. Yarema is a partner with Nossaman Guthner Knox & Elliott in Los Angeles and chair of its infrastructure practice group, which advises governors, legislators, state transportation commissions, municipal planning organizations, and regional transportation agencies on permitting, contracting, procuring, and financing infrastructure projects across the country.
1979
H. Aubrey Ford of the Richmond, Va., firm of Cantor Arkema, was inducted as a fellow of the American College of Trial Lawyers. Fellowship in the college, founded in 1950, is extended by invitation only, and only after careful investigation, to those experienced trial lawyers who have mastered the art of advocacy and whose professional careers have been marked by the highest standards of ethical conduct, professionalism, civility, and collegiality. Membership in the college cannot exceed one percent of the total lawyer population of any state or Canadian province.
Hugh Hill is an assistant professor of emergency medicine at Johns Hopkins University and is chair of the advisory board for the effort in Montgomery County, Md., to provide health care for the uninsured.
Michael Kuhn was appointed to a three-year membership on the State Bar of Texas Standing Committee on Professionalism. The committee recommends ways to improve professionalism, with particular attention to the professional development of new lawyers. Kuhn is a partner with Jackson Walker in Houston. His work encompasses purchases, sales, leases and financing involving office buildings, shopping centers, commercial and residential condominiums, and mixed-use projects.
Shortly after 9/11, Matt O'Connell was assigned to restructure a satellite company called Orbimage in Dulles, Va. "We completed the restructuring and have built the company, renamed GeoEye, into the world's biggest commercial operator of imagery satellites." In the fall of 2006, GeoEye became the first commercial remote sensing corporation to be traded on NASDAQ.
Karen H. Rothenberg, dean of the University of Maryland School of Law, has been inducted into the Maryland Women's Hall of Fame. Rothenberg is the first woman to head the School of Law and founded the Law & Health Care Program. She is also credited with overseeing the school's ascension into the first tier of law schools, the opening of a state-of-the-art academic facility, and strengthening the school's leadership in health care, the environment, and clinical education.
John Ruff 's daughter, Anne Kathryn, is a first-year at Virginia this fall.

Randall A. Underwood was recognized as one of North Carolina's Super Lawyers in North Carolina Super Lawyers. Underwood practices banking law with Brooks, Pierce, McLendon, Humphrey & Leonard in Greensboro, N.C.