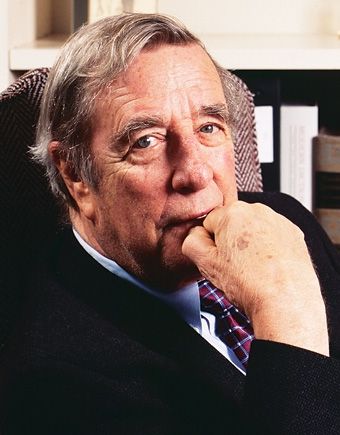 61. E. Barrett Prettyman Jr. '53
Abscam, Bay of Pigs and Brown
E. Barrett Prettyman Jr. '53 served as special counsel to the U.S. House Ethics committee in the wake of Abscam, the FBI sting operation of the 1970s and early '80s that exposed cor­rupt politicians through a fake company, Abdul Enterprises. It was the first time in history that government officials were secretly recorded taking bribes. The investigation led to seven members of Congress being convicted of bribery and con­spiracy, and was the basis for the movie "American Hustle."
Previously in his career, as special counsel to the Attorney General Robert F. Kennedy '51, Prettyman traveled to Cuba following the failed Bay of Pigs invasion by the U.S. military. Prettyman met with President Fidel Castro and helped negoti­ate the release of more than 1,000 prisoners.
From 1953 to 1955, he worked for Justices Robert H. Jackson, Felix Frankfurter and John Marshall Harlan II. Almost immediately after starting work at the court, Prettyman was thrust into the center of the momentous Brown v. Board of Education hearings. He advised Jackson during deliberations over Chief Justice Earl Warren's draft opinion in what would become the Brown decision.
Prettyman was also the first president of the District of Columbia bar.
62. Edward M. 'Ted' Kennedy '59
Lion of the Senate
Edward M. Kennedy '59 wrote more than 300 bills that were enacted during his almost 47 years in the U.S. Senate. Laws supporting health care and civil rights were among his accomplishments, includ­ing the Americans with Disabilities Act of 1990, prohibiting discrimination based on disability, and the Civil Rights Act of 1991, which expanded the rights of employees to sue their employers for discrimination. His efforts also resulted in the largest federally funded program to help poor and underinsured people living with HIV/AIDS, and the ability for employees to extend their health insurance coverage after employment under the COBRA law.
63. George Beall '63
Prosecuting the Vice President
As U.S. attorney for Maryland, George Beall '63 prosecuted Vice President Spiro Agnew. An investigation revealed that Agnew had been receiving kickbacks in exchange for arranging government contracts, both as a state official and in the White House. The scrutiny resulted in Agnew's resignation in 1973.
64. Robin Carnahan '86
Walking Back Wachovia
While serving as Missouri's secretary of state, Robin Carnahan '86 led a negotiated settlement with Wachovia in 2008 to pay back $8.5 billion to U.S. investors and $50 million in fines surrounding a financial product that could not be used as advertised. Wachovia's "auction-rate securities" were being marketed as usable, like cash, for needs such as college tuition or medical bills. But when the economy turned sour, Wachovia couldn't deliver on its promise.
65. Glynn D. Key '89
Everglades Restoration
From 1993-96, Glynn D. Key '89 served at the Department of the Interior as counselor to Secretary Bruce Babbitt. She was the lead negotiator of the $700 million Everglades restoration settlement, which was brokered among numerous groups — environmen­talists, farmers, local American Indian tribes and government entities. Before her untimely death at age 50, Key worked as general counsel for General Electric and served on UVA's board of visitors. A Double 'Hoo and Jefferson Scholar who earned her undergraduate degree in 1986, she was the first African-American woman to chair the University's Honor Committee.