1990s Class Notes
1990
Carolyn and James Barker welcomed their sixth child, Meredith Stewart, in April. She joins sisters, Vivian (11), Eliza (9), Bridget (5), and brothers, James (7) and Sam (4). James practices law at Latham & Watkins in Washington, D.C.
Robert Cary has been named among National Law Journal's 2011 Most Influential Lawyers, one of only six listed in the area of white-collar criminal defense. He has defended clients against a wide range of alleged violations of criminal law. He represented the late U.S. Senator Ted Stevens, who was exonerated when it was discovered that the prosecution had hidden evidence from the defense that contradicted the prosecution's principal theory. American Lawyer noted that work on the case was laudable, "resulting in a heightened scrutiny of prosecutors that will affect the Justice Department for years to come." Cary is a partner with Williams & Connolly in Washington, D.C.
Bryant "Trey" Robinson has been appointed to the board of directors for the Jack and Jill of America Foundation, an international organization that supports educational opportunity and civic responsibility for African-American youth, and the Alpha Foundation of Howard County, Md., which focuses on quality education for local African-American youth through intervention and encouragement of leadership. Both organizations are nonprofits. Robinson is a partner with Duane Morris in Washington, D.C., where he focuses on corporate law. He has served as general counsel for companies and nonprofit organizations.
D'Wana Terry is special counsel to the bureau chief of the Federal Communications Commission's consumer and governmental affairs bureau in Washington, D.C. She advises in the creation of regulatory policy from the perspective of the FCC on issues ranging from cyber security to green initiatives, drawing on more than 16 years of experience with the FCC, including 13 with the wireless telecommunications bureau and almost four with the consumer and governmental affairs bureau.
Felicia A. Washington received the 2011 North Carolina Bar Association Citizen Lawyer Award and was honored at the NCBA annual meeting in June. Washington has provided volunteer leadership and community service to a wide range of organizations, including the Urban League, Johnston YMCA, the Thurgood Marshall Fund Dinner Committee, the North Carolina Medical Board, and the Levine Museum of the New South. She served on the mayor's international cabinet, which supports the local international community, and as an NCBA delegate to the ABA's House of Delegates. She currently serves on the Mecklenburg County Bar's special committee on diversity.
Washington is a partner with K&L Gates in Charlotte, where she focuses her practice on labor and employment law.
Sharon (Aizer) Westergreen moved to northwest Washington State in August 2009 and began serving as a deputy public defender there. Less than a year later, she writes that she "met and fell for a local lad." Sharon and Ed married in Whistler, B.C., in March. They reside in the forest that Ed owns and manages, and Sharon continues to serve in the felony department of the Office of the Whatcom County Public Defender. She continues to pursue dog sports as her main hobby, and goes to Canada for fun at every opportunity. Sharon has dropped "Aizer" altogether and is now Sharon Westergreen.
1991
Charles Durant was promoted to group general counsel for the defense solutions group within Science Applications International in Northern Virginia.

Matthew H. Lembke has been installed as chair of the American Bar Association's Council of Appellate Lawyers, the only national appellate bench-bar organization. He was elected to serve the 2011-12 term. The council's mission is to foster dialogue among federal and state appellate lawyers and judges that will improve appellate advocacy and strengthen ties among the numerous appellate bar organizations. Lembke is a partner with Bradley Arant Boult Cummings in Birmingham, Ala., where his practice focuses on interstate water rights, environmental contamination, and complex commercial and securities litigation.
Chrystal Neal has been named director of creativity, innovation, and special projects, a newly created position with the Greater Richmond Chamber of Commerce. Neal will work to develop and implement the Chamber's i-e* program, a three-year initiative that aims to raise the profile of the region's creative community, including business, science, and entertainment and the arts. She will also manage educational programs. Neal previously served as executive director of C3: The Creative Change Center in Richmond.
Matthew Pachman has been recognized by the Ethisphere Institute as one of the 2011 Attorneys Who Matter in the "Top Ethics/Compliance Officers" category for his commitment to advancing corporate ethics and compliance. The Ethisphere Institute is an international think-tank focused on promoting the best business ethics and corporate social responsibility. Pachman is vice president and chief compliance officer of Altegrity, the parent company of the largest commercial provider of background investigations for the federal government; the world's leading risk consulting company, and a global commercial employment background and drug-screening supplier.
1992
Matthew J. Cholewa has joined Stewart Title Guaranty Company as vice president and agency services manager/underwriting counsel in Fairfield, Conn., and also serves as the Connecticut and Rhode Island District Manager for Asset Preservation, Incorporated, a Stewart subsidiary in the 1031 Tax Deferred Exchange Qualified Intermediary industry. He lives in Wethersfield with his wife, Carolyn A. Ikari '93, and their three children, Benjamin (11), Lauren (9), and Kendall (8).
Jim Czaban is chair of Wiley Rein's food & drug practice in Washington, D.C., where he represents pharmaceutical, biotechnology, and food clients in FDA regulatory matters, pharmaceutical patent litigation, and corporate transactions. In June he received the Burton Award for Legal Achievement, presented at the Library of Congress for his article titled "Panacea or Poison Pill? Making Sense of the New Biosimilars Law." His chapter on the new drug approval process will be published this winter in the third edition of the Food & Drug Law Institute's treatise, Food and Drug Law and Regulation.

Craig Enoch LL.M. recently announced the formation of Enoch Kever, headquartered in Austin. Before returning to private practice, Enoch retired as a justice on the Texas Supreme Court. He also served as chief justice of Texas' Fifth District Court of Appeals and presiding judge of Texas' 101st District Court. While at the court of appeals, he completed his masters in judicial process at the Law School. After leaving the Texas judiciary, Enoch established specialized appellate and government enforcement and regulated industries litigation practice groups for a major regional law firm headquartered in Dallas.
Bert Goolsby LL.M. has published two novels. Familiar Shadows is a coming-of-age story set in the Deep South during World War II, and The Trials of Lawyer Pratt is a humorous look at the trials and tribulations of a young lawyer in the South in the 1960s. Both books are available in printed and electronic form. (See In Print.)
Richard Litton is president of Harbor Group International, headquartered in Norfolk. With close to 700 employees, Harbor Group owns and operates a $3.5 billion portfolio of commercial real estate investments in the United States, Canada, and the United Kingdom. The firm also maintains corporate offices in Manhattan and Tel Aviv.
Litton also serves on UVA's National Committee on University Resources (NCOUR), the volunteer committee for the University's ongoing $3 billion Capital Campaign, and was recently elected to serve a three-year term on the board of trustees of the Virginia Athletics Foundation. He also is a member of the board of directors of Fulton Bank - Southern Division and the board of directors of the Children's Health Foundation for the Norfolk children's hospital.
Jeffrey Naness writes that his two boys, Jonathan (9) and Michael (12), are growing up and that his labor relations and employment practice on behalf of management keeps him busy.
Kevin O'Rear is at Notre Dame Law School, teaching a deposition skills course and serving as assistant director of the career development office. Prior to joining Notre Dame, he served as VP and general counsel of AM General, manufacturer of the Humvee and HUMMER line of vehicles. He and his wife, Missy, and family live in South Bend, Ind.
Amy Elizabeth Stewart launched her own firm, an insurance coverage litigation boutique based in Dallas, Tex., in 2009. She represents businesses in litigation with their insurance companies. As the firm celebrates its second anniversary, Stewart is excited to be adding a new associate.
Stewart was recently named a Dallas Business Journal Women in Business Awards Honoree. Stewart advocates for women in the legal profession, convinced that women can achieve success without having to compromise who they are. She has served on the board of directors for the nonprofit Empowering Women as Leaders for the past three years. She also works with a group of female lawyers in North Texas called Attorneys Serving the Community.
1993
Marisa Bryce is CEO of ConversePoint, a Chicago-based company that recently announced plans to develop and bring to market a communications platform for the health care industry that will save clinicians time, improve accountability measurements for critical events, and save hospitals millions of dollars in productivity costs. Bryce co-founded the company.
Phil De Camara is a financial advisor with Merrill Lynch in Princeton, N.J. Previously Phil served in an executive role developing and managing investment products for the retirement services business of Bank of America Merrill Lynch. Phil and his wife, Jen '95, reside in Yardley, Pa., with their daughter.
Bill Love retired as chief counsel in the global legal department at NYSE Euronext in New York City. He plans to live in Charlottesville.
Thomas C. McThenia, Jr., has joined Gray Robinson as shareholder in Orlando, Fla., where he focuses his practice on intellectual property and technology law. He was recently with Lowndes, Drosdick, Doster, Kantor & Reed.

Robert J. Schmidt, Jr., is listed in Chambers USA 2011 in the area of natural resources and environment and in Best Lawyers 2011 in the areas of environmental law, water law, and litigation/environmental. He represents clients in all major environmental programs, including the Clean Air Act, Clean Water Act, Superfund, solid and hazardous waste, emergency planning, and agricultural issues, and has extensive experience negotiating with both state and federal environmental agencies on regulatory and enforcement issues. He is with Porter Wright in Columbus, Ohio.
H. Robert Yates III is included in Best Lawyers 2012 in the area of commercial litigation, litigation/construction, and personal injury litigation/defendants. He is with LeClairRyan in Charlottesville, where he represents clients in all forms of civil trial practice, with an emphasis in tort defense, transportation cases premises liability, and construction law.
Dana Young, freshman legislator in the Florida House of Representatives representing the Tampa district, had a busy year. She successfully sponsored a bill to make the state's ports more competitive, helping to lead the state's economic recovery. A sixth-generation Floridian and former Fowler White Boggs land use lawyer, she guided House Bill 283 into law, just one vote shy of unanimous. The bill gets rid of duplicate security procedures, removing a layer of state bureaucracy and costly extra credentials, making Florida ports more competitive. Young was awarded a "Champions for Business" award from the Associated Industries of Florida, a lobbying group, in August.
1995
Trey Cox and his wife announce the birth of their third daughter, Vivian Louise, in January. He reports that his friend and classmate, Chris Akin, joined him as partner at Lynn Tillotson Pinker & Cox in Dallas, Tex. Cox published two books this year: Winning the Jury's Attention, published by the American Bar Association, and How to Recover Attorneys' Fees in Texas, published by Texas Lawyer. (See In Print.)
Andrea J. Cummings has joined Alston & Bird in Dallas, Tex., where she is a partner in the real estate finance and investment group. Her practice focuses primarily on commercial real estate finance. She was previously with Sidley Austin in Chicago.
Maureen Reilly lives in Media, Pa., with her husband, Doug Fischer, and their children, Ben (11) and Maddi (9). In January 2010 Reilly was promoted to assistant general counsel at SunGard Data Systems, where she is responsible for employment law matters. She also serves on the executive board for ASCEND, a local organization providing support to families affected by Asperger's syndrome and high-functioning autism in the greater Philadelphia area.
1996
Damian Capozzola and his wife, Renee, recently celebrated Damian's 40th birthday scuba diving in Thailand. Capozzola is a partner in Crowell & Moring's Los Angeles office. Now in his 15th year of litigation practice, he has handled significant litigation matters across a broad spectrum of industries and has represented some of the world's largest defense contractors, food manufacturers and wholesalers, and telecommunications companies.
William J. Curtin III has been named Dealmaker of the Year for 2011 by American Lawyer for his work as lead lawyer representing Ford Motor Company in the sale of Volvo Car Corporation to Zhejiang Geely Holding Co., a private Chinese company, last year. It was the first takeover of a global car manufacturer by a Chinese company. He is a partner with Hogan Lovells in New York.
Jeff Lehrer was recently named co-chair of DLA Piper's U.S. emerging growth and venture capital group, a position that offers him broad exposure to the firm's national and international emerging growth and venture initiatives. DLA Piper has been ranked the number one corporate law firm for the number of private equity and venture capital deals negotiated and closed globally in 2010 according to the Dow Jones' Private Equity Analyst.

Jon R. Mooney has joined Winstead in Charlotte, N.C., as shareholder in the finance and banking practice group. He was previously associate general counsel at Bank of America, serving in various leadership roles in the global commercial bank.
Deborah Saltzman has been living in Los Angeles since graduating. In March of 2010 she was sworn in as a U.S. bankruptcy judge for the Central District of California. She writes, "It's an incredibly rewarding, interesting (and busy!) job. This summer [2011] I'm thrilled that a current UVA Law student, Elizabeth Tuan '13, is one of my student externs. I hope to work with more UVA Law students in the future!"

Colonel Tristan Siegel is currently deployed to Afghanistan as a U.S. Department of State diplomat and senior advisor embedded with the U.S. Marines in Marjah (Helmand Province). In this diplomatic capacity, he meets on a daily basis with the district governor, deputy governor, chief of police, chief prosecutor, and district community council members to advise, assist, and mentor those subnational governance actors and to promote the rule of law in an emerging stable democracy.
During the past year, Tristan completed military assignments in Korea and Hawaii. He also earned a second master's degree from the Army War College. In addition, in September, he married Major Jennifer Siegel (nee McKenna). Bride and groom are both attorneys, Army Reserve officers, Iraq combat veterans, and federal civilian employees with top secret security clearances, which can make for some interesting conversations over the dinner table. Between the two of them, they have four federal jobs, military and civilian. Tristan enjoys the balance afforded by his three careers as a soldier-attorney-diplomat and the opportunity to bounce between disparate assignments in the U.S. and overseas. Besides tours of duty in the garden spots of Iraq and Afghanistan, Tristan has served in military assignments in Korea, Germany, Japan, and Belgium during the course of his 27 years in the Army so far. Remember the little baby that Tristan used to bring to law school picnics? She's now in college.
1997
Jena Bridges Watson and her husband, Eric Watson, welcomed John Holt Colquitt Watson into their family on June 15, 2010. He joined his big sister, Julia (3). Jena is a partner with Akin Gump Strauss Hauer & Feld in Washington, D.C.
Connie Pendleton lives in Washington, D.C., where she is a partner and deputy chair of the media law practice at Davis Wright Tremaine representing clients in First Amendment and other matters. She is listed in Best Lawyers in media law in 2010–12. Connie and her husband, Jason Gross, and their 2½-year-old son, Sam, welcomed their latest arrival— James Morrow Pendleton Gross—on February 9.
Jason M. Sneed announces the opening of SNEED, an intellectual boutique firm based in Davidson, N.C., serving clients across the country and worldwide in the protection and enforcement of their trademark, trade dress and copyright rights, with a particular emphasis on trademark portfolio management and brand licensing, enforcement, and litigation.
Before launching SNEED, Jason was a partner and the group leader in the Charlotte trademark & copyright group of Alston & Bird, where he had practiced for over a decade. He continues to be active in leadership in the International Trademark Association, and is on the project team for the 2012 annual meeting. He has served on the steering committee of the Charlotte chapter of the Federalist Society for Law and Public Policy since 2005. He and his wife, Charity, and their three children, Tara, Henry, and Andrew, are excited about the new venture, and invite you to visit SNEED at www.sneedlegal.com.
Cory Way has been appointed dean of Kirkland House, Harvard College, and lecturer in Harvard's faculty of arts and sciences. For the past year, Cory has served as a fellow at Harvard Law School. Before moving to Cambridge, Cory was in private practice, where he won political asylum for a Rwanda genocide survivor whose entire family had been murdered; his work on this novel case earned a pro bono award from the Washington Lawyers' Committee for Civil Rights.
1998
Peter Bowden, a managing director in the investment banking division of Morgan Stanley in Houston, Tex., was recently named head of midstream/MLPs. In that capacity, Bowden oversees an effort that completed over 50 financings and M & A advisory assignments on behalf of its clients over the past 12 months.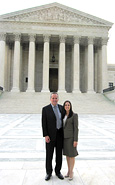 John Chiocca and his wife and law partner, Rochelle Birnbaum Chiocca, were admitted to the bar of the Supreme Court of the United States on May 16. They were sworn in in the presence of seven of the Supreme Court Justices in Washington, D.C. Accompanying them for the admission ceremony was their eldest child, 11-year-old Julia, and John's father-in-law, Elliott Birnbaum. Chiocca & Chiocca, is located in West Palm Beach, Fla.
Mitchell W. Taraschi has been named to the New Jersey Law Journal 2011 40 Under 40 list, a selection of top attorneys under age 40 identified and evaluated on the basis of achievement in their careers, and through recognition by professional organizations. Membership and leadership roles in the bar and work in charitable and volunteer activities are included in the review. Taraschi is a partner with Connell Foley in Roseland, where he is a member of the business litigation and construction law practice groups.
1999
Shane Bartee and his wife, Susanna, announce the birth of their sixth child, Adam O'Neal, born June 8. In June Shane retired from the U.S. Army after 21 years of active duty. He now practices law for the Environmental Protection Agency, Region 7, in Kansas City, Kan.

Stephanie L. Chandler has been named a 2011 Rising Star in Texas Monthly. Chandler is a partner in the San Antonio office of Jackson Walker, where she focuses on securities transactions, reporting and compliance, mergers and acquisitions, technology licensing and commercialization, and general corporate matters.
Katrina L. Reinhardt recently relocated to Shanghai, China, to take a new position with Dow Corning Corporation. Her new role is governance and compliance director for greater China. Reinhardt practiced with Schwabe, Williamson & Wyatt until 2004, when she accepted an in-house counsel position with Dow Corning in Midland, Mich.
Colin Rushing has been promoted from senior counsel to general counsel of SoundExchange, a nonprofit performance rights organization that collects statutory royalties from satellite radio, Internet radio, cable TV music channels, and similar streamed recordings. The mission of SoundExchange is to protect the rights of performers and copyright owners who create sound recordings, making sure that services that use recordings play by the rules.