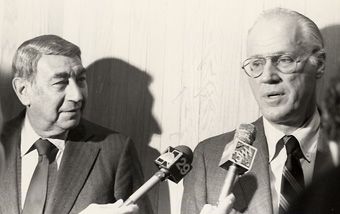 5 in Sports
71. Bowie Kuhn '50
The World Series
You no longer have to call in sick from your day job to watch the World Series live thanks to Bowie Kuhn '50, the second-longest-serving commissioner of Major League Baseball (1969-84).
In 1971, Kuhn moved Game 4 to nighttime to capture larger viewing audiences. A record 61 million baseball fans tuned in to NBC's broadcast — a number that would have been unreachable during earlier hours.
Today, all World Series games are held during prime viewing.
Kuhn's move was controversial at the time, however. The players were often less com­fortable in fall's nighttime chill, and some viewed it as a sellout of their best interests.
In response to his detractors, Kuhn famously attended a 1976 World Series night game, played in 40-degree weather, without an overcoat.
72. Donald Dell '64
Father of Sports Marketing
Donald Dell '64, founder of ProServ, is considered a father of sports marketing and is noted for being the first sports agent in professional tennis. He repre­sented Arthur Ashe (left), Stan Smith, Jimmy Connors and Ivan Lendl during what's called the "golden age" of pro tennis (1975-85).
73. Peggy O'Neal '76
Football Down Under
The first female president of an Austra­lian rules football team, Peggy O'Neal '76 helmed the Richmond Football Club as it won the Grand Final in 2017, the team's first championship since 1980.
74. Donald Yee '87
Representing Sports Talent
Donald Yee '87 represents NFL players and coaches, including New England Patriots quarterback Tom Brady. He is also the entrepreneur behind Pacific Pro Football, or Pac Pro, a developmental league for the NFL.
75. DeMaurice Smith '89
NFL Players Association Head
DeMaurice Smith '89 serves as executive director of the NFL Players Association, a labor organization that negotiates for player wages and working conditions.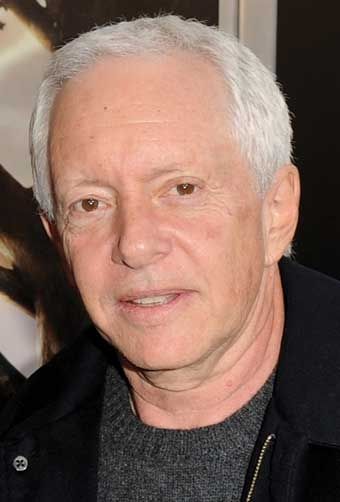 5 in Entertainment
76. Andrew Scheinman '73
Their 'When Harry Met Sally' Moment
One of the most productive collaborations in Hollywood might never had happened if Andrew Scheinman '73 hadn't been a ten­nis player and Rob Reiner hadn't been, well, a klutz.
Scheinman met his future Castle Rock Entertainment partner in 1974 on a lark during his second day in Hollywood at a tennis club.
"I walk in and there's Rob," Scheinman said in a video inter­view for DP/30's "The Oral History of Hollywood," hosted on YouTube. "And I had met a couple people back East who knew him. I went over and said hello, and he said, 'Well, let's hit a few tennis balls.' So we play. The thing's over. And Rob goes, 'Well, my keys just fell down the grate and I can't get home.' So I give him a ride home."
Within a few years, they became writing and producing col­laborators. Their string of hits includes the films "Stand by Me," "The Princess Bride," "Misery," "A Few Good Men" and the television show "Seinfeld," among other favorites.
Reiner compared their "meet cute" to the 1989 romantic com­edy "When Harry Met Sally," which they also made.
"We've been in this marriage a long time, and yet we've never, ever kissed," Reiner said.
77. John A. Rogovin '87
Warner Bros. Entertainment
As executive vice president and gen­eral counsel at Warner Bros., John A. Rogovin '87 supervises a worldwide team of 160 in-house lawyers and outside coun­sel on various key legal matters, including high-profile litigation and major corpo­rate transactions. His legal strategy has supported the film studio's brands such as "Superman," "The Hobbit," "Lord of the Rings" and "Two and a Half Men."
78. Julie Lynn '92
Mockingbird Pictures
Award-winning producer Julie Lynn '92 formed Mockingbird Pictures in 1999, and has produced films starring Bryan Cranston, Jennifer Garner, Annette Ben­ing, Ewan McGregor and Jake Gyllen­haal, among others.
79. Christopher Brearton '98
MGM
Christopher Brearton '98 is chief operating officer of MGM, having formerly been a partner in Latham & Watkins' entertainment, sports and media practice and deputy office managing partner of the firm's Century City, Los Angeles, office. He advises clients, including those overseeing mo­tion pictures and television networks, on complex transactions.
80. Dasha Smith '98
Sony
Dasha Smith '98 is executive vice president and global chief human re­sources officer for Sony Music Enter­tainment. She was previously an execu­tive with global investment and advisory firm GCM Grosvenor and also worked at Time Inc.