J. Warren Gorrell Jr. '79

For more than three decades, Warren Gorrell Jr. '79 has worked as a corporate lawyer for the firm now known as Hogan Lovells, where he is CEO emeritus and partner. Gorrell joined the firm's predecessor, Hogan & Hartson, three days after graduating from the Law School and became the first equity partner to advance to that role within six years. He has led some of the nation's most complex mergers and acquisitions transactions, and IPO offerings involving real estate investment trusts and other real estate companies. Throughout his management career as chair of Hogan & Hartson and later as co-CEO of Hogan Lovells, Gorrell maintained an active practice — a rarity among law firm leaders. Gorrell credits his professional success to calculated risk-taking, dedication to each assignment — big or small — and, most importantly, access to education. As only the second person in his family to attend college, he experienced firsthand the transformative power of higher education. A longtime supporter of the Law School and UVA Law alumni network, Gorrell said he believes that giving back through strong alumni engagement is the key to strengthening the school, its reputation, and its constituents around the globe.
Catherine M. Keating '87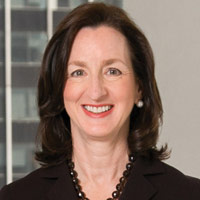 Catherine M. Keating '87 is the CEO of BNY Mellon Wealth Management and a member of the BNY Mellon Executive Committee. Before joining BNY Mellon, Keating served as president and CEO of Commonfund, a global nonprofit serving endowments, foundations, and public-sector investors. She was Commonfund's first female CEO. Prior to Commonfund, Keating spent nearly two decades at JPMorgan Chase & Co., where her various roles included head of Investment Management for the Americas and CEO of the U.S. Private Bank, as well as member of the firm's executive committee. She has been named among the "Most Powerful Women in Banking" and "Most Powerful Women in Finance" by American Banker. For Keating, nonprofits hold a special significance. Upon losing her father at age 8, she and her three younger siblings found support and guidance from several nonprofit organizations, including their Catholic private school and Girl Scout and Boy Scout troops. These experiences instilled in Keating an eagerness to give back to the nonprofit world.  She serves on the UVA Law School Foundation Board of Trustees and delivered the 2017 commencement address.
David C. Burke '93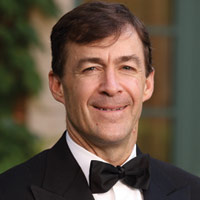 "Triple Hoo" David C. Burke '93 is a co-founder and former CEO of Makena Capital Management, which manages $19 billion in assets from leading North American endowments and foundations. Burke serves on Makena's board of directors and remains a managing director, through which he leads the firm's investment and operational activities. Formerly, he was a managing director of the Stanford Management Company, which oversees the Stanford University endowment's investments in private equity and venture capital. Before that, he ran the private equity investment program for the Investment Fund for Foundations. Currently, Burke serves on the advisory and corporate boards of more than a dozen private equity, venture capital, and direct investments domestically and abroad. Burke has long been an engaged alumnus of the University, serving on the boards of both the Law School Foundation and the University of Virginia Investment Management Company (UVIMCO). In January 2019, he sponsored UVA Law students participating in the yearlong Human Rights Study Project, which included a trip to Nepal. He has also organized a two-week experiential study abroad course on investing and entrepreneurship that took UVA students to South Africa, the United Arab Emirates, and Hong Kong.
Dasha Smith '98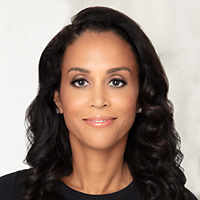 Dasha Smith '98 is executive vice president and chief administrative officer of the National Football League, where she is responsible for all human resource activities. Prior to the NFL, Smith was executive vice president and global chief human resources officer for Sony Music Entertainment. Prior to Sony, Smith worked at GCM Grosvenor, a global alternative asset management firm, where she served as managing director, a member of the office of the chairman, and chief human resources officer. She also worked five years at Time Inc. as head of employee relations and chief employment counsel. Her early career included stints in London and New York with firms such as Latham & Watkins and Covington & Burling. As an executive overseeing global human resources functions, Smith focuses on diversity as a competitive differentiator. She said she was drawn to the legal profession because of its power to move the needle toward inclusivity. As an African American and a woman, she said opportunities available to her were due in part to the efforts of lawyers who preceded her. A member of the Law School's Alumni Council, Smith aims to give back by using her voice to encourage diversity and positive change in all contexts.
Honorary Co-Chairs: Bruce A. Karsh '80 and Martha Lubin Karsh '81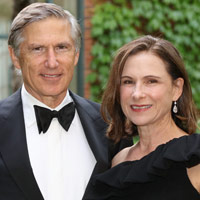 Bruce Karsh is co-founder, co-chair, and chief investment officer of Los Angeles–based Oaktree Capital Management, a global investment company that manages $120 billion in assets. He serves on the executive board of the NBA's Golden State Warriors, which he and Martha co-own. A leader in the nonprofit world and co-manager of the Karsh Family Foundation — which has contributed more than $250 million in education philanthropy — Marth Lubin Karsh co-founded the Los Angeles design firm Clark & Karsh and serves on the national board of the Knowledge is Power Program, the nation's largest network of high-performing public charter schools. A "Double Hoo" and trustee emerita of the UVA Law School Foundation, she is co-chair of the University-wide Honor the Future campaign effort. The Karshes met at UVA as law students and have broken records in giving to the Law School. Combined, their contributions have made them the school's first $50 million donors. Their $44 million gift in 2018, to be fully funded by 2022, created the Karsh Center for Law and Democracy, established an endowed professorships fund for faculty affiliated with the center, endowed the Justice Anthony M. Kennedy Distinguished Professorship, and provided support to the school's premier student scholarship program, now known as the Karsh-Dillard Scholarships.