UVA Dine Website for Flex and Meal Plan Registration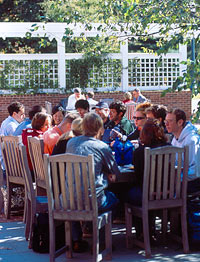 Sidley Austin Café: Monday-Friday 8 a.m.-2 p.m.
Greenberry's Coffee Bar
Castle Express
Deli, pizza and grill options
Grab-and-go items
Purchases may be made with UVA Dine Flex Dollars, Cavalier Advantage, cash, credit/debit or UVA service agreements/worktags.
Flex Dollars and Meal Plans
Patrons may use Flex dollars or meal swipes for on-Grounds food purchases. Meal swipes may be used at the three main academic dining halls or for meal exchange meals at UVA Dine (Meal Exchange options).
Student Flex dollars can be used tax-free for food at any on-Grounds UVA Dine location or for Papa John's delivery (Ivy Road location).
Customers may add meal plans or Flex dollar accounts to their ID cards through the online registration link.
Philip M. Stone Dining Room

Located on the northwest corner of the HMZ | Class of 1975 Student-Faculty Center, the Philip M. Stone Dining Room offers additional lunchtime seating for faculty and staff and their guests. Generally open for use on weekdays, the common seating area is also occasionally used for special events. To inquire about reserving the space, contact David Holsapple at dholsapple@law.virginia.edu.  
Suggestions or Comments
Comments or suggestions can be directed to UVA Dine at dining@virginia.edu, by phone at 434-982-5140 or social media at @UVADine.