Flex Account Registration and UVA Dining Website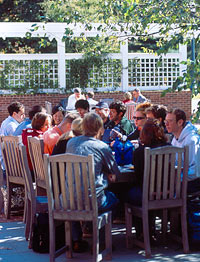 Sidley Austin Café: Monday-Friday 8 a.m.-2 p.m.
Greenberry's Coffee Bar: Monday-Thursday 8 a.m.-2:30 p.m., Friday 8 a.m.-2 p.m. 
Stone Dining Room: Monday-Friday 12-2 p.m. 
Reservations (434) 243-8921 (available before 10 a.m. on day of service)
Flex Dollars
Besides the convenience of not having to carry cash, opening a Flex Account Dining Plan saves you sales tax on every food purchase. A Flex Account plan is a declining balance account that is coded to your University ID card's magnetic strip. If you are opening an account, the initial deposit is $200. Once you have set up your Flex Account, you may add any additional Flex Dollars amount at any time.
Customers may establish or add funds to a Flex Account Dining Plan online. For assistance in setting up or adding funds to your Flex Account, please call (434) 982-5141 or stop by the Dining Services office on the first floor of O-Hill Dining Hall. 
Stone Dining Room
The Philip M. Stone Dining Room offers a professional atmosphere, ideal for lunch meetings or interviews. Law School faculty, staff and their guests are welcome in the dining room, located at the northwest corner of the Student-Faculty Center. Dining is available on a first-come, first-served basis, and on most days, you will be able to sit down at a common table. Tables may be reserved before 10 a.m. on the day of requested service. Students are welcome to eat in the Stone Dining Room with advance reservations.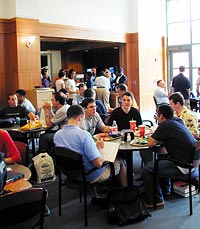 Make reservations by calling (434) 243-8921. If no one answers, be sure to leave a message including your name, date and time for which you wish to reserve, the number of people, and the best way to contact you.
The Stone Dining Room seats a maximum of 46 people at five six-person round tables and four four-person square tables.   
Suggestions or Comments
Any comments or suggestions can be directed to UVA Dining at dining@virginia.edu or by phone at (434) 982-5140.