Merrill's Career Devoted to Strengthening Law School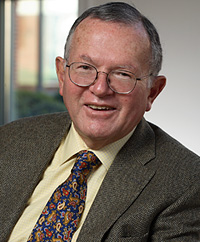 In the 38 years Richard Merrill has served on the faculty of the Law School, he has seen profound changes—shrinking class sizes, contrasted with a mushrooming faculty; finances that now depend on tuition and alumni donations rather than state funding; and a growing list of curricular advancements, both in the number of courses taught and the subjects offered in response to students' needs. Many of these changes happened while Merrill served as dean, from 1980 to 1988, when he set the stage for a growing endowment and improved the strength and diversity of the Law School faculty. In the legal arena, Merrill made his mark as one of the nation's leading experts in food and drug law, serving for two years as chief counsel for the Food and Drug Administration and producing definitive scholarship on the subject. His conscientious and mediated approach to both aspects of his career has earned him the respect and praise of his colleagues, as well as the appreciation and good will of generations of alumni.
Merrill was reflective but upbeat during a recent interview from his office in Withers-Brown Hall. "I won't miss grading," he joked. He will, however, miss preparing materials for class and meeting students weekly to educate and persuade them. He's not giving up on some of the more diverting pastimes of the Law School community, either. As he described it, "my lunchtime companions will be familiar, but there will be bigger gaps in my absences."
The Path to Law
Merrill, whose father was a long-time university political science professor and top administrator at Utah State University, knew he wanted to pursue a career in teaching. At Columbia University he studied history under noted scholars Fritz Stern, Walter Metzger, and Peter Gay. "I did so much history that I almost did nothing else," he said. "In almost any setting it forces you to write." Afterwards he was a Rhodes Scholar at Oxford University.
"I loved Oxford and found my two years there very satisfying, but I couldn't see myself doing what the Oxford historians were doing for the rest of my life."
A third of his undergraduate classmates had taken the LSAT, and so had he—just in case. "It seemed like almost everyone was going to medical school or law school or graduate school."
He scored well enough that he could go to the law school of his choosing, but he opted for Columbia because it offered the most generous financial aid package and because his fiancé had found a job in nearby White Plains, New York, as a teacher.
After law school, Merrill clerked for Judge Carl McGowan of the U.S. Court of Appeals for the D.C. Circuit. He then joined Covington & Burling in Washington, D.C., where he was assigned to a partner who was second in charge of the firm's food and drug practice. "I've tagged along behind him and I did what he did," Merrill said.
After four years in private practice he joined the Law School, where in his first year he taught torts and the following year became a frequent instructor for a yearlong first-year course combining legislation and administrative law, known as "Leg-Ad" to students and faculty at the time. He also started teaching a food and drug law seminar that was "really ancillary to my primary teaching responsibilities," he said. "It drew enough students for the school to think it was useful."
Merrill's own inspiration had doubts about his move into legal academia, however.
"My father thought that leaving law practice—particularly with a firm as prominent as Covington & Burling—was a bad idea."
A Momentous Career Move
His father may have been wrong about joining the academy, but he was right in one regard—the connections he made at Covington would prove invaluable to Merrill. A former partner there, Peter Hutt, served as chief counsel at the FDA and in 1975 went back to practice. He recommended Merrill as his replacement.
"He and I had worked on a series of cases for the American Civil Liberties Union seeking to establish the proposition that a chronic alcoholic could not constitutionally be [arrested] for being drunk in public," he said. They lost the case, but the bonds he formed paid off. Hutt was also connected to the Law School; since 1963 he has taught a session on drug and alcohol addiction in the Seminar in Civil Liberties, the oldest continuously offered course outside of the first-year required courses.
Merrill interviewed with the general counsel of the Department of Health, Education and Welfare, John Rhinelander, a 1961 graduate of the Law School. "My best recollection was that it was a process that had no political dimension at all," Merrill said, in contrast to what today's appointees must go through. Merrill, a Democrat, was hired into a Republican administration.
At age 37 he found himself leading an office of more than 30 lawyers, all but two of whom were younger than he was. The office was staffed by eager, enthusiastic attorneys who developed a hard-working camaraderie. Many went on to notable careers in law.
The chief counsel's office brought cases against companies that didn't comply with FDA statutes, many of which were settled. Merrill also oversaw administrative proceedings, such as hearings on withdrawing drug approval, and dealt with the development and promulgation of regulations, such as food labels and laws governing drugs. He spent much of his job dealing with Congress, which often proposed bills to change or strengthen the FDA's authority, or responding to congressional hearings critiquing the FDA for not handling an agency task well, which were frequent under President Gerald Ford.
"The oversight pressure came from the Senate and the House, which were in the hands of Democrats," Merrill explained. When Jimmy Carter was elected, the "tenor of congressional oversight softened a lot." Each time a high-ranking FDA official testified before Congress, Merrill helped prepare the testimony and attended the hearing.
As chief counsel, "I had an opportunity to do or learn to do just about everything a lawyer in a career gets to do—develop policy, draft regulations, appear at hearings, respond to congressional inquiries, draft briefs, argue cases before courts, oversee the litigation activity of maybe a dozen of lawyers that were engaged in suits against companies that were believed to be out of compliance," he said.
Merrill served for two years before returning to the Law School. Professors typically take leave for only two years at a time, or they may risk their tenure, and "my family was eager to get back to Charlottesville." He had also started building a new home, which increasingly drew the family back to town to survey its progress. "Psychologically we were back at UVA before I left the FDA."
Yet the experience left Merrill with the kind of expertise he could build a career on. He has been a member of the Institute of Medicine (IOM) of the National Academy of Sciences since 1979, and has served on several IOM committees on such topics as risk assessment in environmental decision-making, pesticide regulation, nutrition labeling of food, science advisory committees at the FDA, and food additive reform. Merrill is co-chair of the National Academies Program on Science, Technology, and Law.
With the safety of the U.S. food supply under increasing scrutiny in light of the spinach and pet food contamination scandals, and with the drug approval process under more intense study as health care prices rise, Merrill's field—once "ancillary" to law schools like Virginia—is likely to grow increasingly important.
"Does the FDA have enough people to support a more comprehensive, rigorous checking of overseas food shipments?" Merrill asked. "Monitoring compliance…is labor intensive and requires a lot of people. The FDA has never had a lot of people to do this job." Merrill noted that the FDA's lack of resources may be more apparent now that the world food market has grown exponentially.
One of the common criticisms of the current system is that the responsibility for food safety is divided among three agencies, chiefly the U.S. Department of Agriculture and the FDA, but also the Environmental Protection Agency. The USDA is solely responsibly for meat and poultry, which leads to interesting administrative conflicts—pepperoni pizza is regulated by the USDA, but look to the FDA for problems with your cheese pizza. The FDA employs fewer than 1,000 inspectors, who are also responsible for drugs and devices, to investigate sites once every two or three years, while the USDA must station an inspector in each production line.
"We devote a lot of effort and a lot of money to assuring the safety of meat food products and little on the remaining 80 percent of food," he said. "Whether we're close to getting a change in the law is anybody's guess."
The Law School's Lawyer
Not long after he returned to the Law School, Merrill became dean in 1980, a part of his career he looks back fondly on.
"The people we were able to hire during that period of time have to be ranked very high on institutional improvements," he said. "We were able to make some significant but not sufficient progress in broadening the diversity of the faculty." During that period the Law School hired Kenneth Abraham, Pamela Karlan (now at Stanford), Saul Levmore (now dean at Chicago), Mildred Robinson, and Alex Johnson, who is returning to the Law School this fall.
Current Dean John C. Jeffries, Jr. said Merrill "was a gentle leader — meticulously observant of the sensibilities of those around him, unfailingly respectful of their views and contributions, never in such a rush to the right outcome that he stepped on anyone to get there, and always deflective of praise or recognition."
Merrill increased the Law School's endowment from $7 million to $26 million and created research chairs for faculty, a "brilliant innovation" of endowed positions rotated on three-year terms used to reward teachers and scholars of unusual productivity, Jeffries said.
Merrill's own assessment of his tenure as dean is more demure. "We made some gains in giving to the Law School—nothing as dramatic as what occurred during [the succeeding dean] Bob Scott's time.
"The gains on the fund-raising side were really quite critical because during this period university and state support for the law school was shrinking…and alumni giving was critical in attracting faculty."
One of Merrill's favorite duties as dean was visiting and communicating with alumni. "We have an unusually generous and enthusiastic committed group of graduates," he said. They rarely complained—and "that can't be said for any other constituency you deal with when you're dean," he said with a smile.
"I even liked dealing with the [University] Provost's Office because I thought the skills required in that arena were quite like the skills necessary to the successful practice of law. I felt like the Law School's lawyer."
Merrill also praised the faculty who served under him during his tenure.
"One of the good things about being a dean here is that there is a strong tradition among the faculty of institutional support," he said, noting that he almost never was turned down by faculty to do a job that required delicacy and good judgment. The result is a "shared sense of responsibility for the functioning of the school."
A Teacher and a Scholar
Merrill's talents as a teacher are fondly recalled by his students.
Stuart Pape '73, now a managing partner at the law firm Patton Boggs, took Merrill's LegAd class during his first year. "It was an intellectually stimulating course and he was a precise teacher," Pape said. "Every class, he came with a clear idea of what he wanted to accomplish in the course of the class and a clear idea of how to get there. I would not have done professionally what I have done if it weren't for that course and if it weren't for Dick Merrill."
Pape took Merrill's Food and Drug Seminar the following year and subsequently became his research assistant. His duties included helping with loose-leaf materials by Merrill and Hutt for a food and drug course that eventually became the principal published casebook on food and drug law.
Following a clerkship after law school, Pape joined the FDA chief counsel's office, where Hutt was in charge, and where Merrill would take over six months later.
Now that Pape is a leading expert on food and drug law as well, he has since worked with Merrill as a colleague on a case in which both were involved.
"There's no question in my mind that Dick Merrill has been the single most important influence on my career," Pape said.
Merrill has continued to feed his passion for knowledge. The year following his deanship, he split his time between the National Wildlife Federation and the Centre for Socio-Legal Studies at Oxford. He has served as a consultant to the Office of Technology Assessment of the U.S. Congress, the White House Office of Science and Technology Policy, and the Environmental Protection Agency. Since 1991 he has been of counsel to Covington & Burling.
"It's been my way of continuing to educate myself—to collaborate with, to work with, to listen to some of the smartest non-lawyers in the country," he said. "In a sense it's a way of continuing a liberal arts education. It's also a way—sometimes, not always—of contributing to the direction of public policy in ways that are quite important."
In his continuing relationship with Covington & Burling, he served as counsel to the National Association of Tissue Banks, which was confronting FDA regulation for the first time; advised a research facility that performed health and safety evaluations; and counseled the FDA on a number of litigations.
Merrill also was able to share his interest in Native American culture with students. After he left his deanship "there was no particular demand for additional teachers of administrative law or other courses that I might teach, but it occurred to me that it would be interesting to learn about the legal arrangements under which Native peoples functioned in the United States." By then he and his wife had become avid collectors of Indian crafts and often journeyed to reservations in their travels in the West.
"It almost from the beginning drew a significant-enough number of students to be worth repeating and it was very satisfying for me. It's a rich blend of contemporary politics and American legal history," he said. "Teaching it proved to be exactly the right way to learn about the law and politics of Native Americans."
Merrill plans to teach a short course on the subject during the January term in 2008, allowing him the opportunity to continue to share his passion for law.
Founded in 1819, the University of Virginia School of Law is the second-oldest continuously operating law school in the nation. Consistently ranked among the top law schools, Virginia is a world-renowned training ground for distinguished lawyers and public servants, instilling in them a commitment to leadership, integrity and community service.