Kaiser Permanente Representative Outlines Obstacles to State-Based Health Care Reform
A leading figure of one of the nation's biggest nonprofit health care providers addressed the obstacles to state-based health care reform at a Law School lecture Thursday.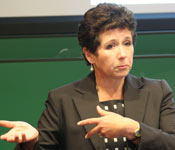 Patricia Lynch, vice president of state government relations services at Kaiser Permanente, highlighted her involvement in California Gov. Arnold Schwarzenegger's ambitious but ultimately unsuccessful plan for universal health insurance, which was once touted as a potential model for national reform.
"Despite broad support, it failed, and it failed dramatically," said Lynch, the second speaker in the yearlong Sadie Lewis Webb Program in Law and Biomedicine lecture series, "The Future of Health Care Reform." 
Lynch said the initiative was hampered by visceral political opposition among some businesses, medical associations and unions, as well as by structural constraints such as California's ballooning budget deficit. She then sieved out various lessons from the failed attempt, such as its outlining of specific rules for enforcing an individual mandate through verification and financial penalties.
While Lynch said that while 72 percent of polled Californians supported the elements of the final proposal this year, she was doubtful about Schwarzenegger reintroducing the plan in 2009.
"He may be wanting to do it next year, but I'm not sure he will have more success," she said, emphasizing the skyrocketing $15.2 billion budget deficit and the governor's sagging approval ratings.
Earlier this month, a union representing California's prison guards threatened to spearhead a recall effort against the governor, saying he mismanaged the state's budget crisis. The measure triggered alarm in the state where Schwarzenegger himself took office after a successful recall of his predecessor, Gray Davis, in 2003.
Despite California's failure to reform, Lynch was optimistic about the future of health care in general, adding that the long-term effects of uneven quality and rising costs would provide momentum to drive national reform forward.
"The increasing cost of coverage, I believe and my colleagues believe, will drive the adoption of significant market reform in the next 10 to 15 years. The United States simply cannot hope to do otherwise," she said.
The lecture series continues Oct. 16 with Stuart Butler from the Heritage Institute speaking about the underlying visions, values and future architecture of health care reform. Lectures in the series are open to the public.
Founded in 1819, the University of Virginia School of Law is the second-oldest continuously operating law school in the nation. Consistently ranked among the top law schools, Virginia is a world-renowned training ground for distinguished lawyers and public servants, instilling in them a commitment to leadership, integrity and community service.