Professor: Health Care Reform Faces Significant Obstacles Post-Election
Partisan gridlock and interest groups threaten to stifle future health care reform despite a Democratic-majority government, health policy analyst Carolyn Engelhard told Law School students Thursday.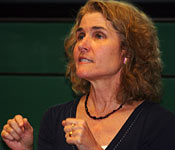 "We now often refer to health care reform as the third rail of American politics: If you touch it, you die. It could be political suicide," said Engelhard, an assistant professor of medical education at the University of Virginia and a health policy analyst at the department of public health sciences.
She was the third speaker in the yearlong Sadie Lewis Webb Program in Law and Biomedicine lecture series, "The Future of Health Care Reform."
The last attempt at comprehensive health care reform, during the Clinton administration, failed miserably and propelled Republicans to a congressional majority in 1994, Engelhard said. It has not been pursued since.   
Engelhard diagnosed the failure as a manifestation of a bitter and entrenched partisan divide in which Republicans saw Democrats as socialistic for their support of government regulation, while Democrats saw their rivals as uncompassionate for advocating only routine costs. 
"The disparity between these two philosophies is really what paralyzes Congress from doing anything about health care reform," she said. 
Ideal compromises also barely survive the political process because they are unable to satisfy the various stakeholders in health care policy, including pharmaceutical companies, small businesses, hospitals, politicians and insurance companies.
"Those politicians and stakeholders around the table don't really care. What they want is to get what they want. They want to win. So politics is really about power, more than truth. And it's about winning, more than being right," Engelhard added.
Despite this, she said there may now be enough visibility and political currency to mount the first serious attempt at comprehensive health care reform in more than a decade.
Based on exit polls, she argued health care was one of the top priorities on voter's minds and had displaced security concerns like Iraq and the war on terrorism.
"It's coming in not as number one, but it's up there, probably among the top three," she said.
Engelhard also said several top-ranking members of the now Democratic-majority Congress, such as Senate Finance Committee Chair Max Bachus and Senate Health Committee Chair Edward Kennedy, a 1959 graduate of the Law School, were heavily invested in supporting health care reform.
Kennedy, who is battling brain cancer, has vowed to return to Washington next year to fight for universal health care. He voted for the original Medicare bill in 1964, and recent comprehensive health care reform in his home state of Massachusetts has been held up as a potential model for national change.
"He would very much love to have comprehensive health care reform as his legacy," Engelhard said.
But she warned that because health care is such a hot-button issue, the next president could defer comprehensive reform and instead focus on more modest, incremental measures like a children's health insurance plan or physician reimbursement. 
"If it doesn't get currency, if it doesn't have enough momentum, or perhaps the economic issues are too big, the president could punt and pick the low-hanging fruit," she added.
While Democrats picked up several House and Senate seats earlier this month, Engelhard said they are still short of the filibuster-proof majority of 60 Senate seats that President Johnson had in 1964 to pass comprehensive health care reform.
"So we could still devolve into gridlock, with the Republicans saying 'We can't afford it' and the Democrats saying 'We want it,'" she said.
The lecture series continues Nov. 20 at 6 p.m. in Withers-Brown room 102, with Ezekiel Emanuel from the National Institutes of Health speaking on universal health care. Lectures in the series are open to the public.
Founded in 1819, the University of Virginia School of Law is the second-oldest continuously operating law school in the nation. Consistently ranked among the top law schools, Virginia is a world-renowned training ground for distinguished lawyers and public servants, instilling in them a commitment to leadership, integrity and community service.