State Republican Party General Counsel Recalls McDonnell-Deeds Election Recount
Four years ago, the tightly contested precursor to this year's gubernatorial race between Bob McDonnell and Creigh Deeds led to a recount and new procedures for Virginia elections, the general counsel of the Republican Party of Virginia told students Monday.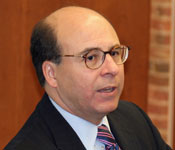 Lee Goodman '90 returned to the Law School to discuss the recount in the 2005 state attorney general race between Deeds and McDonnell during a lunch talk sponsored by the Journal of Law and Politics.
Election law is a multi-faceted field, incorporating a wide array of legal issues, he said.
 
"Election law is a little bit of a misnomer — because you do so much," Goodman said.
Since the 2000 Bush-Gore race, "Recounts are not viewed as so much sour grapes, or extreme election measures. I think the public wants to get it right."
Goodman was volunteering at the Austin Bush-Cheney headquarters on election night in 2000 and recalled the confusion over election results.
"It was a surreal experience," he said. Florida was first called for Gore. Then it was too close to call. Then Florida was put in the Bush column and everybody was happy, he said.
Then, "Candy Crowely came on the jumbotron and said the vice president's motorcade has turned around — and there was to be no concession in the presidential election," he said. "Nobody had any template for that."
Getting the elections right is sometimes an art form and not a science, he said.
"I have never ever seen the election night results that you see reported by the AP to be accurate. Election results can be off by thousands of votes."
In the 2005 Virginia attorney general race, McDonnell eventually defeated Deeds by only 360 votes out of more than 1.9 million cast.
On election night, McDonnell was ahead by about 3,000 to 4,000 votes, but by the next morning was ahead by only about 1,500, Goodman said.
One reason for such discrepancies is that election workers are not professional election administrators and they make mistakes, Goodman said. They also get up at 5 in the morning and finish late in the evening.
"They are tired, they want to go home," he said.
In one instance, McDonnell lost about 300 votes because election workers transposed the votes for an unopposed delegate, erroneously giving those votes to Deeds, Goodman said.
The states differ on how to handle closely contested races. In Virginia at the time of the election, there was no automatic recount proceeding. The loser had to file a court action.
"The principle issue you're going to litigate is the procedure by which the recounting will occur," he said.
Deeds wanted to rerun 540,000 optical scan ballots and have them manually counted, Goodman said.
"We argued… that that type of process in this close an election, would introduce as much human error as it would get you accuracy," he said.
"Every time you handle ballots you risk smudging them, losing them and so, when you are the winner of a recount, you want fewer variables to enter into a recount and when you're the loser you just assume they reshuffle the whole deck and introduce as much human error as possible because what you really want is a different count than the count that you have."
The court ruled against a full recount but ordered a partial recount in 10 precincts where votes could not be tabulated.
In one case in Lynchburg, the infrared readers couldn't read the ballots because election officers distributed the incorrect type of pencil, not number-two pencils, Goodman said.
 "When you recount uncounted ballots, they tend to break the same way the votes that did get counted in those precincts break," Goodman said.
Because of this, McDonnell would still have won even if the court had ordered a manual recount of 540,000 ballots, Goodman said.
Virginia legislators subsequently changed the law so that the presumptive procedure in a recount is to automatically rerun all of the optically scanned ballots, Goodman said.
At the end of day, "when the votes are counted, it's important that the public has confidence in the result," he said.
Founded in 1819, the University of Virginia School of Law is the second-oldest continuously operating law school in the nation. Consistently ranked among the top law schools, Virginia is a world-renowned training ground for distinguished lawyers and public servants, instilling in them a commitment to leadership, integrity and community service.