Ibrahim, Moran Win Moot Court Competition
Third-year law students Alex Ibrahim and John Moran won the 81st Annual William Minor Lile Moot Court Competition, a Law School tradition in which 175 contestants competed over the course of two years.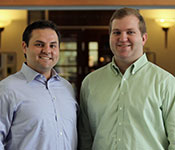 "It's a great honor, and it's been a long road," Moran said.
Moran and Ibrahim defeated Nick Nelson and Fiona McCarthy in the final round Saturday, arguing before a self-described "hot" bench of federal appeals court judges, including Judges Paul V. Neimeyer (4th Circuit), D. Brooks Smith (3rd Circuit) and Edith Brown Clement (5th Circuit). Nelson took home the prize for Best Oralist.
"I'm certainly happy that it all worked out and that it's over," Ibrahim said. "I'm just really thankful too."
In addition to receiving a monetary prize, Ibrahim's and Moran's names will be inscribed on a plaque to hang in Slaughter Hall, alongside past winners such as Sen. Ted Kennedy '59.
"In most schools the moot court competitions are much shorter and more focused, and often done as a class," Moran said. "So I think we have a unique moot court experience at UVA."
"It certainly is grueling," said Ibrahim. "We spent many long nights up together, 4 o'clock in the morning, trying to finish our briefs. That's when you really get to know somebody."
Moran and Ibrahim first talked about becoming partners over a game of billiards in the Law Review office, where Moran served as an articles development editor and Ibrahim was a notes editor.
In the final round they argued on behalf of a defendant convicted of falsifying tax returns. The government was appealing the light sentence given to "Butters Stotch," while Moran and Ibrahim appealed because the indictment failed to charge Stotch with "willful behavior," which they argued amounted to a structural error requiring automatic reversal.
"In the final round we had the most difficult bench we've faced throughout the competition in terms of asking questions aggressively and really pushing us on points where we weren't as confident," Moran said.
"As soon as you started talking, they hammered you with questions and the only time they didn't interrupt you is when your time was up and you were asking for leave to conclude," Ibrahim said.
The pair said they faced accomplished teams throughout the competition.
"Every time we finished we looked at each other, you know, we feel good, but we could easily see it going the other way," Ibrahim said. "They were fantastic."
"All of the teams have been well prepared and written good briefs," Moran said. "To Nick and Fiona and to everyone who advanced to the quarterfinals, they did a great job."
Moran said one of the challenges of writing briefs in the competition is that, unlike in real life, both teams write them at the same time. They also have to be written in two weeks' time, with several weeks left after that before oral argument.
"With the briefs you find you always wish you had more time to go back," Moran said. "Every single time I looked back and wished that I could have started from scratch and written the brief again."
"We certainly spent a lot of our brainstorming time at the beginning just trying to anticipate what arguments they were going to make so we could make the counterargument in the brief," Ibrahim said.
Moran and Ibrahim also praised third-year law student Dave Roberts, who, along with others, helped them prepare by practicing their oral argument. The Moot Court rules don't permit them to work with anyone except students.
Ibrahim and Moran both have related clinic experience – Moran in the Supreme Court Litigation Clinic and Ibrahim in the Prosecution Clinic.
Ibrahim said he was also in an advanced public speaking course with Professor Molly Shadel.
"That's been very helpful to get me relaxed and in the zone before I speak and to know what my tics are," he said.
Ibrahim, a Penn State graduate, will clerk for Judge Leo Glasser of the Eastern District of New York after Law School. Moran, a University of Virginia graduate, will clerk for Judge Jeffrey S. Sutton on the U.S. 6th Circuit Court of Appeals.
Other than a dinner with the judges on the day of the competition, the pair hasn't had time to celebrate yet, but will do so later this week, Moran said.
"You know you're in law school when you have to schedule time to celebrate," Ibrahim said.
Founded in 1819, the University of Virginia School of Law is the second-oldest continuously operating law school in the nation. Consistently ranked among the top law schools, Virginia is a world-renowned training ground for distinguished lawyers and public servants, instilling in them a commitment to leadership, integrity and community service.