Faculty Q&A: Garrett Investigates Increase in Prosecutions of Foreign Corporate Crime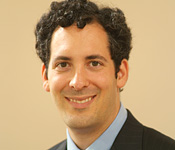 University of Virginia law professor Brandon Garrett is well known for his studies of DNA exonerations, but he has also collected and analyzed information on the prosecution of corporate crime.
Garrett's latest article on the subject focuses on U.S. government prosecutions of foreign corporations, a practice that has grown dramatically in the past two decades. Such prosecutions often involve crimes violating antitrust laws or environmental codes, or corruption and bribery, Garrett says in "Globalized Corporate Prosecutions," which will be published in theVirginia Law Review in December and is available now on SSRN.
Why have domestic prosecutions of foreign corporations recently become noteworthy?
Foreign corporate prosecutions can involve headline-grabbing multimillion dollar fines, international corporate scandals, and even diplomatic intrigue. Over the past two decades, federal prosecutors have focused their attention on international antitrust cartels, bribery of foreign governments, ocean dumping, and other crimes that involve corporate conduct abroad. As prosecutors have set their sights on conduct outside the United States that affects us, more foreign corporations have been ensnared in their nets.
In my draft article, "Globalized Corporate Prosecutions," I describe how foreign corporate convictions involve bigger average fines and larger firms — the kinds of cases worth pursuing despite the practical difficulties of pursuing foreign companies. Prosecutors are also developing new ways to ease those practical difficulties. They increasingly reward firms that voluntarily self-report, cooperate and improve their compliance programs. Prosecutors also coordinate more with enforcers in other countries. While corporate criminal liability has long been a form of American exceptionalism, where other countries do not generally hold corporations criminally accountable for actions of their employees, other countries are beginning to prosecute corporate crime more like we do in the United States.
How did you become interested in writing about this topic?
I explored the emergence of a new U.S. approach to corporate prosecutions in my 2007 article, "Structural Reform Prosecution," which developed how federal prosecutors had increasingly entered deferred and non-prosecution agreements with corporations. Those agreements soon became a flashpoint for criticism, with Congress convening hearings (at two of which I testified), the Government Accountability Office investigating and the Department of Justice revising its approach. I have argued that these agreements are important, particularly because of the institutional reform role that prosecutors take on. As corporate prosecution agreements began to mount in numbers, I began to maintain an online public database of such agreements with Jon Ashley of the UVA Law Library. Ourdatabase of more than 200 agreements is the most complete resource available concerning deferred and non-prosecution agreements entered by federal prosecutors with organizations.
I observed how foreign firms routinely did not receive the benefit of those deferred and non-prosecution agreements, but instead plead guilty and are convicted. I wondered why. While some have called a conviction the "death penalty" for a firm, that is plainly not always the case. As it turns out, most foreign firms are prosecuted in areas where the DOJ does not always offer deferred and non-prosecution agreements. However, for some crimes and some firms, the consequences of a conviction may be less severe. And a parent sometimes avoids the full consequences of a conviction by negotiating the guilty plea of a subsidiary. 
I also wondered how such foreign prosecutions were handled, since general federal guidelines on corporate prosecutions to not speak to whether the firm is domestic or foreign. I decided that it would be worth following up my prior work by closely examining the cases where firms are convicted of federal crimes — and in particular where foreign firms are convicted. I examined Sentencing Commission data for the last decade, but to try to supplement gaps in their information, I also hand-collected data from plea agreements and docket sheets in more than a thousand cases from the past decade. All of this material will be made available on a larger online resource website, and hopefully it will be useful to scholars and practitioners.
What trends have arisen in the prosecution of foreign corporations?
Of the corporate convictions I examined, 14 percent were foreign firms. They had far higher average fines than domestic firms (an average fine of $38 million as compared with $7.5 million for domestic firms). This occurred across the decade that I examined, from 2001 to 2010.
What are the most common crimes for which foreign corporations have recently been prosecuted?
The foreign corporate convictions were concentrated in antitrust, Foreign Corrupt Practices Act (FCPA) and environmental cases. [The FCPA makes it unlawful to bribe foreign government officials to help obtain or retain business.]
That was not a surprise; in each of those areas, prosecutors have described their goal to more aggressively pursue foreign violators. In some areas, foreign corporations may dominate the industry — or some of the worst violators may be foreign, perhaps because they had thought they could avoid U.S. regulations. Many hundreds of foreign firms are under investigation. Some are related, as prosecutors identify industries in which violations seem pervasive, and use cases to leverage industry compliance. The enforcement patterns may change as new priorities emerge, such as Food, Drug and Cosmetic Act prosecutions.
How do prosecutions of foreign corporations differ from prosecutions of domestic corporations?
The foreign firms that are convicted make up a very different group of cases than the domestic firms prosecuted. The foreign firms are disproportionately public firms and large firms, and they pay larger fines. But I do not suggest that foreign firms are treated differently than similarly situated domestic firms. Foreign firms are prosecuted for very different crimes and in a different mixture of cases. The focus on DOJ memos and guidelines sometimes gives the impression that all corporate crime is treated consistently. Instead, federal corporate criminal practice consists in separate worlds unto themselves. Foreign firms are often prosecuted in the antitrust context, which has a unique enforcement dynamic under separate Antitrust Division procedures. Those firms may be treated very differently than firms prosecuted by the Environmental Crimes Section or the Criminal Fraud Section.
Why should the legal community be aware of this recent trend of domestic prosecutions of foreign corporations?
Developments in foreign corporate prosecutions as a whole have not been a subject for study. Prosecutors already have good reason to advertise their successes in particular areas, and law firms already carefully track trends in particular practice areas to better advise their clients. But I hope that my data and analysis places these prosecutions in a broader context. The ways that antitrust and FCPA and environmental prosecutions of foreign firms have been handled have a great deal in common — and differences in approaches also raise questions.
How will these prosecutions affect foreign and domestic business?
Few criminal prosecutions of firms go to a trial, and almost all are settled. Corporations must increasingly think about adopting compliance reforms as part of settlements, or to obtain favorable treatment should they be investigated in the United States. Siemens, for example, in response to its conviction in a case involving more than a billion dollars of bribes to officials in 65 countries, now touts a top-to-bottom culture change and promotes compliance agreements industry-wide. Domestic firms face similar exposure if they have foreign subsidiaries or do work abroad. Corporations may, however, increasingly demand guidance on what they should do to improve their compliance programs and how they can do business abroad without exposure to criminal liability. Corporations may also ask that more attention be paid to how effective some of these compliance remedies really are, before being required to adopt them.
What are you working on next?
Related to the "Globalized Corporate Prosecutions" article, Jon Ashley and I will be substantially improving our federal corporation prosecutions resource website, including by adding the new data collected from corporate guilty plea agreements.
Unrelated to the world of corporate crime, I have just published my book, "Convicting the Innocent: Where Criminal Prosecutions Go Wrong," examining what went wrong in the cases of the first 250 people to be exonerated by DNA testing. A multimedia website about that wrongful conviction research, co-produced with the Innocence Project, will be available online in the next week. I have written short articles about the book, which will appear later this year in the ABA Litigation Journal and ABA Criminal Justice magazines.
As a follow-up to that work, I am looking at the law surrounding eyewitness identifications, particularly identifications by eyewitnesses in the courtroom, in a forthcoming article titled "Eyewitnesses and Exclusion." I am also working on an article examining the connection between concepts of habeas corpus and due process in decisions concerning executive detention, particularly national security detention in the wake of the Sept. 11, 2001 attacks.  
Founded in 1819, the University of Virginia School of Law is the second-oldest continuously operating law school in the nation. Consistently ranked among the top law schools, Virginia is a world-renowned training ground for distinguished lawyers and public servants, instilling in them a commitment to leadership, integrity and community service.