Don Yee '87 Says Young Lawyers Should Keep Eye on Ball, in Addition to Bottom Line
Don Yee '87, who represents top athletes such as NFL quarterback Tom Brady, said the transformation of sports into an ever-increasing variety of consumer choices is also changing the role of attorneys. The comments were part of his keynote address at the 2016 Sports and Entertainment Law Symposium, held Friday at the Law School.
He said during his talk, "Why Sports Really Aren't About Sports Anymore," that the push to fill stadiums and air time has almost made the games themselves irrelevant.
"The powers that be, the administrators who run sports — I think at that level, sports almost doesn't matter," Yee said. "Sports actually now is simply a vehicle to make money."
Yee said owners, league and association heads, and marketing professionals can make bad choices for players in their attempts to increase revenues. He gave as an example the development of Thursday Night Football, which has cut into athletes' recovery and planning time, affecting how safely they can execute plays.
Yee said the next generation of sports lawyers can help reverse the trend, however. Challenging students in attendance, he asked, "Is there a way that you can conduct your business and do so where you keep an eye out for the performance?"
While acknowledging that many players benefit financially from increased business profits, Yee said their enjoyment of the game has gotten lost in many cases. He said he spends only a fraction of his time on contractual matters. The greater part of his day is spent counseling players, especially younger athletes, for whom income and endorsements have become more of a priority. He said player representatives of his generation have been equally to blame in the money-first mindset, but that his approach to choosing clients has helped. He said he decided long ago only to take on players who have a reasonable level of intelligence about the industry and a sense of humility, in addition to ability.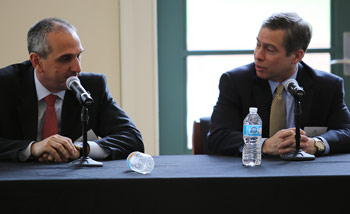 Bob Latham '83, a partner at Jackson Walker and chairman of USA  Rugby, shares a comment with Mark Levinstein, a UVA graduate and Law School lecturer who co-teaches Professional Sports and the Law. They spoke on a panel about the Summer 2016 Olympics.
But Yee said that a focus on money isn't always bad, especially when fairness is involved. He pointed out that the highest-performing college athletes are making billions of dollars for schools and the NCAA, but are not allowed to make money for themselves. He predicted that at some point a new startup football league will form that will allow players who do not wish to go to college right away to turn professional sooner. He also thinks the most powerful conferences could separate from the NCAA in order to provide the concessions that players are starting to demand.
Other talks during the symposium, which focused on recent trends and controversies in sports and entertainment, included panels on content distribution, fantasy sports for profit and the U.S. Olympics. Participating alumni included Tom Ostertag '81, senior vice president and special counsel to Major League Baseball, and Bob Latham '83, a partner at Jackson Walker and chairman of USA Rugby.
The symposium was sponsored by the Virginia Sports & Entertainment Law Journal and the Virginia Sports Law Society.
Founded in 1819, the University of Virginia School of Law is the second-oldest continuously operating law school in the nation. Consistently ranked among the top law schools, Virginia is a world-renowned training ground for distinguished lawyers and public servants, instilling in them a commitment to leadership, integrity and community service.
Associate Director of Communications and Senior Writer