A Pioneer's Tale
Janet Lauck Blakeman, Only Female Graduate in Class of 1957, Paved Way for Women Lawyers and Students
It was 1957, and Janet Lauck was sticking to her guns. She was the latest law student to be "browbeat" by a certain New York City law firm partner who taught a trusts and estates seminar at UVA.
Former classmate John Shroyer '57 recalled it this way: "This guy was really something, he was a holy terror. But she stood right up to him — I thought it was just great. And he backed off — and he didn't always back off. But I think he realized Janet was not the kind of person he could walk over."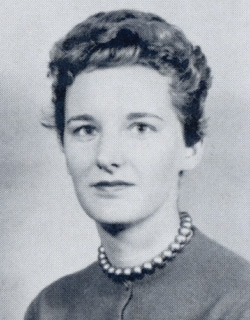 Lauck, now Janet Lauck Blakeman, impressed many of her classmates as one of two women to enter UVA Law in 1954, a time when few women attended law school anywhere in the United States. Women studying at UVA were limited to attending some graduate schools, and the nursing and education schools.
"I thought law school would be good for me," Blakeman, now 83, said — and it was. Though she faced obstacles along the way, she went on to have a successful career as counsel at a New York City law firm, and won the hearts of her peers throughout for her determination and drive.
"I think everybody in the class realized she was an exceptional person," Shroyer said. "Everybody in the class thought very highly of her."
School Days
The daughter of a textile salesman and a stay-at-home mother, Blakeman grew up on Long Island, where she first remembered being intrigued by the legal profession after hearing a lawyer talk about his work during a high school career event.
"Neither of my parents went to college," she said. "My father only had an eighth-grade education, but was a very educated person and very encouraging about pursuing higher education. My mother was a high school graduate and had gone to secretarial school.
Blakeman graduated high school a year early by skipping eighth grade, and majored in political science at Wellesley before applying to law school.
She didn't visit Virginia before deciding to attend. Instead, she journeyed by train to Charlottesville a few days before school started. Her first visit to the Law School, then in Clark Hall, which features a large mural with several figures, offered an unusual introduction to the University's décor.
"Never having been there, and having to walk through Mural Hall — oh my goodness, that was an experience," she said. "The women who came after … talk about putting pasties different things for fun, but that was not something we thought about."
She settled into Mary Munford Hall, along with her classmate, Janet Rowe Dugan, who left after her first year and eventually earned her law degree at Boston University.
Among the students, Blakeman felt support from those who had gone to Ivy League schools — about half of the class.
"They were more accepting, whereas the Southerners in my class were not as accepting of a woman because I was taking the place of a man who would have to support his family," she said.
Classmates said Blakeman's self-assured style helped her to become known for more than just her gender, and gain respect. "She was very, let's say, conspicuous," said classmate George Gowen, now a partner at Dunnington, Bartholow & Miller in New York City, where Shroyer is also an attorney. "At the same time, she was totally low-key. … I don't think we thought twice of it, even though she was certainly a pioneer."
Classmate John Corse said Blakeman "was always a lot of fun, was bright, spoke up in class — and had no hesitation about taking on any debate anybody chose."
She dove into her work at law school, but also saved time for activities outside of academics.
"I enjoyed studying and I did fairly well," she said. She joined the newspaper, the Virginia Law Weekly, but felt some relief when she didn't make law review.
"I didn't want to have to do all that work!" she said. Though she wasn't invited to play tennis with then-Professor Emerson Spies like many of her male classmates, and remembers a stinging comment by one professor who said "the only reason a woman comes to law school is to find a husband," she also recalled going to parties at Fry's Springs Beach Club, outings to Carroll's Tea Room and Kentucky Derby celebrations.
"My classmates were very nice to me," she said.
Work Days
When it came time to look for a job, she was interviewed by several law firms, but they usually offered excuses about why they couldn't hire her — in one case because the head of the law firm "didn't hire women."
But her interview with the firm Thacher, Proffitt, Prizer, Crawley & Wood turned out differently.
"It so happened that one of the partners, Mr. Crawley, was the father of a classmate of mine from college and also from the same town I grew up in," she said.
She ending up working for the firm in trusts and estates, then a common landing place for female lawyers, but also her preferred area of law.
"The firms wouldn't have put a woman in corporate — not in your wildest dreams!" she said. "By and large, there weren't that many women lawyers. They would say to you, 'The clients won't accept a woman,' because that was the mindset at the time."
The firm Patterson Belknap & Webb had also asked for a second interview, but she had already taken the Thacher position. She stayed at Thacher for five years, but put her legal career aside and began working at a bank part-time for several years as she became the mother to three children. Her classmate Christopher Stoneman '57, who was a partner at Patterson, asked her to interview with the firm in 1968.
"I had three small children, and I told them I could only work part-time, but they were very forward-thinking and they hired me," she said. Her work at Patterson, where she remained for the rest of her career, focused on administration of estates, estate and fiduciary income taxes, and supervision of the department's paralegals and accountants. The firm allowed her to vary her work schedule over the years — sometimes three days a week, sometimes five days — so she could spend time with her family.
She said she felt lucky to have supportive colleagues, both as a woman and as a young lawyer starting out.
"I had some very good mentors who helped me along," she said. "Really, when you started out, at least in those days, you didn't know how to do anything. There weren't the practical courses that I know students take now."
Well into her career, she ran into a classmate at a reunion who had once chastised her for taking a job that should have gone to a man supporting his family. When they met again, Blakeman was divorced and was shouldering most of the responsibility of raising her sons. When he asked her what she was up to, she responded, "Supporting my family!"
A Unanimous Choice
Blakeman worked at Patterson until 2010.
"I loved what I did. I never thought in the morning when I got up, 'Oh I've got to go to work,'" she said. "I liked the people I worked with. It was very satisfying. I was sorry to retire, in away, but it was time for me to retire."
Though she retired from law, she hasn't retired from the Law School.
When Corse stepped down from his role as class manager in 2007, Blakeman's classmates unanimously chose her for the role.
"That tells you something about the regard with which she has always been held," Shroyer said.
Blakeman attends regular lunches with eight New York-area classmates. Gowen, who organizes the get-togethers, calls the lunch squad the "1957 Runts."
"The stars of the Law School were the 'First Families of Virginia,'" Gowen explained, "and we're just a bunch of New Yorkers up here."
Gowen said Blakeman has remained "unchanged" from her law school days.
"As in law school, she is just one of the guys," he said.

Founded in 1819, the University of Virginia School of Law is the second-oldest continuously operating law school in the nation. Consistently ranked among the top law schools, Virginia is a world-renowned training ground for distinguished lawyers and public servants, instilling in them a commitment to leadership, integrity and community service.