"Keep doing the things that you did that got you here." That was the advice Eric Broyles '95 heard from his steel worker father when Broyles was about to start law school 30 years ago, and it was advice the alum repeated to incoming University of Virginia School of Law students at orientation Monday.
Broyles, who is now CEO of Nanocan, an early-stage biotechnology company developing new technologies to treat cancer, started his career as a lawyer at a prominent Washington, D.C., law firm and rose to senior counsel in the legal department at AOL Time Warner Inc. on his way to becoming an entrepreneur.
He recalled that he went from being a straight-A senior in college to struggling in law school, and was about to quit when he got a pep talk from an old friend. On his friend's advice, he planned to stick it out two more weeks, and during that time a lightbulb switched on and his studies started making sense, just as his friend suggested would happen.
"Trust the system," Broyles told students, and give it time if you struggle to "get" law school at first. "Your professors, the administrators here, the students who are before you — we all have gone through this system, and you can trust it."
He also encouraged students to uphold, and even improve upon, the culture of collegiality for which UVA Law is known. He pointed to a friendship he developed years after law school with Sam Solomon, a wealthy Israeli Zionist who initially seemed very different from Broyles.
"I learned a lot from my relationship with Sam; Sam and I could not be more different as people," he said.
Over time, Broyles realized they were really very similar at heart. Solomon turned out to be the kind of friend who kept his vacant West End apartment off the real estate market just to let Broyles stay there on his trips to New York. It wasn't unusual for the friends to argue about their differences into the night, but when Broyles recently got a call at 3 a.m. that Solomon had died suddenly of a stroke, his first thought was to book a flight to Israel to attend his funeral.
"It made me realize right then the possibility of depth of human connection," he said. "You can't get that if you are going to be so entrenched in your ideas and your belief about who someone is, and how they are and what they're supposed to do — you will never have that experience in life. … Just be open to something that's different and put in the work, and you guys are going to do great."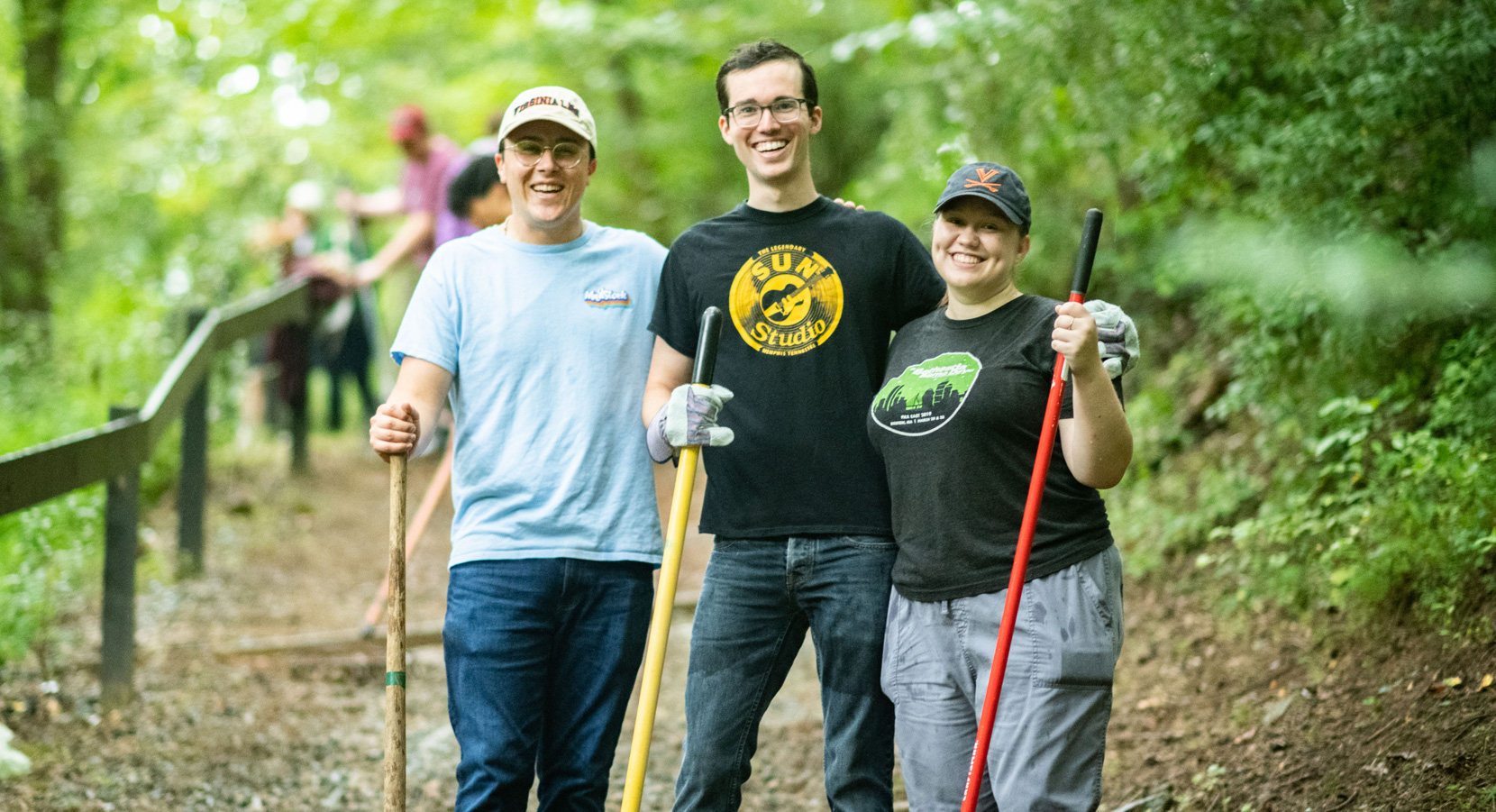 On Sunday, incoming and current students volunteered at five sites around Charlottesville, including Camp Holiday Trails, for a day of service organized by the Public Interest Law Association.
Dean Risa Goluboff, in her welcoming remarks, reminded students that they are entering a profession that helps shape society, and one that carries great responsibility.
"Lawyers wield enormous power — and not just the famous lawyers that you've heard of who may be your idols and the reasons that you came to law school, but all lawyers," she said. "And it's the power to make law to affect real people, institutions, companies and nations, to make or break or enforce contracts, to put people in prison and get them out again, to wage war and end it, to create companies or allow them to merge or even go bankrupt."
She reminded students that UVA Law is especially dedicated to a pluralistic community that reaches across differences, and encouraged students to treat others with "empathy, respect and a generosity of spirit."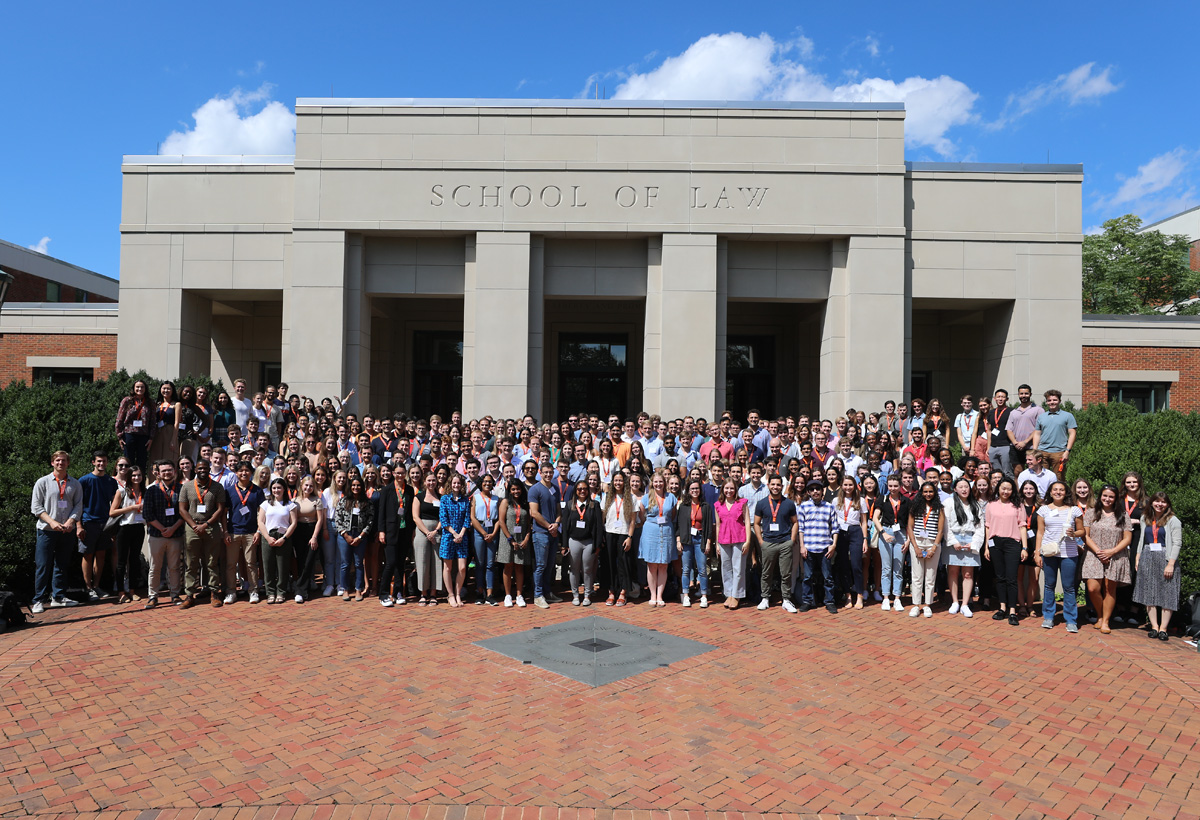 Incoming J.D., LL.M. and S.J.D. students gathered for a photo on the front steps of the Law School on Monday.
Assistant Dean for Admissions Natalie Blazer '08 also addressed the audience, most of whom she helped admit as students.
One of the things new law students most dread, she said, is being cold-called. Sure enough, in her first class as a UVA Law student, in an unusually large classroom of 120 classmates taught by then-UVA Law Dean John C. Jeffries Jr. '73, the first two words Jeffries said were "Miss Blazer." Soon dollar bills from section-mates were fluttering to where she sat, in a tradition the section held to console the first person called upon. She used the $29 to fund a party for her section-mates, though she didn't really expect them to show up. She assumed they would be too busy studying.
"The following evening every single person in my section showed up," Blazer recalled. "The thing I had feared the most had resulted in honestly the best memory from my three years here."
Even though law school is stressful, she emphasized, "You have time to be there for one another, even in these challenging moments."
Student Bar Association President Juhi Desai '23 encouraged students to pursue goals in line with their passions.
"You should probably figure out now, what are you willing to fight for?" she said. "Have fun and take risks over these next few years."
Founded in 1819, the University of Virginia School of Law is the second-oldest continuously operating law school in the nation. Consistently ranked among the top law schools, Virginia is a world-renowned training ground for distinguished lawyers and public servants, instilling in them a commitment to leadership, integrity and community service.