In Seeking Tales From Its Past, Virginia Law Women Works Toward a More Diverse Future
Library Launches 'VLW50' Oral History Website
Fifty years in, Virginia Law Women — one of the first student affinity groups at UVA — is going back in time to recapture its lost history, particularly its evolution as a diverse organization.
With support from the UVA Law Library's special collections department, the student organization's executive board spent the 2021-22 academic year gathering oral history accounts from former VLW presidents. The stories are part of a digital archive and online exhibit, "VLW50," which weaves a more complete account of the group's presence at the Law School.
The women's organization was formed in October 1971, when a few female students banded together to create a group to voice their concerns. Together, they hoped to tackle sex discrimination in admissions, hiring and on-Grounds interviewing.
Elizabeth Trimble '73 and Ellen Bass Brantley '73, the first and second presidents of the organization, were interviewed for the project and added new details to the group's founding moment. They remembered attending a women's law conference at Duke University School of Law in 1971 and being inspired by the women there to start a women's group.
"When we went, we realized that although we hadn't thought of having a women's law student association, we were kind of behind the times," Brantley said. "There were many women there from other law schools who had formed such organizations and were doing many things that we hadn't even considered doing."
One guest speaker there was a Rutgers law professor by the name of Ruth Bader Ginsburg. Ginsburg noted the percentage of women enrolled in law schools at the time, an observation that also piqued the interest of the UVA women in attendance. While the first-year class at Rutgers was 44% female, UVA's was just 8.9%, according to a Virginia Law Weekly article about the conference. (The conference also drafted a resolution calling on President Richard Nixon to nominate a woman to the Supreme Court and provided a list of 12 women they considered qualified. Ginsburg, who was nominated by Bill Clinton 22 years later, was on that list.)
The VLW women interviewed for the project discussed evolving goals over the years, from serving as a feminist voice (according to Carolyn Ikari '93), to providing a social and academic support network (per Danit Tal '15) to "advancing women socially, professionally and confidently in the legal profession" (in the words of Manal Cheema '20).
"VLW50" encapsulates the board's most recent goal: to build up institutional knowledge and pass it along to future generations of women at Virginia Law, according to Sujaya Rajguru '22.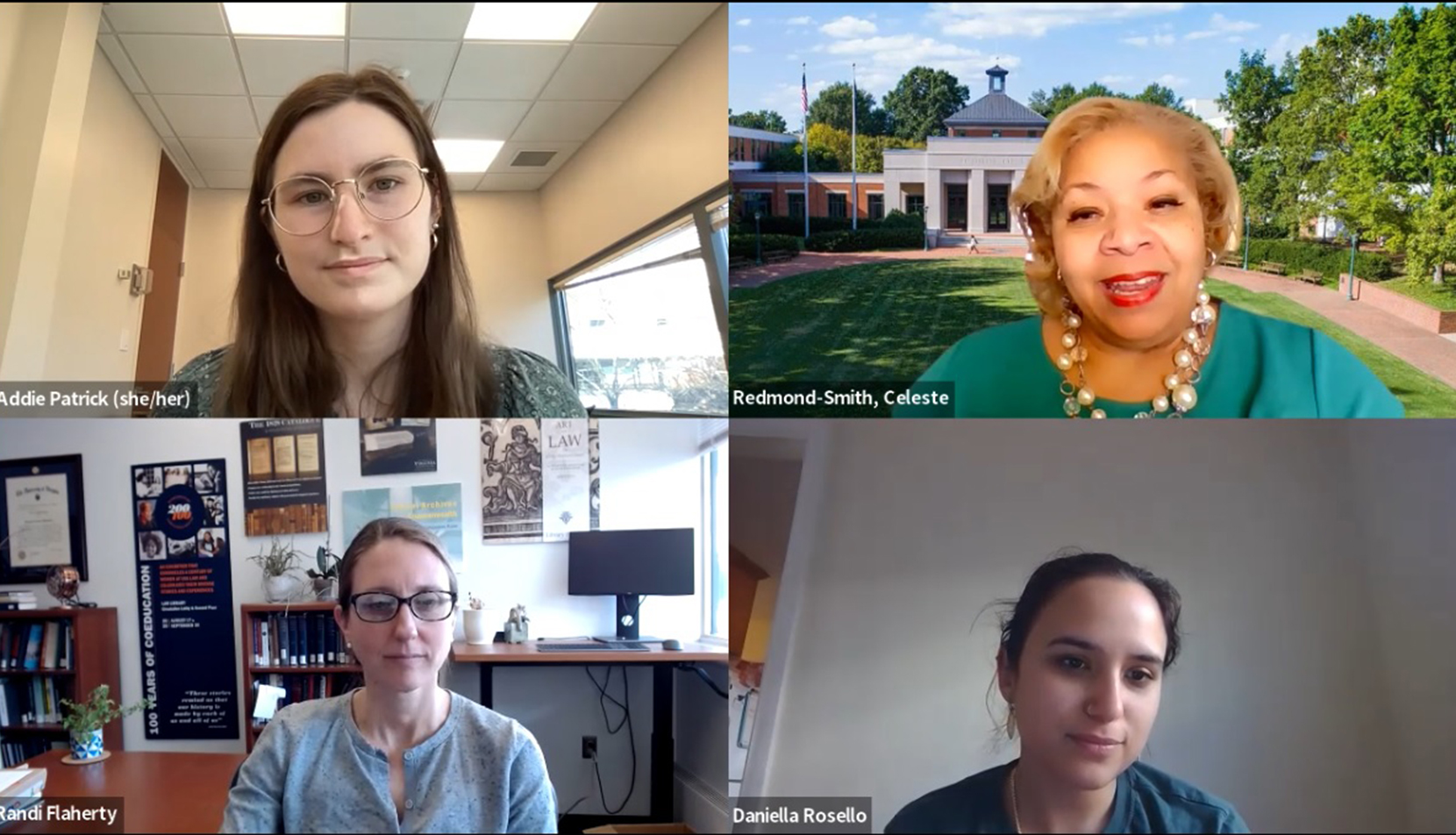 UVA Law Special Collections staff Randi Flaherty and Addie Patrick, with UVA Law student Daniella Roselló '23, interview Celeste Redmond-Smith '85 about her experiences with Virginia Law Women.
When Celeste Redmond-Smith '85 ran for president of the organization in 1984, she said she sometimes struggled with the duality of representing the viewpoints of the mostly white VLW and the Black Law Students Association.
"I was part of a group of students with BLSA that were looking at applications being rejected — to kind of take a second look and make arguments for some of the students the administration had not considered," Redmond-Smith said. "I was surprised with a sect of VLW feeling that [they] shouldn't be in favor of affirmative action because then that dilutes all of us being here."
Current VLW members were the primary interviewers collecting the oral histories, a process of discovery that they found both exciting and surprising. The Virginia Law Woman interviewing Redmond-Smith —Daniella Roselló '23 — seemed surprised by Redmond-Smith's recollection.
"How did that feel to have all of these women around you that you viewed as such an incredible support system — that you viewed as having the same goals as you and working with you on so many of these initiatives — not stand with the Black community, not be involved with it and not want to take part in those kinds of initiatives?" Roselló asked. (Roselló is also the president of the Latin American Law Organization and was VLW's co-chair for diversity, equity and inclusion at the time of the interview.)
"Things were always open for discussion," Redmond-Smith replied. "Your time at a university should be a cherished time to work through a lot of these issues. Everyone should feel that they can have an open discussion and hopefully you can sway someone to your side."
By the time Ikari arrived in the early 1990s, she still saw no diversity aside from a few Asian members like herself.
"I can't picture any [VLW] members or leaders who weren't straight, white or Asian ladies," Ikari said. "That's what I remember."
(The project team has had difficulty locating VLW leadership from the early 2000s, according to Addie Patrick, the library's project coordinator. The team welcomes any former members to reach out to contribute their own accounts.)
In the past five years, VLW leadership has made deliberate strides to increase the diversity of the organization to ensure that all UVA Law women feel welcome. For example, Kendall Burchard '19, VLW president from 2018-19, worked with her leadership board to establish a set of criteria to determine which events hosted by other student organizations VLW would support. Those co-sponsorship factors give VLW a way to encourage other student groups to include women, particularly women of color, in their events.
Burchard and her board made a point of including members who also belonged to other organizations — such as Women of Color, Feminist Legal Forum, and the American Constitution Society for Law and Policy — on the co-sponsorship committee.
Cheema saw the impact of the co-sponsorship factors, and said the organization made sure to apply the same inclusivity to its own structure and activities.
"Just as we were putting other organizations through the gauntlet of our co-sponsorship factors, we were investigating our own panels and making sure that we also had women of color, we had queer women, women of different backgrounds on our events," Cheema said. "We were holding ourselves accountable to the standards we were imposing on other student groups."
Burchard also introduced diversity workshops, started the Diversity in Clerkships panel and moved elections online to give candidates time to make their case, according to Cheema's oral account.
"The people who ran with me made the organization more diverse and we also pushed for having diversity in the next classes, too," Cheema said.
Now 300 women strong, the organization is led by Brecken Petty '24. Most recently, VLW persuaded the administration to supply the women's and all-gender restrooms with free menstrual products.
"I am excited to see VLW become a more diverse organization and to be a part of that shift," Petty said. "The executive board has prioritized programming events that speak to and celebrate all of our members — women of color, queer women, women of different ages and stages of life."
The project can be accessed at VLW50.law.virginia.edu.
Founded in 1819, the University of Virginia School of Law is the second-oldest continuously operating law school in the nation. Consistently ranked among the top law schools, Virginia is a world-renowned training ground for distinguished lawyers and public servants, instilling in them a commitment to leadership, integrity and community service.
Associate Director of Communications and Senior Writer