U.S. Rep. A. Donald McEachin '86, a University of Virginia School of Law alumnus who was reelected to his fourth term in Congress this month, died Monday of colorectal cancer. He was 61.
McEachin, a Democrat representing Virginia's 4th District, devoted more than 20 years to serving the people of Virginia. He was first elected to the House of Delegates in 1995, serving three terms, and also served two terms in the state Senate before deciding to run for Congress. In the General Assembly, he championed gun control measures and legislation to close substandard landfills and to create the Offshore Wind Development Authority. In Congress, he worked on issues aimed at helping the indigent, improving the environment, expanding access to health care, and national defense and the military workforce.
He described his path to public service and his career in a talk at UVA Law while receiving the inaugural UVA Black Law Students Association Alumni Spotlight Award in 2018.
As the son of an Army officer and schoolteacher, McEachin was born in Nuremburg, Germany, and later moved to Vicenza, Italy, before settling in Virginia. He recalled peppering his family with questions about why they had to move so often, what NATO was about and the role of government. Soon, the idea of becoming a lawyer took seed.
"And I'm like, 'Well, what do you have to do to be a congressman?' Now remember, this is the 1960s. And so [my parents] say, 'Well, you have to be a lawyer.' … And so, my course was set early on to be a lawyer and to go into public service."
After attending a private high school in Virginia, he earned his undergraduate degree in political science at American University.
As a student at the Law School, he fought for issues he believed in. In a letter to the Virginia Law Weekly in February 1985 on behalf of the Black Law Students Association, he urged the hiring of more Black faculty members, lobbied to ban firms from recruiting at UVA if they had not demonstrated a commitment to hiring Black lawyers, and protested the recent naming of the Law School building after a former Confederate soldier, Henry Malcolm Withers. (In 2020, Dean Risa Goluboff launched a process to reconsider the name, and the hall is now called Walter L. Brown Hall instead of Withers-Brown Hall.)
Professor Alex M. Johnson Jr., who taught McEachin, said he was among a group of African American students in that era who reached across differences and made a meaningful impact in the community.
"He had a huge personality and a way of making connections with others that was effortless," Johnson said. "Big Don, as he was then called, was unforgettable and a true and valuable ambassador for this Law School. He will be sorely missed."
S. Bernard Goodwyn '86, now chief justice of the Supreme Court of Virginia, met McEachin the first day of law school and the two have been close friends since.
"In law school, we often talked of our dream to serve the commonwealth of Virginia and our desire to do what we could to make it a better place than we found it," Goodwyn said. "Don lived his dream to serve. He was a gentle giant with a keen intellect and an obvious passion for helping others. He was a great lawyer and a dedicated, hard-working public servant who was passionate, tireless and relentless in his service to the commonwealth of Virginia and our nation."
After law school, McEachin's first job was working as an insurance defense lawyer at Browder Russell Morrison Butcher, "the very opposite of what I would end up doing," he told the BLSA audience.
"I was a State Farm defense attorney, and I loved it. It was an awesome, awesome job," he said.
When the law firm suddenly dissolved just a few years later, he was momentarily shaken, considering his parents had modeled careers in stable, decades-long jobs.
But a new door opened, and he launched his own law firm, McEachin and Gee, in 1990, again focusing on insurance defense work before turning fully to plaintiffs-side insurance litigation.
"I'm sorry to anyone in here who might feel differently — you're just wrong — plaintiffs' work is the best work of all," he told the audience at the 2018 event. "Representing individuals and trying to get them a measure of justice is a wonderful, wonderful process."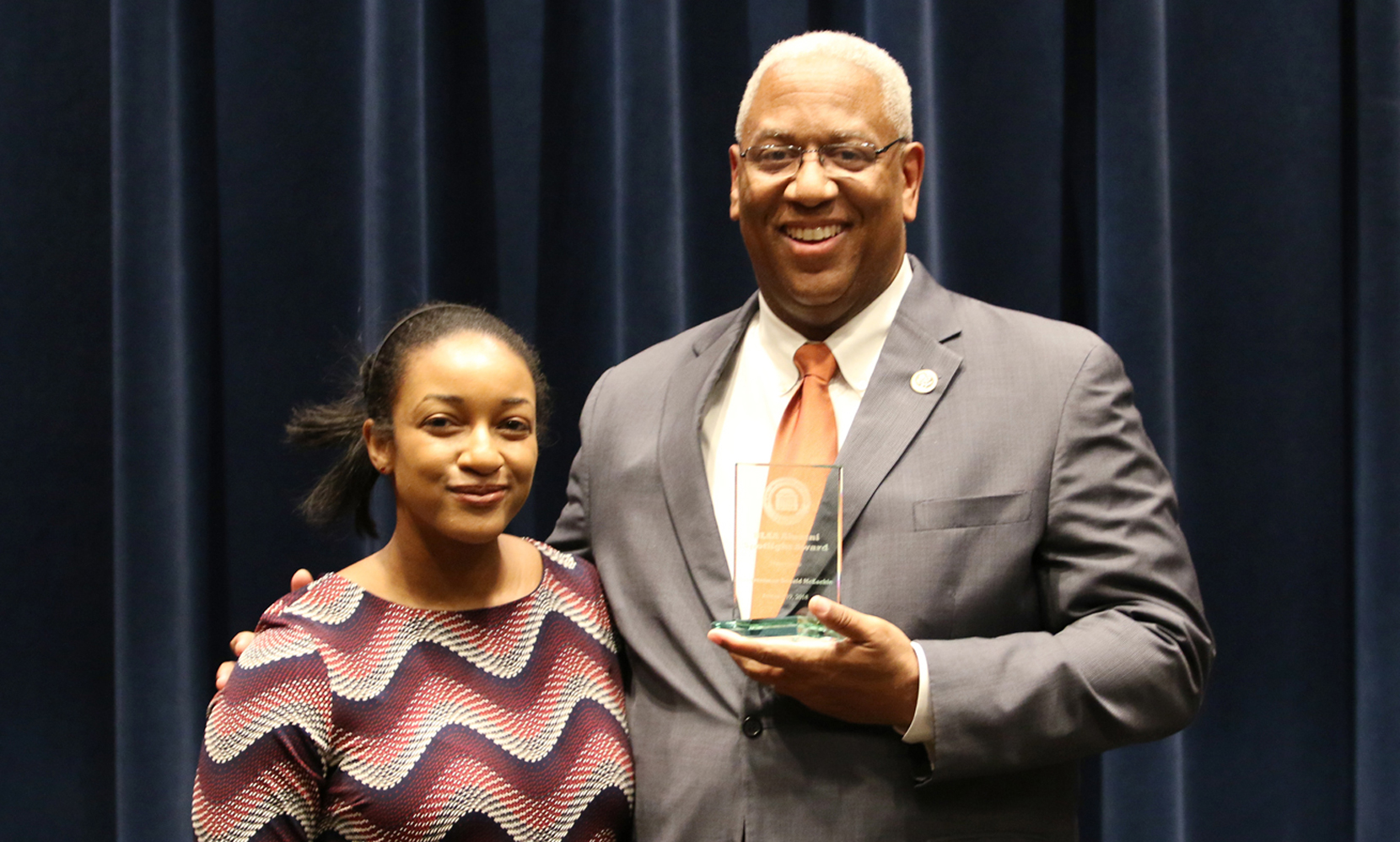 BLSA President Jianne McDonald '19 gives McEachin the inaugural Black Law Students Association Alumni Spotlight Award in 2018. Photo by Julia Davis
Running his own firm gave him the flexibility to enter politics as well. But he lost when he ran for the House of Delegates in 1991.
"I mean, I'm laying on the couch — I can't move, I'm paralyzed and, you know, all my dreams are dashed. But you know, the one thing that you learn from that is that your wife still loves you the next day. Lord knows the children still need you to get up the next day and you've got to go to work. So you found a way to keep pushing on. And that's an invaluable, invaluable lesson — at least it was for me."
In 1995, he pulled off an upset, beating the House appropriations chair in the Democratic primary.

In 2001 he ran for a new role, as state attorney general. He won the nomination, becoming the first Black major-party nominee for the role, but lost the general election. Afterward, he took a break from politics.
"That was a wonderful, wonderful loss because I didn't really understand what I was doing," he said. It gave him time to focus on earning what he called "economic independence" — and begin studying for a master's in divinity from Virginia Union University, which he earned in 2008.
He said his religious training opened his eyes to the idea of liberation theology, "a theology that says God's word is meant to enhance your life. God's word is meant to give you the freedom to be the person that God wants you to be. And that is a completely different perspective for me."
It would shape his interest in improving the environment, both at the state and federal levels.
After being elected to Congress in 2016, he felt he needed to pinch himself to believe he had really arrived, McEachin told UVA Lawyer in an interview. "But there's work to be done."
He most recently served as a member of the House Committee on Energy and Commerce, the House Committee on Natural Resources and the Select Committee on the Climate Crisis. He had also served on the Armed Services Committee.
"I'm really pleased and happy with the progress that at least I've made personally in the environmental movement," he said at the 2018 event, adding that he often was put "in a box," as an African American, when the media would stereotype the issues he should care about.
Climate change "is the issue that we absolutely cannot afford to get wrong. … But it's hard work because the media does not believe in … asking African American men about the environment, at least not [men] of my age."
Though McEachin felt strongly about Democratic issues, he suggested that compromise was still critical to politics.
"You just have to understand that the word 'compromise' is not a bad word. It's the only way that a country this big and this diverse can ever work," he said. "You have to have some sort of relationship with the person on the other side that goes beyond just being a legislator."
When a member of the audience praised his consistent championing of LGBTQ issues, McEachin responded, "Sometimes you have to be willing to be Wile E. Coyote and just run smack into that wall, but you'll leave an imprint and eventually the wall will cave."
A classmate (one year removed), Dayna Bowen Matthew '87, a former UVA Law professor who is now dean at George Washington University Law School, said McEachin later helped her navigate life in Washington, D.C.
"He turned the temperature to 'warm and welcoming' whenever he entered a room, dialed the conversation immediately to 'equity, fairness and justice' no matter who was present," she said. "He was a strong and steady friend to the people who sent him to Congress and absolutely anyone and everyone who shared [his constituents'] interests."
As he did with Matthew, McEachin continued to mentor students and graduates after law school.
Carlos M. Brown '99, senior vice president, chief legal officer and general counsel for Dominion Energy, said he "was a friend and mentor who believed that it was not only his job to be a champion for the underserved and left behind, but also to be a mentor to the next generation of progressive leaders."
Leaders from across the country praised McEachin and shared memories on Tuesday, including Vice President Kamala Harris.
"We were elected to Congress and joined the Congressional Black Caucus the same year, and worked together to advance critical issues on behalf of the American people," Harris said in a statement. "I was particularly honored to partner with him on legislation to advance environmental justice and secure a cleaner, healthier, and more fair future for all. I will miss his friendship and his advocacy and passion for improving our world for generations to come."
McEachin was a lifetime member of Kappa Alpha Psi Fraternity Inc. and the NAACP. He was a member of the Virginia State Bar and the Virginia Trial Lawyers Association.
McEachin is survived by his wife, Colette McEachin '85, commonwealth's attorney for the city of Richmond, their three children and one grandchild.
With reporting by Mark F. Bernstein '89
Founded in 1819, the University of Virginia School of Law is the second-oldest continuously operating law school in the nation. Consistently ranked among the top law schools, Virginia is a world-renowned training ground for distinguished lawyers and public servants, instilling in them a commitment to leadership, integrity and community service.