J.B. Moore Conference to Examine Democracy Movement in the Middle East
Posted February 14, 2006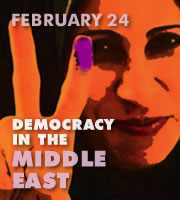 With the prospect of democracy building in Iraq, a movement toward more democratic government may be spreading throughout the Middle East. Experts will examine key issues that have emerged from the movement Feb. 24 at the annual J.B. Moore Society of International Law Symposium, "Democracy in the Middle East: Prospect for Political Reform," held in Caplin Pavilion and Withers-Brown Room 152 at the School of Law. Keynote speaker Peter Ackerman, chairman of Freedom House, an independent nongovernmental organization that supports the expansion of freedom in the world, will speak on "How Freedom Is Won" during a 12:45 p.m. luncheon.
Panels will focus on problems faced by nations creating constitutions and specifically on problems Iraqi delegates are likely to have in solidifying their constitution. Speakers will assess the influence of President Bush's policy on the democratic movement in the Middle East, consider the compatibility of democracy and religion, and the effect democracy may have on women in Islamic states.
To reserve one of the limited seats in Caplin Pavilion for the lunch and keynote speech, contact Justin Sher.
 
 
FRIDAY, FEBRUARY 24 
All events located in WB152 except where noted.
9:00 am
Opening Remarks 
Dean John C. Jeffries Jr.
9:15–10:45 am
Panel I / Comparative Constitutional Law: Constitution Drafting
This panel will address the problems nations face in drafting democratic constitutions, ultimately comparing past efforts with Iraq's attempt to draft her own constitution. This panel also will address the possibility of Palestine drafting a democratic constitution upon the formation of a recognized nation-state. 
Sponsor: White & Case, LLP
11:00 am–12:30 pm
Panel II / Assessment of the Bush Administration's Greater Middle East Initiative
Panelists will evaluate the Bush administration's efforts to promote democracy in the Middle East and whether this policy goal has been supported or undermined by the global war on terrorism. Panelists will also address the role that international law and international institutions have played in shaping U.S. foreign policy in this region and, conversely, the extent to which they have been altered by the war in Iraq.
Sponsor: Weil, Gotshal & Manges, LLP
12:45-2:15 pm
Keynote Address and Luncheon, Caplin Pavilion 
"How Freedom Is Won"
Peter Ackerman, Chairman, Freedom House 
Sponsor: Thelen, Reid & Priest, LLP
2:30-4:00 pm
Panel III / Compatibility of Religion and Liberal Democracy: Secular and Religious Governments
In an effort to answer the question of whether a liberal democracy must be secular, this panel will focus on the differences between a secular democracy, the Republic of Turkey, and an Islamic theocracy, the Islamic Republic of Iran. Panelists will consider the extent to which social, economic, and foreign relations can be explained by both Turkey's and Iran's different treatment of religion and systems of governance.
4:15–5:45 pm
Panel IV / Women and the Role of Islam: Personal Status and Democratization
This panel will discuss the effect of democratization on women's rights to better understand the broader human rights developments in the region. Panelists will consider the status of women's rights in family law and determine whether the dominance of Shariah will change within a democracy. Special attention will be given to civil society's response to democratization and how it has both strengthened and weakened women's rights.
Sponsor: Bryan Cave, LLP
5:45-6:30 pm
Closing Reception, Student Lounge 1
Founded in 1819, the University of Virginia School of Law is the second-oldest continuously operating law school in the nation. Consistently ranked among the top law schools, Virginia is a world-renowned training ground for distinguished lawyers and public servants, instilling in them a commitment to leadership, integrity and community service.