PILA Auction Set For Saturday
Posted Nov. 12, 2009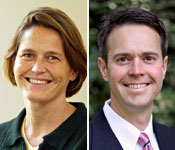 Karen Moran and George Geis
The Public Interest Law Association will hold its annual auction beginning at 9 p.m. Saturday at Charlottesville's Doubletree Hotel. 
Professors George Geis and Karen Moran will host the auction, and all proceeds will benefit law students who work in unpaid public interest summer jobs.
Tickets are available through Friday in the Law School's Hunton Williams Hall for $35. PILA will provide transportation from the Law School to the event venue.
Auction items include a progressive dinner for 15 with the dean and four professors, lunch with Slate Senior Editor Dahlia Lithwick, dinner with Professor Geis, and a fire-breathing display by first-year law student Walker Fults.
Click here for the full program, with a complete list of auction items.
Founded in 1819, the University of Virginia School of Law is the second-oldest continuously operating law school in the nation. Consistently ranked among the top law schools, Virginia is a world-renowned training ground for distinguished lawyers and public servants, instilling in them a commitment to leadership, integrity and community service.