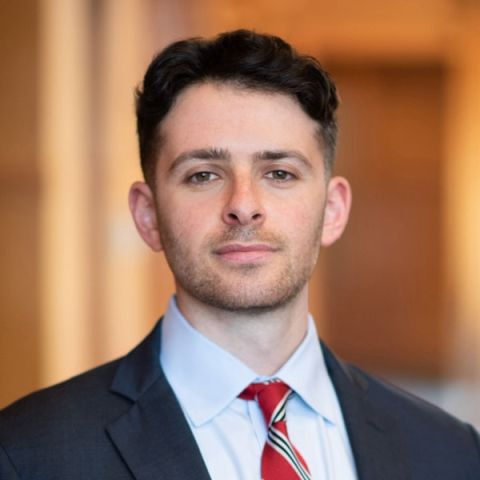 Adam Younger
Hometown
New York City and Westchester County, New York
Hometown: New York City and Westchester County, New York
Who I was then: I graduated from Case Western Reserve University in 2015 with a bachelor's degree in political science. Knowing that I wanted to work in government but still unsure whether I wanted to practice law, I studied public administration and policy at the New York University Wagner Graduate School of Public Service. In between graduating from NYU Wagner and starting law school, I interned on the U.S. Department of State's Anticorruption Team, at the Office of the Appellate Defender, and in the Suffolk County (N.Y.) District Attorney's Office Conviction Integrity Bureau.
Amazing law school class: I cannot name only one, so I will name my favorites. In terms of classes taught by full-time professors, it's a four-way tie between Professor Rachel Bayefsky's Federal Courts, Professor Frederick Schauer's Evidence, Professor Barbara Armacost's Criminal Investigation, and Professor Michael Collins' Civil Procedure. Why those? Two reasons. First, because of what they taught. I loved learning about how and when courts can help injured people. More generally, who decides the applicable law and finds facts, and why? Second, because of how they taught. I learned best when professors slowly walked through each doctrine's order of operations. For example, "first, courts ask this question; then, in determining the answer to that question, courts apply the following factors," and so on. I think these four professors did that most consistently.
In terms of classes taught by adjunct professors or lecturers, it's a three-way tie between the class on Robert S. Mueller III's special counsel investigation into Russian interference and potential obstruction of justice, taught by those who ran the investigation; Senior U.S. District Judge Jed Rakoff's class on scientific evidence in federal court; and Tim Heaphy and Judge Lisa Lorish's class on Law and Riots, which covered Charlottesville's Unite the Right rally and the Jan. 6 Capitol attack. Given the stature of the lecturers and the import of the subject matter, I think it's clear why these were "amazing" classes.
Outside class: I was managing editor of the Journal of Law & Politics, a clinic student in the Law School's Innocence Project, a student judge on the University Judiciary Committee and the Judicial Review Board, and a research assistant to Professors Rachel Bayefsky and Aditya Bamzai.
Favorite outing/activity to unwind: Early-ish morning, pre-class workouts at North Grounds Rec Center with my trusted accountability buddy and best friend, Monica Garlinska '23.
Noteworthy summer job: Though I learned a great deal from both of my summer jobs — as a 1L summer intern for U.S. District Judge Paul A. Engelmayer of the Southern District of New York, and a 2L summer associate in Covington & Burling's New York office — I will focus on my judicial internship because of how I think it will help me be a better future prosecutor. By observing a complex sex trafficking conspiracy jury trial to verdict with able counsel on both sides, I saw good trial lawyering first-hand. I also gained some insight into how a federal judge thinks. For example, I learned from Judge Engelmayer how to properly apply the (18 U.S.C) Section 3553 factors to impose an appropriate sentence. Lastly, working with Judge Engelmayer's talented law clerks to assist in drafting his opinions and orders sharpened my legal analytical and writing skills.
What's next: (job/location): I will proudly return home to NYC to serve as an assistant district attorney in the Manhattan District Attorney's Office.
Who I am now: I deliberately chose classes and extracurriculars that would test my assumptions and expose me to the widest variety of viewpoints and considerations. Some examples: I took Criminal Adjudication taught by a brilliant former public defender (Professor Thomas Frampton); I externed both at the U.S. DOJ's Criminal Division and in chambers of Senior District Judge Reggie B. Walton of the U.S. District Court for the District of Columbia, who had presided over several of the Jan. 6 defendants' cases; I joined the UVA Law Innocence Project Clinic; and I did an independent research study—supervised by a former DOJ honors attorney (Professor Richard Re) — on plea bargaining's constitutionality.
So, who am I now? At bottom, I think I'm a more cerebral, independent thinker. I try harder to calmly understand all sides of an argument, reserving judgment until I'm reasonably certain that I've considered all relevant law and facts. I've become more process-oriented: I focus more on how I reach a decision rather than on what decision I reach. And I've become more comfortable being "alone": I can take positions that I think are correct even if unpopular in the moment, which will help me fulfill my ethical duty to represent controversial or unpopular clients and causes. Thanks to UVA Law, I feel ready to dedicate myself to upholding the rule of law in NYC as a prosecutor.
What you should know about Virginia Law: I think these three are most important: As a whole, our students and faculty (as well as the outside speakers who are brought in) have very diverse opinions and priorities, some of which you may disagree with. I consider this a virtue, not a vice. It simulates our pluralistic world outside UVA Law. Moreover, hearing and engaging with opinions that I think are incorrect gives me the chance to carefully scrutinize them and develop counterarguments.
There are abundant professional and academic support resources here to get you to where you want to go — particularly Assistant Dean Leah Gould at the Public Service Center and Assistant Dean Sarah Davies in the Office of Student Affairs. When I was applying to public service jobs, I met with Leah nearly a dozen times to review my application essays, discuss strategy and prepare for interviews. And when I wanted to improve my time management as a 1L, I met with Dean Davies, who helped me create a Microsoft Excel chart allocating time for class, reading for class, outlining, sleep, office hours, the gym, etc. — a rubric that I still use today. In short, these resources helped me see and reach my potential.
Get to know the ScoCo Greenberry's and dining room staff — Ms. Mandy, Ms. Joann, Ms. Yolonda, Chef Earl and Ms. Victoria. For one, no matter how stressed I was, they would always make me smile and laugh. For another, and more importantly, my conversations with them were reminders that one ordinarily doesn't know what another has been through until one asks. Several of them have powerful law-related stories — Ms. Mandy and Ms. Yolonda, I'm thinking of you.