About the Fellowships
Class of 1967 alumnus David deWilde and his wife, Katherine August-deWilde, have created the Katherine and David deWilde '67 Public Interest Summer Fellowships in order to promote the protection of civil liberties, human rights, and the rule of law. Generally, two J.D. students will be selected each year for fellowships ranging from $5,000-$10,000 each.
Eligibility
All J.D. students enrolled as 1Ls or 2Ls working full-time, full-summer internships with nonprofit and government employers during the summer of 2023 are eligible to apply. Public interest internships that will allow students to contribute to the advancement of civil rights, human rights, or the rule of law through impact litigation and/or legislative reform will be given the strongest consideration. Sample practice areas include: immigration advocacy, human trafficking, LGBTQ rights, criminal justice reform, voting rights, and governmental ethics. While students do not need to have secured their internship placement at the time of application, preference will be given to students who have.
Application
Students must apply for the fellowship via Symplicity, submitting the following documents and attaching them to the posting by Friday, March 24, 2023 at 5 p.m. ET:
A resume;
A one-page statement of interest describing the legal impact you hope to achieve through your internship this summer, as well as your background for pursuing this work;
An unofficial law school transcript; and
A letter from your summer employer confirming that you will work full-time for a minimum of 8 weeks during the summer of 2023 for the organization and providing a brief statement about the nature of the work you will perform. If you have difficulty obtaining an employer letter, please attach a description of your internship as indicated on the employer's website or through email communications.
(If you have not yet secured an internship placement, submit instead a one-page statement listing the employers with whom you have applied, your application status, and a brief description of the type of work you would perform during the internships.)
The application posting may be found on Symplicity, here.
Questions
Please contact the Public Service Center at publicservice@law.virginia.edu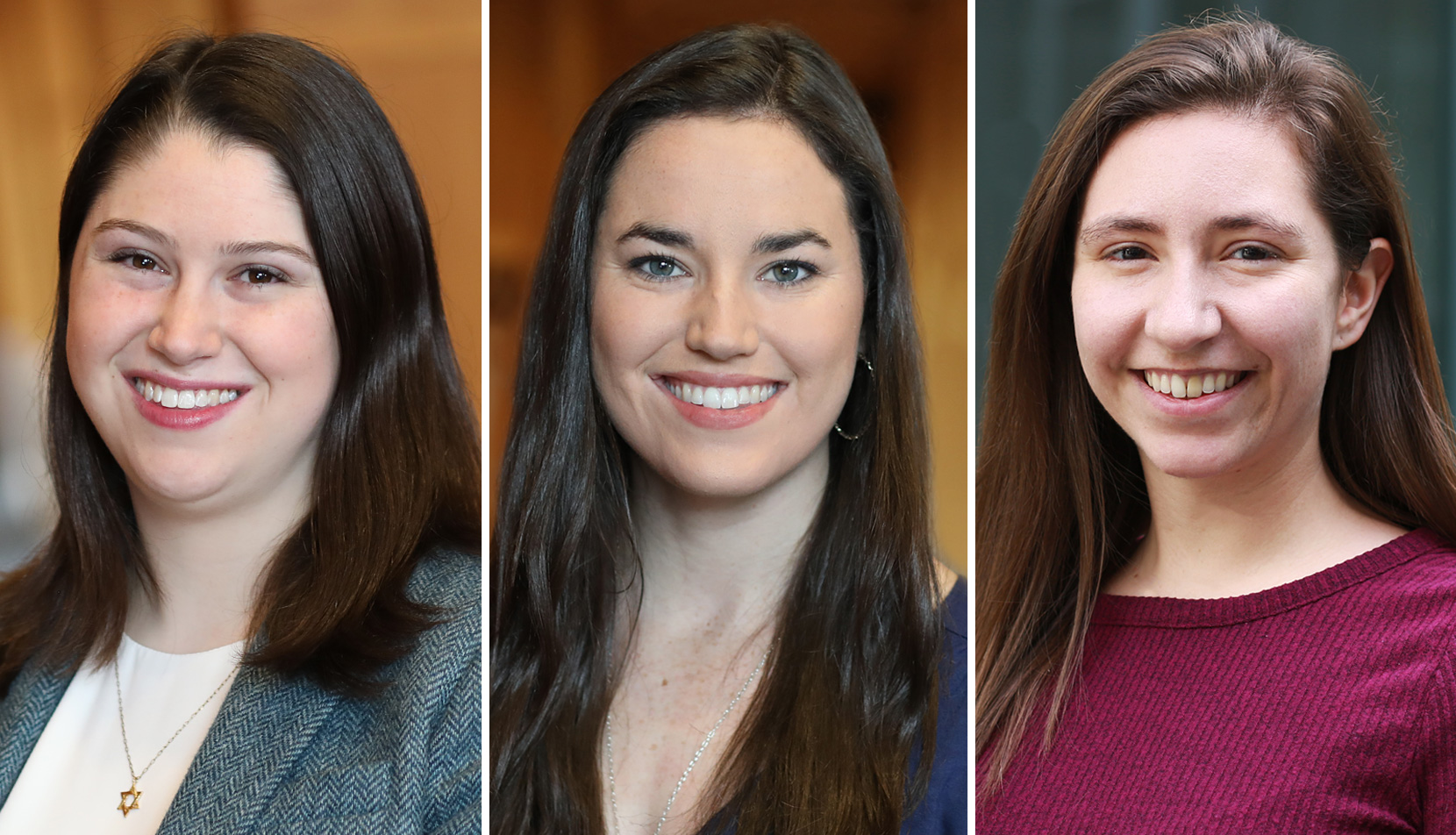 Students Named 2020 deWilde Fellows
Second-year students Jess Feinberg, Katharine Janes and Jen Kelso of the University of Virginia School of Law will promote legal rights this summer as Katherine and David deWilde '67 Public Interest Summer Fellows.