Send Us Your News
To submit a class note, email us or submit mail to UVA Lawyer, University of Virginia School of Law, 580 Massie Road, Charlottesville, VA 22903. Please send your submissions no later than Aug. 1 for inclusion in the next issue.
1970
Myron Steele '70 LL.M. '04 was recognized by the Delaware State Bar Association with the first State Distinguished Service Award. Additionally, the summer 2020 edition of Senior Lawyer News, published by the Virginia State Bar, recognizes Steele as one of its 50-Year Award Recipients. 
Steele is the former chief justice of the Supreme Court of Delaware and currently a partner with Potter Anderson in Dover and Wilmington. Before serving on the Supreme Court, Steele served as a judge of the superior court and a vice chancellor of the Delaware Court of Chancery and had a private litigation practice for 18 years. While on the court, he presided over major corporate litigation, and LLC and limited partner governance disputes, and he continues to write frequently on issues of corporate document interpretation and corporate governance.
In Memoriam: Rennard Strickland '65 S.J.D. '71, Native American Law Pioneer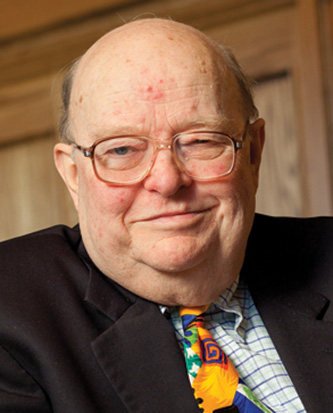 Rennard Strickland '65 S.J.D. '71, a pioneer in the movement for Native rights and a legal historian, died Jan. 5. He was 80.
Born in Muskogee, Okla., Strickland was of Osage and Cherokee heritage. In a career that spanned teaching and leading numerous law schools, he served as dean of four: the University of Tulsa, Southern Illinois University, Oklahoma City University and the University of Oregon. He was most recently senior scholar in residence at the University of Oklahoma Law Center, where he helped introduce Indian Law into the University's legal curriculum. The author, editor or co-editor of 47 books and 208 essays, book chapters and articles, he was frequently cited by courts and scholars for his work as revision editor-in-chief of "Cohen's Handbook of Federal Indian Law," considered the authoritative text on the subject.
"Rennard — a legal historian, institutional leader, teacher and arts patron — was himself a historic figure in the movement for the recognition of Native rights, a movement that informed virtually his entire professional life," said Professor Lindsay G. Robertson '86, the Chickasaw Nation Endowed Chair in Native American Law at the University of Oklahoma College of Law. Robertson succeeded Strickland in his founding role as faculty director of the Center for the Study of American Indian Law and Policy at the school.
Strickland was the first and only person to have served as both the president of the Association of American Law Schools and as the chair of the Law School Admissions Council. He was honored by both the Society of American Law Teachers with their annual teaching award and the American Bar Association's "Spirit of Excellence" Award, and was a member of the American Law Institute. In 2012, he received the Robert Kutakes' Award, presented by the American Bar Association in recognition of his substantial contributions to legal education and the active practice of law. 
In 1992, he was appointed chair of the Osage Constitutional Commission by U.S. Judge James O. Ellison of the Northern District of Oklahoma. Strickland was involved in the resolution of a number of significant Indian cases, including testifying on behalf of the Muskogee Nation and against the state of Oklahoma in the case that established the rights of American Indian tribes to engage in gaming.
At UVA, Strickland competed in the Jessup International Moot Court finals with his classmate Joseph Fleming '65, with the pair finishing second in the final round. Strickland was named "Best Oralist" and Virginia's team captured the award for best brief. His moot court career came on the heels of a prolific debating career in high school, and in college at Northeastern State University in Tahlequah. He also held an M.A. from the University of Arkansas and honorary doctorates from Valparaiso University, Northeastern State University and Bacone College.
Strickland told the University of Oklahoma's Sooner Magazine that his favorite law professor said he should go into legal education to change the way it was taught.
"Legal education has changed since then," Strickland said in the interview. When he began teaching law, "women and minorities were told to write about 'mainstream law,' not about minorities or women or even social and cultural issues. That non-traditional scholarship, we were told, was for 'after tenure.' I decided I didn't care to have my academic menu selected by others."
In 2004, Strickland spoke at UVA Law on the Native American struggle, an event sponsored by the Center for the Study of Race and Law and the Student Legal Forum. 
Strickland also was a philanthropist in the arts, and donated art collections to institutions in Oklahoma and Arizona.
—Mary Wood
1971
Hirschel Abbott was recognized in 2021 Louisiana Super Lawyers. Abbott practices with Stone Pigman Walther Wittmann in New Orleans. 
Michael Fontham was recognized in 2021 Louisiana Super Lawyers as a top lawyer in the state. Fontham practices with Stone Pigman Walther Wittmann in New Orleans. 
The American Bar Association published the third edition of the best-selling "The Military Divorce Handbook," by Mark E. Sullivan. The book is now over 12,000 pages in two volumes. Sullivan practices family law in Raleigh, N.C.
1972
George House was recognized as an industry leader in the environmental litigation category of North Carolina Super Lawyers. House practices with Brooks Pierce in Greensboro. 

David Craig Landin
established the Landin Law Group, which has a primary office in Richmond, Va.
1973
Charles C. Adams Jr. continues in the full-time practice of law as worldwide co-head of international arbitration at Orrick, Herrington & Sutcliffe, based in Geneva.
Franklin Flippin, a partner at Gentry Locke in Roanoke, was selected by Virginia Lawyers Weekly as one of "Virginia's Go To Lawyers" in business law.
Don Gasink writes, "Nine loving, handsome, beautiful, kind, sincere and fun grandchildren are the thrills of my life."
Frank C. Morris Jr. serves as general counsel of the National Cooperative Business Association-Cooperative League United States, the apex organization for cooperatives. He is also senior shareholder at Epstein Becker & Green, where he co-chairs the national ADA and public accommodations group and heads the employment labor and workforce management practice in the Washington, D.C., office.
1974
Douglas M. Branson LL.M. published "Major League Turbulence: Baseball in the Era of Drug Use, Labor Strife, and Black Power, 1968-1988," with McFarland in March. Branson is now retired and holds the W. Edward Sell Chair in Business Law and is professor emeritus of law at the University of Pittsburgh School of Law. He spends time at his homes in Shelter Island, N.Y., and Vero Beach, Fla.

Dick Ekfelt
died unexpectedly Jan. 10 after a brief illness. Ekfelt lived in Falls Church, Va., for the last 36 years of his life, "but the Midwest never left this tall slender Nebraskan," his loved ones report. His natural warmth, his friendly, open disposition and innate kindness charmed those who met him. Ekfelt also "had a healthy dose of Midwestern skepticism and stubborn resolve and a wry, irreverent humor tucked into that sweet persona." 
Ekfelt was born and raised in Omaha and graduated from Omaha North High in 1967. During his childhood, he was steeped in sports culture. His dad was a high school biology teacher, but first and foremost a coach — the first high school wrestling coach to be named to the National Wrestling Hall of Fame. It is no surprise that at 11 years old, Ekfelt was a state wrestling champ.
Ekfelt attended Yale University, where he was delighted to play shortstop and second base on the Yale varsity baseball team, "a veritable vacuum cleaner around the keystone," according to the school press, and where he was honored to be a member of Skull and Bones. He graduated from Yale in 1971 and completed his education with a J.D. from the Law School.
Ekfelt loved words, Scrabble and crossword puzzles. He loved to write and was a fierce and unforgiving editor of all his children's papers throughout their schooling. After a career as a lawyer and then trade association executive, he immersed himself in words as a freelance editor and was never so happy.
His other loves included Nebraska football, playing golf, baseball and especially in recent years, the Washington Nationals. 
But more than anything, his family reports, Ekfelt loved his wife, Sally; his daughter, Mikki; and his two sons, Charlie and Joey. He married these boys along with Sally in 1986. "They were a package deal — all three — and he never ran screaming from the house — not once — especially not after Mikki arrived in 1988, completing their family."
1975
Michael M. Landa was awarded the Food and Drug Administration Alumni Association's Harvey W. Wiley Lecture Award. Each year the awardee presents a lecture at the Food and Drug Law Institute's annual meeting. 
On June 19, Joe Rapisarda retired after serving as county attorney for Henrico County, Va., for 38 years. Upon retirement, Rapisarda was honored by the county manager and Board of Supervisors, who named the section of the Tuckahoe Library that contains legal materials as the Joseph P. Rapisarda, Jr. Law Collection.
Thomas J. Walsh Jr. died at home on Sept. 22, after a brief battle with pancreatic cancer. A true son of Memphis, Walsh was born on Oct. 22, 1947, and graduated from Kingsbury High School in 1965. He left only briefly, first for college at Yale University and then for law school. He married fellow Kingsbury graduate Jean McKee in 1969. Tom and Jean led a storied life together in Memphis until her death in 2016 just after their 47th wedding anniversary. Walsh grew up attending Berclair Baptist Church, and he and Jean raised their girls at Prescott Memorial Baptist Church. He was most recently an active member of Shady Grove Presbyterian Church. 
Walsh's legal career included both paid and pro bono cases. He was employed by FordHarrison and named Super Lawyers' Top Appellate Attorney in the Mid-South in 2019. Six of his cases reached the U.S. Supreme Court, including decisions that helped define the Americans with Disabilities Act. He was recognized as an "Attorney for Justice" by the Tennessee Supreme Court in 2018 and 2019. Walsh taught at the University of Memphis Law School and facilitated writing workshops for both students and practicing attorneys. 
His was a life of service. Walsh shared his gifts as a teacher and writer, leading adult Sunday School classes and mentoring and tutoring in public elementary schools. He was a tireless advocate for peace and justice issues, including work for racial equality, lifting up refugees and immigrants, feeding the hungry and fighting voter suppression. The son of a World War II Navy veteran, he prioritized telling veteran stories of those from "the greatest generation." He volunteered with the Yale Club of Memphis and was a charter member of the National Civil Rights Museum. Walsh previously served on the board of the Baptist Peace Fellowship of North America. He sang in the choir and served on the Nurture Team at Shady Grove Presbyterian Church. 
Tom and Jean spent most summer nights watching the Memphis Redbirds, in section 108. In addition to a passion for baseball, according to his family, Walsh loved popcorn, movies, trivia, travel and books. He was an avid photographer "and kept the greeting card industry afloat, sending cards far and wide." He enjoyed live theatre, had season tickets to Theatre Memphis, and often attended performances at Hattiloo Theatre and The Orpheum. In his 60s, he learned to kayak, became a lap swimmer and went to spin class. He poured his heart into the interests of his daughters and granddaughters, who were his pride and joy. 
Walsh is survived by his daughters, Courtney Marsh (husband Peter) of Fairfax, Va.; and Meredith Walsh (Kyle Tingley) of Memphis. He also leaves four granddaughters, Molly, Rebecca, Amelia and Moxie; they will miss his stories, his hugs, trips to the zoo and watching baseball games together.
1976
James J. Lee, a retired partner of Vinson & Elkins who is of counsel to the firm, was named as the 2020 Best Lawyers Lawyer of the Year in bankruptcy litigation for Dallas/Fort Worth. He is board-certified in civil trial law by the Texas Board of Legal Specialization.
Peggy O' Neal, president of the Australian Football Club the Richmond Tigers, writes that the club just won its third championship in four consecutive years. The season was delayed and then played in hubs for safety due to COVID-19. You can see O'Neal in "Making Their Mark," an Amazon Prime video about Australian football's most challenging year.
Vance Salter retired after 13 years of service as a judge of the Third District Court of Appeal of Florida. Salter and his wife plan to travel in the U.S. and spend more time with their eight grandchildren.
1977
Julian Bobbitt was recognized as a super lawyer in 2021 Best Lawyers. Bobbitt's practice focuses on providing strategic general counsel and regulatory guidance for health care organizations with Smith Anderson in Raleigh, N.C. 
Amy B. Ginensky was named a lawyer of the year in Best Lawyers. Ginensky is senior counsel with Troutman Pepper in Philadelphia. She is president and CEO of the Pepper Center for Public Service. The center draws on the firm's retired partners and senior attorneys to wrestle with tough problems facing local communities. 

John Stalfort
, managing principal of Miles & Stockbridge's Washington, D.C., office, was elected a fellow of the American College of Bond Counsel. He joins 15 other lawyers from across the U.S. who were elected fellows. Stalfort serves as counsel to commercial and investment banks, political subdivisions, economic development agencies, for-profit and not-for-profit entities (including health care institutions, secondary schools and other 501(c)(3) organizations), corporate trustees and bond purchasers in all types of tax-exempt and taxable bond transactions.
1978
After 16 years, Paul S. Stevens has retired as president and CEO of the Investment Company Institute. He became a grandfather in November.
1979
Jerry Cox's book, "Killer Airbags, the Deadly Secret Automakers Don't Want You to Know," was published in 2020. Cox, who championed the airbag mandate in the U.S. Senate and in a 1983 Supreme Court case, said he is not satisfied just warning consumers. In dozens of television interviews, podcasts and news articles about the book, Cox has decried "rank corruption" in federal automobile safety regulation that he estimates will kill and maim thousands of people throughout the 2020s, as millions of cars still contain defective airbags that can kill instead of saving people in a crash. Cox was profiled Nov. 14 on the national news magazine "Full Measure," where he revealed more information about the Japanese manufacturer Takata, which he said knowingly produced the deadly airbags.
On Jan. 6, 2020, Gilda L. Kramer was sworn in as Lower Merion Township Commissioner in Pennsylvania.
Michael K. Kuhn was included in 2021 Best Lawyers in America. Kuhn practices with Jackson Walker in Houston.
John F. Maddrey retired after 40 years with the state of North Carolina. Maddrey was most recently general counsel for the N.C. Department of Administration, after a 36-year stint with the N.C. Department of Justice. Maddrey served as the state's solicitor general for five years, arguing before the U.S. Supreme Court in addition to numerous other appearances in federal and state appellate courts. Gov. Roy Cooper conferred membership in the Order of the Long Leaf Pine in recognition of his service to the state. Maddrey will continue his long-time role as a statistician for ESPN on college basketball and college football broadcasts, primarily in the ACC region.