Firm's Fellowship Honors Caplin '40, Swanson '51
A law firm's new fellowship honoring two University of Virginia School of Law alumni was announced Feb. 19.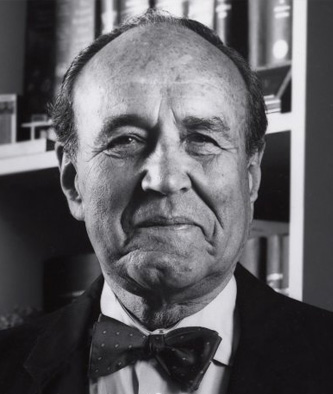 The Caplin-Swanson Diversity Fellowship, created by Caplin & Drysdale and given to law students who intern over the summer at the firm, honors Mortimer M. Caplin '40 (left), a UVA Law professor who served as IRS commissioner in the Kennedy administration, and Gregory H. Swanson '51 (below right), UVA and the Law School's first Black student. Caplin founded Caplin & Drysdale with Law School lecturer Douglas D. Drysdale '53 in 1964.
"I know my father would be smiling from ear to ear to celebrate the values celebrated in this very important initiative," Michael Caplin '76 said at the virtual event announcing the fellowship.
With Caplin's support, the Law School initially accepted Swanson's application, but the Board of Visitors rejected it in July 1950, citing state laws affirming segregation. With the help of a legal team including Thurgood Marshall, Oliver Hill, Martin A. Martin and Spottswood Robinson of the NAACP Legal Defense Fund, a three-judge panel ruled in Swanson's favor that September, and he registered in time for fall classes. Swanson completed a year of studies at the school, though never completed the thesis required to receive an LL.M. degree, which was common for master's students at the time. Swanson already held a law degree from Howard University.
Professor Kim Forde-Mazrui, director of the Center for the Study of Race and Law, served as guest speaker at the fellowship's announcement. He shared details uncovered from research conducted by the late UVA Law professor J. Gordon Hylton '77, as well as stories provided by the Swanson family.
Robert F. Kennedy '51 befriended Swanson at the Law School, Forde-Mazrui noted.
"Bobby Kennedy and Swanson ran into each other in D.C. in probably 1961, and Bobby said, 'Hey, my older brother just appointed Professor Caplin to be the IRS commissioner, and he's looking for good tax lawyers,'" Forde-Mazrui recalled. "And that reconnected Swanson with both Bobby Kennedy and Mortimer Caplin, and that's how Swanson wound up working at the IRS for the rest of his career."
At the event, Caplin & Drysdale announced the first fellowship recipient: Brooke Radford, a second-year student at Howard University School of Law.
"This is a wonderful day, and I look forward to continuing the legacies [of Mortimer Caplin and Gregory Swanson] as we … work towards racial justice in our future," Dean Risa Goluboff said at the event.
—Mike Fox
1953
Octavius Anthony Orbe died Sept. 26 at age 93. Orbe grew up in Passaic, N.J., with his six brothers and sisters, attended the Peddie School and graduated as a member of Princeton University's Class of 1949. His days at Princeton were interrupted by service in the army during World War II in Japan. Shortly after his return from Japan in 1949, Orbe met Ellie, and they married on July 8, 1950. 
After law school, Orbe began his legal career at Pitney, Hardin & Kipp. In 1955 he co-founded Orbe & Nugent (later Orbe, Nugent & Darcy), in Ridgewood, N.J., practicing there for more than 40 years, and finished his career at McElroy, Deutsch, Mulvaney & Carpenter after the two firms merged. His distinguished legal career was marked by pro bono work, volunteering at juvenile court and night court, serving as president of both the Bergen County and New Jersey State bar associations and as a fellow of the American Bar Association. 
Orbe was an active Princeton University alumnus and chaired his 50th reunion. He cherished Ellie, according to family members, who said she "brought elegance, artistry and a sense of fun and adventure to the family." He split his time among his homes in Montvale N.J.; Treasure Island, Fla.; and his favorite place in the world, Cape Cod, Mass. He loved fishing, bird hunting, boating, his daily dip into the sound or gulf, cocktail time and a party for any occasion. He treasured his role as a loving husband, father, grandfather, great-grandfather and friend, and cited his proudest accomplishment as his large and loving family. He loved nothing more than sitting around the dinner table regaling family with stories of his youthful hijinks. His grandchildren especially cherished his mischievous streak. He will be remembered for his exuberance for life and his joy when surrounded by family and friends.
Orbe is survived by his loving wife, Eleanor Orbe (formerly Catignani), and their seven children, 10 grandchildren and two great-grandchildren.
In Memoriam: Alan S. Boyd '48, First U.S. Secretary of Transportation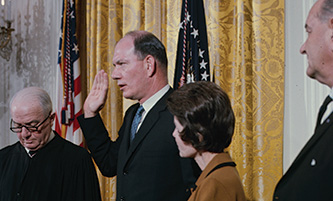 Alan S. Boyd '48, the first U.S. secretary of transportation, died Oct. 18. He was 98.
Sworn in as secretary with President Lyndon B. Johnson at his side in January 1967, Boyd pulled together a patchwork of smaller federal transportation agencies to create the Department of Transportation. The nation's urban transportation systems, for example, had been under the control of Housing and Urban Development.
Boyd, who previously served as undersecretary of commerce for transportation, was influential in promoting vehicle safety standards, including the requirement of seatbelts for all new cars, among other accomplishments.
The Washington Post put his role in perspective. Boyd "coordinated the country's overarching transportation policy, giving equal weight to plane, train and automobile travel. His efforts laid the foundation for a Cabinet-level agency that has grown from a $5.5 billion to $76.5 billion budget, with a role in highway safety as well as the Saint Lawrence Seaway."
The New York Times observed, "Despite resistance from bureaucrats and maritime unions, and having to work with underfunded mass transit systems, Mr. Boyd won relatively high marks for a two-year effort to merge dozens of transportation-related federal agencies."
Boyd solidified his path to transportation secretary as a Johnson appointee in 1965, serving as commerce undersecretary and as part of a special committee that recommended creating the department. He used his political experience in Washington to help shuttle the bill through Congress. Boyd had previously served as a member and chair of the U.S. Civil Aeronautics Board, first appointed by President Dwight D. Eisenhower in 1959.
In his 2016 autobiography, "A Great Honor: My Life Shaping 20th Century Transportation," Boyd detailed his call to Johnson after a friend who was a White House assistant erroneously told him he wasn't going to be picked for secretary.
"I called the president and told him that he didn't owe me anything and that I had been honored to serve him in the capacities to which he had appointed me," Boyd writes. "I added that if I could be of any service to him in the future, I would be happy to do so, but that I would also be happy to leave the government satisfied that I had done the best job I knew how."
Johnson responded, "What the hell are you talking about?" The president later added, "Alan, don't you do any damn fool thing. Just sit tight and shut up!"
It was all a misunderstanding; Boyd was in.
In the years following his public service in the Johnson administration, Boyd served as president of the Illinois Central Railroad (1970-77), as president of the quasi-public Amtrak passenger rail service (1978-82), and as chairman and president of the North American subsidiary of Airbus Industrie, the French jetliner company (1982-92).  
He briefly worked for another U.S. president, Jimmy Carter, in 1977 as Carter's special representative negotiating a new U.S.-U.K. bilateral aviation agreement.
He began his career in private legal practice in Miami. But a law firm partner engaged in politics and a subsequent job with the Florida State Turnpike Authority set him on his way for a career in government focused on transportation. He served on the Florida Railroad and Public Utilities Commission before heading to Washington.
In his autobiography, Boyd credited Law School Dean F.D.G. Ribble 1921 for giving him a chance to study law following his service in World War II as an Army pilot — despite flunking out of the University of Florida. If Boyd took undergraduate courses at UVA and performed well, the dean said he would reconsider the young man's plea for admission.
"At the end of the semester, I brought my grades to Dean Ribble. I'd taken economics, public speaking, and history, and done very well in all three. He greeted me warmly and told me to plan on entering the law school the following Tuesday."
Boyd's two years of legal studies (condensed after the war from the standard three) included a self-guided course in aviation law. He noted that his application to work for the Civil Aeronautics Board immediately after passing the bar was rejected.
Boyd reinforces in the book how his time at UVA helped influence the principles by which he would live his life.
"I believe in honesty," Boyd writes in the epilogue. "Like the University of Virginia, I have an honor code I follow. I know I could never live with myself if I ever lied or cheated. I want to look in the mirror every day and be proud of the person I see."
His son, Mark T. Boyd, who notified the media of his father's death, reiterated that thought in a letter last year to the Law School: "Dad credits his education at U.V.A. Law as foundational for his approach to life." 
—Eric Williamson
1955

Mark B. Sandground Sr.
died Dec. 30. He was 88 and still practicing law with his own firm. According to family, he didn't suffer much pain and was well cared for by the medical team at Sibley Memorial Hospital in Washington, D.C., where he had been admitted two weeks prior.
"Throughout his cancer treatment, which he endured with stoicism and (usually) good humor, he remained steadfast that he wanted to be cured and took on a rigorous treatment plan and continued to work from home when able," the family writes. 
"When the cancer returned in the fall, he decided to try another round of therapy, but his body was unable to fight on in the way that his spirit would have. Fortunately, his family was able to see him every day he was in the hospital at the end of his life. He spoke of all his friends and was grateful for the concern of many who called to support him. (And yes, he even worked a few hours in those final weeks.)"
Sandground was born June 6, 1932, to Rose and Jack Sandground in Brookline, Mass., where his father was a noted parasitologist on the Harvard Medical School faculty in the Department of Public Health. An only child and an apt student, he graduated from the University of Michigan (his mother's alma mater) in 1952 and then from the Law School. He received an honorary doctorate from Johnson & Wales in 2000. Sandground practiced throughout his entire legal career in the Washington, D.C., metropolitan region, officing first in the district for 30 years and then in Tysons Corner, Va. 
He created a series of law firms after he was established and specialized in matrimonial law. He was known as a zealous advocate, and aside from thousands of clients drawn from the general community, he represented senators, congressmen, Cabinet members, sports and entertainment celebrities, well-known (and obscure) artists, and even a few rock stars. He frequently practiced outside his specialty, representing foreign governments in Washington, as well as contractors doing business in the U.S. from abroad. His deep love of France was engendered by long-standing clients from Paris who transacted business in North America. 
He helped found several D.C. notable eateries in the 1970s, including La Niçoise and the D.C. branch of the Palm Restaurant, and invested in many others. He was especially proud of his long association with Jean-Louis Palladin, and Michel Richard and the current luminary Fabio Trabocchi. He was never happier than while at the table of a brilliant chef. 
Sandground was especially well-known in the Fairfax County Bar, where he was a circuit court fixture at Friday mornings "motions practice," often juggling multiple matters before several different judges. "His rivals feared his tactics, which were sometimes aggressive (he relished scheduling depositions on weekends and holidays), but most of his colleagues were pleased to be in court with him because of his passion, commitment, and his irreverent and irresistible wit," his family writes. "He made them better lawyers for it."
He was a member of both the District of Columbia Bar and the Virginia Bar for well over 60 years, as well as the many local courts.
He deeply adored his family, including his wife Judy; sons Mark "Chipp" Jr. '85 and Bruce, and their spouses, Davina and Kathleen; and grandchildren, Lauren '18, Forrest, Margaux and Oliver; not to mention his sibling golden retrievers, Jake and Bella, and their many predecessors. All proudly carry on the uncommon family name. 
Sandground was an outstanding storyteller, his family said, "and was never happier than surrounded by his friends drinking bourbon, some great wine from his peerless cellar or just a cold beer. He lived life on his terms, took no prisoners in the courtroom, and left few glasses unfinished. He was an unmatchable life force with his own special field of gravity, and those who knew him well felt lucky to be pulled into its orbit."
Sandground resided in Falls Church, Va., and had homes in St. Michaels, Md.; and Key West, Fla.
1957
John D. Corse died in Charlottesville on Oct. 20. Corse graduated from the U.S. Naval Academy in 1946 and served his country for eight years, most of them in submarines. He then enrolled at the Law School, where he was an editor of the Law Review and finished first in his class. 
Corse's career was always varied and interesting, according to his family. He practiced law, ran a real estate investment trust, led civic associations, and was a small-firm partner in Jacksonville, Fla., and a Big Law partner in Atlanta. 
From 1992 until 2005, Corse was a senior director of development for the University of Virginia Law School Foundation in Charlottesville.
Corse loved the Law School and believed everyone should, too — especially his classmates. He expected 100% participation from them. 
One year, with just a few holdouts remaining before the close of the annual giving campaign, Corse sent each of them a modest check with a note asking them to sign it over to the Foundation as their gift, or cash it and have a drink on him. He made his point and converted them all. 
Corse is survived by Margaret "Muffet" Murchison and their three surviving children, Carita, John Jr. and Margaret. 
Frank Hale Stewart died Aug. 16, at age 89. 
After receiving his bachelor's degree from Harvard College, Stewart served in the U.S. Army for two years before following in his father's footsteps to UVA Law. Stewart joined Taft Stettinius & Hollister in Cincinnati, where he practiced labor law for over 40 years. He was the protege of J. Mack Swigert, the principal author of the Taft-Harley Act, who worked at the direction of U.S. Sen. Robert A. Taft. 
Stewart hosted a regular radio news show "and fielded innumerable questions on law and life with zest and humor," his family writes. In practice, he navigated labor law as it evolved over the decades and became a "lawyer's lawyer" in his field across the entire country, also chairing the firm's Labor and Employment Law Department. He chaired the employment committee for many years and was responsible for recruiting and mentoring many young lawyers who went on to become leaders in the firm and in diverse positions nationwide, ranging from Fortune 100 in-house counsel to state and federal judges.
Stewart was an arbitrator and mediator in private disputes, and an adjunct professor of labor law at the University of Cincinnati. But his greatest professional joy came when he was invited to teach programs on mediation and arbitration for a number of years at his beloved alma mater, the Law School. 
Beyond his career in law, Stewart was also a leader in the Cincinnati arts community, including serving as chairman of the board of the Cincinnati Symphony Orchestra. Also, "His skill as a bridge player was legendary and second only to his skill as a raconteur," his family writes. 
He was a loving husband to the late Cynthia Ellis Stewart; father of two sons, Allen Ellis Stewart and Frank Hale Stewart Jr. (Allison); and grandfather of Elisa B. Norton, Graham W. Stewart and Colin G. Stewart.
In Memoriam: John Paul Jones '48, Newspaper Publisher and UVA Arena Namesake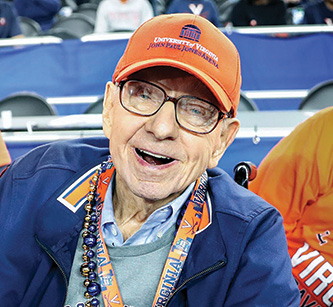 John Paul "Jack" Jones '48, a World War II veteran, successful attorney and newspaper publisher — and a lover of basketball, for whom UVA's John Paul Jones Arena is named — died Nov. 20. He was 100.
"He was beloved by many and he loved the Hoos," Virginia Director of Athletics Carla Williams said. "I'll never forget the pure joy I saw in him for UVA and our men's basketball program at the [2019] Final Four."
After completing an undergraduate degree at Vanderbilt University in 1941, the San Antonio native joined the U.S. Navy and served in World War II. In 1946, Jones entered the Law School and earned a J.D. in 1948, subsequently starting a law practice in Memphis that specialized in interstate commerce and labor law.
But Jones also had newspaper ink in his blood. Jones' grandfather, Charles L. Berlin, had helped start what became the Memphis Daily News — originally known as the Daily Abstract of Transfers — in 1886. Jones' mother took over as publisher in 1909, before handing the reins to Jones in 1960. He worked at the newspaper until 1994.
Jones considered himself a "history junkie." He had a strong interest in American history, especially the friendship between two of America's founding fathers, Thomas Jefferson and naval officer John Paul Jones (no relation), which he learned of when he was a law student in Charlottesville.
In his retirement, Jones focused on philanthropic activities. Among many endeavors, he served on the board of the Memphis Literacy Council, the American Cancer Society and Future Memphis. 
In 1996, Jones' sons, Paul Tudor Jones II (College '76) and Peter Schutt, endowed a scholarship in his honor at the University of Memphis School of Journalism. Paul Tudor Jones later donated $35 million in his father's name as the lead gift for UVA's John Paul Jones Arena.
In a 2016 interview with The Daily Progress, Paul Tudor Jones said his father became a basketball "fanatic" after his mother was diagnosed with Alzheimer's disease.
"There's no doubt in my mind that he's alive today because of Virginia basketball and Memphis Grizzlies [NBA] basketball," Tudor Jones said. "It literally is what keeps him going."
John Paul Jones Arena opened on Nov. 12, 2006, with John Paul Jones accepting the ceremonial game ball prior to the Cavalier men's basketball team's 93-90 win over Arizona.
"Jack had an extraordinary love for the University — and UVA basketball," said Barry Parkhill, Virginia's associate athletic director for development. "He always had that special twinkle in his eyes. He was a great American."
—Whitelaw Reid
1958
by Larry Grim
CLASS SECRETARY
First, a salute to our matured class secretary Ted Torrance for 62 years of the very best work in the history of UVA Law School. While he has some wobbles from Old Man Time, he can still pass an acuity test without a cram course and gain acceptance at the snobbiest Ivy League nursing home imaginable. You will see for yourself in the "last word" accorded him below.
Jim Atkin writes: "I moved to Santa Rosa, Calif., in October 2017, when the community was ablaze with a forest fire that hit the northern part of the city.… I soon found out that California had imposed severe environmental regulations that lumber companies were not allowed to operate. As a result, the forest was no longer managed, resulting in beds with underbrush to provide abundant fuel adjacent to communities. As a result, I became involved in efforts to turn these policies around. In this state, that is a big problem. When I lived here in 1958, we had a viable two-party system which worked. Now I am back and it has become a one-party state dominated by unions and the environmentalists.… However, I think things will turn around in time."
Stuart Brunet, 91, and wife Helen, 86, have two great-grandsons and a new great-granddaughter as life goes on in homestay in Mendham, N.J.
We all remember Stu fondly but who recalls David H. Carter of Oxfordshire, England? Aside from a name, no picture and mentioned in Sigma Nu Phi, he is unmentioned at all elsewhere in the Barrister. He answered my snail mail with an email, in part: "After being at UVA Law School from September 1955 through December 1956, I decided law was not for me. I left Charlottesville and subsequently became involved in the broad field of investment management, first with Scudder Stevens and Clark in New York City, and then with Scudder (amongst others) in London. After a rewarding life traveling the world, meeting a diverse group of international investors, I retired to Oxfordshire in 1993. I am widowed after 57 years of marriage and have four children and 12 grandchildren, all of whom live in England."
Judge Barbara Ann Coppeto, 83, died in 2017 of cancer. She graduated from Trinity College and our law class; her father preceded her in graduating from UVA Law School. She passed the Connecticut and New York bars on the first tries; practiced with Yudkin, Yudkin & Copetto in Derby, Conn.; and served as a family judge from 1981 to 2001, when she was appointed senior judge, working until retiring in 2015. She was a member of the National Association of Women Judges, a member of the New Haven County Court House Restoration Task Force and a past treasurer of the Connecticut Judges Association. She loved throwing big parties, traveling and winters in Florida. John Shroyer '57 remembers he and George Gowen '57 as guests of our 35th reunion on the lawn of Carr's Hill chatting with a group that included Barbara and Chuck Saunders. "We were talking about which of us had had any trial experience. Barbara hadn't volunteered any information about herself, so Saunders said to her: And what about you, Barbara, have you ever had any trial experience?" To which Barbara said (evenly): "Chuck, I have been a sitting judge in Connecticut for over 20 years." It was pure gold.
Stanley Christopher is "frisky" but "with a cane and a rollator, I do enjoy awaking each morning!" and: "Still living independently (about a half-mile north of that sacred ground, Carroll's Tea Room), fortunately have a neat lady friend in Ivy and enjoy my Virginia driver's license, which doesn't expire for several years yet. But, like dear conservative friends such as Martin Flanagan, Jim "Jungle" Atkin, Carter Furr '57, and Cal Thomas '60, am still grieving with respect to November 3."
Len Cooper's cheerful wife Vickie Allin reports that, at 92, he doesn't do email, but with her, he has no needs. She reports he's a little older than classmates as he did two stints in the military: two years as Navy medic corpsman at Chelsea Naval Hospital in Boston and, upon graduating from college, reenlisted, attended Officer Candidate School, then spent two years as a Naval destroyer officer in Korea. After law school and working at a couple of law firms, he was a corporate lawyer for an oil company, then a litigator representing an asbestos manufacturer in product liability cases. After a first marriage, he met Vickie through a mutual hobby of riding horses. They owned and rode horses over 20 years and Len competed in eventing (an equestrian triathlon) and hunter/jumper competitions. Vickie's career was as a policy analyst at the National Oceanic and Atmospheric Administration. Lucky Len!
Bob Dorsey says he has no story to tell, except he really enjoyed his time at the Law School. He also enjoyed his trips to Roanoke via the Skyline and Blue Ridge parkways, where he met his first wife at Hollins College.
Bill Edwards' life changed dramatically the past six months with the loss of his wife of 62 years. He is living in a facility with 24-hour care, but still in practice full-time and engaged in a virtual bench trial.
Bill followed up by reporting a verdict in his six-day Zoom bench trial. "Workers comp — lifetime income and medical benefits — estimated value: $2.5-$3 million!" Also, he had good results in barratry suits involving lawyers and trips to the Texas Court of Appeals. No wonder he said of the Zoom trial: "Quite an experience! But it felt good. A bunch better than no trial at all."
First to contact me before the ink was dry was Martin Flanagan, asking for a mailing list of classmates before I had one. He got it and, noting our diminished survivors, responded: "This reminds me of a line in a play by Daniel Defoe (1660-1731), to wit: 'The best of men cannot suspend their fate. The good die early and the bad die late.'" After bellyaching about COVID-19 cramping his style, he reported: "One of our daughters is the psychiatric registered nurse at a large prison facility with more than 500 inmates in her area. More than 300 of the inmates contracted COVID. Our daughter caught it, but continued working, as did a number of staff who had mild symptoms. Previously our daughter came across the state once a month or more to visit. We really miss those visits! But hope is on the horizon with the vaccine in sight. Besides that, Joe Biden promised he would kill the virus!"
Judge Walter J. "Jerry" Ford, who is retired, says he is "blessed with good health and all body parts in fairly good working order." He still does mediations covering "any legal problem you can think of and that require me to keep up with all statutory changes and appellate decisions." He tells a true story: "After college I really wanted to go to work for Procter & Gamble and was able to get an interview. I had to go to Baltimore. I didn't mind that. As fate would have it, they didn't hire me. It bothered me for years, until one day I was listening to President George H.W. Bush being interviewed. He told of wanting to go to work for P&G when he got out of college. They turned him down. Ever since then I stopped worrying because then I knew I was in good company. President Bush said it was Procter & Gamble's loss, and I agree for both of us."
Bill Griesar's name just preceded mine alphabetically through UVA undergraduate and Law School, and he is a superb, relaxed correspondent. He told of growing up in the Naples, Fla., area where I now live. His dad worked for the Collier family as it so intelligently developed the southwestern Florida county that bears their name. He credits Mort Caplin '40's mastery of the 1954 tax code and teaching it to him (I was in the same class, missing it) as enabling him to pose as a tax expert in the smaller New York City firm he started with, catapulting him into corporate acquisition. And then, "at age 52, to vice president and general counsel of Rockefeller University, a huge, complex scientific institution, unlike any other university." He called the time "the happiest and most rewarding of my years of law practice."
Brent Higginbotham lives in Bumpass, Va., a place I only heard of from Pennsylvania friends who vacation happily there. I did a Google Maps search of [his address] and found a corner lot on Lake Anna. Brent says: "We are located about equidistant from UVA (knee surgery, reunions, football games and Doug Mackall's estate) and Fredericksburg (bypass surgery and upcoming COVID vaccination) and about 40 miles north of Richmond. Historically Bumpass (a family name) was a rail freight depot in the 1930s, serving a local factory manufacturing wooden ice cream spoons and tongue depressors (remember them?). They used wood from native sweetgum trees because it was tasteless. Bumpass' post office is one of several serving the nuclear impoundment Lake Anna, which extends about 20 miles through three counties. Doris and I live alone in our home on the north side of Spotsylvania County, and, yes, our driveway is my name. We welcome any and all to stop by for some of Doris' South Carolina sweet potato casserole. We have a son in Richmond, a daughter in Fredericksburg and another son in Fairfax, and seven grandchildren. We feel blessed to have them visit frequently and to all enjoy reasonably good health."
Stu Jay's honey-voiced wife of 32 years, Paula, answered the phone and called Stu to a delightful chat. We reminisced about him rescuing me from basic training at Fort Knox during the Christmas of 1958 for bourbon and branch water at his then-wife's parents' warm, cozy Louisville, Ky., home. Eve, now gone, was a pal at Sweet Briar College of Lee Haskell, my regular date in law school. She went on to work for the CIA and marry George G. Vest IV. Stu said his years on the bench hearing matrimonial matters were secured by a uniformed sheriff seated next to him.
Michael Kaplan wrote: "Harriet and I have been locked away in our Manhattan apartment since March 17, leaving only for food shopping, doctors and the pharmacy; the apartment is just big enough we don't get on each other's nerves. I saw John Merchant's obit. John lived across the hall from me. I thought he was a fine human being. I invited him to parties, but he'd never go. I didn't understand." Years later during a trip to Charlottesville, he learned: "John had been there just the week before to speak to the Black Law Students Association. He told them that he felt very lonely and isolated as the only Black student in the school. I then understood why he would never accept my invitations. It's hard to believe I was so naive."
Andrew Kaul IV, by mere chance, walked up the steps to Clark Hall and registered for our first year just as Tom Soutter and I did. Andy was a hero at the Hill School (a boarding school in Pennsylvania), where I was a zero, but I knew him, and Tom was a college roommate. So I introduced them and, right off the bat, they hit it off and decided to seek rooms together, not in the pits of the law dorms with me. Both left after one semester. Andy's father, grandfather and great-grandfather had been Yale men. However, Andy was a three-time national prep school wrestling champion. He went to the University of Michigan, where he was two-time NCAA All-American wrestler and team captain. After his first semester at the Law School, he studied German at the University of Munich. Returning to his home in St. Mary's, Pa., he began a career at Speer Carbon and, on a joint project with Jacques Cousteau and the U.S. Navy, developed an air mixture for deep-sea diving. In the late 1960s he began working with the electronics division of Airco/Speer and built a manufacturing facility in Singapore. His accomplishments and charitable generosities were legendary and many. He died Aug. 26, 2011, survived by a wife, Margaret, three children and several grandchildren.
Doug Mackall said: "Retired to Charlottesville to watch football and basketball games. Not allowed to watch now. Did get to see Virginia win national championships in baseball and basketball. Remember being a lifeguard at Mount Vernon Inn and Bill Edwards putting on diving exhibitions. There were great parties at Fry's Spring Club."
William O'Connor sadly pointed out the list of class members that included his wife, Sylvia G. O'Connor, needed correction. After a long and courageous battle, she died of cancer in 1976.
Tom Otis called but, with his highly proper New England modesty (his father a judge, mother of Makepeace ancestry), did not gloat that two of the fleet of ushers at his marriage to Mina Ellis, the boss' daughter at Choate Hall and Stewart, continue to control his law class secretaryship. I remember meeting him at lunch our first year and marveling at his maturity, as he was just back from Korea — seemingly age 50! Our third year we were apartment mates overlooking the 14th hole at Farmington Country Club, and he still seemed 50. He invited my lady Kathy O'Dea and me to return to South Dartmouth to play Round Hill again — as Ted Torrance has. He was good humored and charming as ever, still a youthful age 50, unchanged. (Disclosure: at Tom's wedding, I met, and later married, a bridesmaid, Helen "Nell" Fisher, who graduated from Wellesley in 1957 and was Mina's pal in the Harvard M.A.T. [Master of Arts in Teaching] program. We had a daughter, son and six grandkids, and after 35 years, divorced.)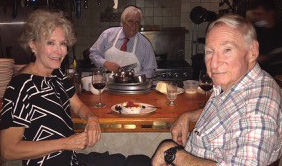 Ben Phipps
had and is having a jubilant time, first confined, but socially distanced, with Mrs. J.J. Wilson (pictured), a striking, lovely younger lawyer. He sent another picture, smiling midst his camellias in Tallahassee, Fla., where vaccine priorities go first not to health workers but to lawyers. So, he got an early shot and recently rattled off names of political figures he deals with by the dozens in Vero Beach to impress retired secretary Ted Torrance.
Bill Shands returned my stamped postcard with a note. He's in a long-term care facility and has no other news to share.
Thomas Douglas Soutter '62, my slob undergraduate roommate in the Phi Gamma Delta house at UVA, tied me for worst grades and LSATs to be admitted to our class. He dropped out after the first semester to attend the Navy's Officer Candidate School and marry. He returned to UVA Law, made the Law Review and was the top of the Class of 1962. He practiced with Breed Abbot & Morgan in New York, went to Harvard Business School, and then was vice president and general counsel of Textron, as the third-most-highly compensated GC in the U.S. He chaired Law School alumni giving efforts and was a supporter of many charities, proposed by me to be a member of Farmington Country Club; vacationed in Vero Beach, Fla.; and lived in Barrington, Rhode Island. He died Sept. 30, 2013, at 78, and is survived by his widow, Virginia; three children; and six grandchildren.
Karl Velde's news: "Sandra and I are trying to stay healthy. We moved to Vero Beach five years ago from Lake Forest, Ill., and are really enjoying life in Florida. We celebrated our 25th wedding anniversary on May 26, but nothing else special due to COVID."
Jesse Stringer Vogtle, impeccable in demeanor and dress, quiet and unobtrusive, belied his UVA college triumphs, where he led the Sigma Alpha Epsilon house, home to jocks, sweat, spilt beer, noise and parties, ricocheting footballs and lacrosse balls, and where he was elected to the Eli Banana Marching Band and Phi Beta Kappa. A Southern gentleman from Birmingham, Ala., he was rush chairman of Phi Alpha Delta, elected to the Raven Society, an advertising manager of the Virginia Law Weekly and Professor Neill Alford's student assistant. From 1958 to 1969 he practiced with a large Birmingham firm; then he joined his client, Alabama Power Co., as vice president, later executive vice president, general counsel and a director. He served as chair of the Birmingham Better Business Association and the Downtown YMCA; he was a leader at the Birmingham Zoo and the United Way and held other business, charitable and social positions. He died Dec. 12, 2016, at age 82, survived by Alline Brown Vogtle, his wife of 54 years; a son; daughter; and eight grandchildren. His was a life well-lived!
Unquestionably the most prominent and politically successful member of our class is Lowell Palmer Weicker Jr. Born in Paris, educated at Lawrenceville and Yale, he served as a lieutenant in the Army before entering our class. He served as U.S. representative, senator and 85th governor of Connecticut and unsuccessfully sought the Republican nomination for president. He built his reputation challenging Richard Nixon during Watergate at age 42, as a junior senator. He says Republicans in Congress are afraid to do the same with Trump. "The Republican Party we know today is nowhere near the Republican Party of my lifetime. It's just not. It's way over to the right." (Weicker's lieutenant governor was Eunice B. Strong Groark, who ran unsuccessfully to follow him as governor. In her last year at Bryn Mawr College, Eunice accompanied Larry Grim to the first and last Perkasie Rotary Club's Cultural Committee event, to which Larry, as chairman, had lured author James A. Michener as speaker. Michener was running as a Democrat in Republican Bucks County, Pa., and anxious to meet and greet. The Christmas program ran late, so Michener's talk consisted of his reciting a haiku — three lines, 17 syllables — then sitting down.)  Lowell writes: "Living quietly in Connecticut with my wife Claudia. The big 90 is next year."
Henry W. Williams, Jr. returned my postcard with the news that his fifth daughter moved from San Francisco to Miami. Why? Her two sons sail avidly. Henry has "mostly stopped practice: limiting it to social advice at parties." We'll expect more details on his retirement for the next class notes.
Swan Yerger called in a deep, sweet, Southern voice I thought I'd heard before. We chatted about our careers. For 38 years he was a lawyer and 14 years a circuit court judge trying cases, having been appointed by the governor of Alabama. We quizzed each other on our lives, and he confirmed a suspicion: His Yerger ancestors were, like I am, of "Pennsylvania Dutch" extraction, coming from Germany in the 1700s to Bucks County. As he told of their migration to the South and his namesake grandfather, William Swan Yerger, fighting for the South in the Civil War in Jackson, Miss., I told of two great-grand-uncle Yankees who were killed. We talked of Birmingham lawyer-humorist Hobart McWhorter, the Law School and the Libel Show. My role was as a corpse, captured jumping off a gurney in skivvies photographed by Bill Bunting for the Barrister, but Swan was the real headline performer, playing "Gummy" Nash. 'Twas Professor Charles Patterson Nash who made Evidence class pleasant and relaxed and permanently instructive. "Ahhhh, Gennilmaann, it doddn't matter." That splendid hero had an arm shot by German pilots, flying a bi-wing plane in World War I; he crash-landed and German doctors amputated the arm but saved his life, inspiring his charitable nature! A Phi Gam brother dated and married his daughter, and I dated her Hollins College pal. I'll never forget that most kindly Southern gentleman professor and his wonderful, softest accent that Swan brought back to mind!
Finally, secretarial badinage: In recent years, Ted Torrance has complained of the diminishing number of birdies on golf courses, and I've repeatedly exhorted him to subscribe to an Audubon column written by a retired judge, my cousin Hart Rufe, who lives not far from Ted. I wrote:
"Ted, hopeless though the cause is to interest you in birdies, Frank Gallagher, a past president of the Bucks County Bar Association (who appointed me chair of the History Committee in 1982 for life — in which capacity I produced Volume I in 2003 and am about to hatch Volume II) quizzes Hart Rufe, birder extraordinaire, on birds nesting near sewage plants in your backyard. My political rise to fame was occasioned by successfully chairing my cousin's winning contested judge race as a D in R Bucks County and being rewarded with the biggest political plum in local politics: solicitor of Bucks County Water & Sewer Authority! So, I know sewers! Gallagher, Judge Rufe and I (now, senior past president) teamed up to write about 45 wall-texts for judges' portraits in the new judicial center in Doylestown, Pa.
"I pray retirement is at last restful for you and more so for Connie!
"If up to it, click on Masked Booby
column
below and be educated." 
The last word belongs to Ted:
"Larry: I think the entire class of UVA Law '58 (to the extent extant) would be fascinated by the Masked Booby column, and even more so by your obviously extensive experience in the world of sewers. The Florida Treasure Coast has had a penchant over the years for placing sewer treatment plants in, shall we say, unfortunate locations. Every time I travel from our home to downtown Vero Beach I must pass, at the west end of the bridge joining my barrier island to the mainland, the local plant which was for many years known affectionately as 'The Big Fart,' a guaranteed tourist attraction over the last umpty-ump years…. I look forward to the next issue of UVA Lawyer. Best regards, Ted.
That concludes the maiden effort of your new scribe. Thanks go to all who sent news for me to share. I would greatly appreciate contact info on anyone whose name you did not see above. They are out there, and I need help tracing! Thanks!
1959
Edwin J. Rafal continues to act as counsel with Ruloff, Swain, Haddad, Morecock, Talbert & Woodward, a Virginia Beach firm. This year marks his 61st in practice.
1960
Walter A. Bossert Jr. died in October. Bossert was born in Manhattan on Oct. 5, 1932. He graduated Columbia College with a Bachelor of Arts in economics and was a member of the John Jay Society for over 40 years. Bossert served in the U.S. Air Force from 1954-57 as a lieutenant commander and top-secret security officer during the Korean War — most notably at Mount Rushmore's Strategic Air Command Base during the Suez Canal Crisis of 1956.
After serving in the military, he attended the Law School. Bossert joined Gould & Wilkie on Wall Street and practiced for 34 years, 19 as senior partner. Founded in 1892, Gould & Wilkie was perhaps best known as the firm where Judge Learned Hand practiced before his appointment to the federal bench. During Bossert's tenure, he was general counsel to several well-known corporations, including Associated Dry Goods and their principal division, Lord & Taylor, Tiffany & Co., and Central Hudson Gas & Electric Co.
In 1980, Bossert, along with his partner, Davison Grant, and renowned lawyer Telford Taylor, chief prosecutor of the Nuremberg Trials, successfully argued the landmark First Amendment case Central Hudson Gas & Electric v. Public Service Commission of the State of New York before the U.S. Supreme Court. 
Until the day he passed away at age 88, Bossert remained an active member of both the New York City and Supreme Court of the United States bar associations as well as of counsel to Thompson & Hine, Gould & Wilkie's successor. He was an avid music lover and historian who was instrumental in establishing Lyrica Chamber Music with his wife, classical pianist Mariel Bossert. The award-winning series included collaborations with the Emerson, Lark and Muir String Quartets and presidential "musical playlets" authored by Bossert.
Bossert is survived by his wife, Mariel; son, William; daughters, Ellen and Laura; daughters-in-law, Barbara Bossert and Suzanne Woolston Bossert; son-in-law, Terry King; his grandson, Christopher; and granddaughters, Brooke and Kaitlin.
1962
In Memoriam: Albert R. Turnbull '62 Launched Careers of Generations of Lawyers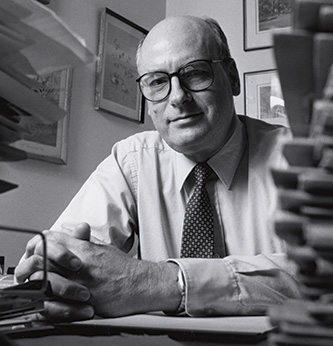 Former Associate Dean for Admissions and Placement Albert R. Turnbull '62, who admitted and helped shape generations of lawyers at the Law School, died Jan. 25. He was 83.
When he retired in 2002 as professor emeritus, Turnbull was estimated to have admitted 80% of living alumni of the school — more than 13,000 students. During his 36-year career at UVA leading admissions and career placement efforts, as well as teaching professional ethics and responsibility courses, he also influenced law school admissions nationally through his various roles at the Law School Admission Council. In 1972, Turnbull worked on the three-person subcommittee that created the Law School Data Assembly Service, a tool that admissions offices at every American law school use to evaluate an applicant's transcript, GPA, LSAT scores and other factors. Later, he was a member of LSAC's Board of Trustees when the organization decided to break from Educational Testing Services and administer the LSAT alone.
"For thousands of applicants, Al Turnbull was the face of the Law School," said Professor John C. Jeffries Jr. '73, who was dean when Turnbull retired. "He was always humane and caring. He treated each and every applicant as an individual deserving of respect, and they repaid him with admiration and gratitude."
A native of Virginia Beach, Va., and a graduate of Princeton University, Turnbull was a standout student at the Law School. He won the William Minor Lile Moot Court competition with his classmate and close friend, Charles Kidd '62. After graduation, he clerked for Judge T.J. Michie 1921 of the U.S. District Court for the Western District of Virginia, and then served as a trial and appellate attorney for two years in Norfolk, Virginia. (That work eventually led Turnbull to argue Warden v. Hayden at the U.S. Supreme Court in 1967. The case established a "hot pursuit" exception for broad searches under the Fourth Amendment.)
Dean Hardy Cross Dillard '27 then called him back to the Law School to both teach and lead the admissions and placement effort.
Initially assisted only by a cadre of faculty members, Turnbull oversaw a revolution in how admissions, career placement and financial aid worked. Turnbull's own Class of 1962 only had 566 applicants. By 1966, his first year in admissions, the applicant pool expanded to 1,841, and kept growing. Employers took notice as well.
"We were getting more and more employers wanting to recruit here," Turnbull said in a story marking his retirement. "The logistics of handling that were exploding."
During the 1970s, the school created two assistant dean roles, for career services and financial aid, and continued to hire more staff over the years.
One of the candidates Turnbull often said he was proud to admit was Jim Ryan '92, now president of UVA. Ryan had already been accepted to Yale and Harvard when Turnbull called to ask him to consider attending Virginia, with help from a full-tuition Hardy Cross Dillard Scholarship (now the Karsh-Dillard Scholarship), a program Turnbull spearheaded to help recruit elite prospects with financial support from Anthony Pilaro '60, who also founded the Ron Brown Scholar Program. After Ryan visited Virginia, Turnbull sealed the deal. 
"I owe much of my professional and personal life to Dean Turnbull, as attending UVA introduced me not just to the study and eventual teaching of the law, but also to lifelong friends and my wife, Katie, a UVA classmate," said Ryan, who later served as professor and vice dean at the Law School. "Dean Turnbull was as kind as he was smart, and I will miss him dearly, as I know so many others will as well."
Turnbull's longtime friend and fishing partner Professor Alex Johnson said the dean was "ecstatic" to have played a role in recruiting Ryan and Provost Liz Magill '95.
Johnson called Turnbull the "founding father of modern-day admissions."
"People looked at him and the way he ran admissions as a model — a meticulous way to do it, to do it fairly, do it efficiently, do it with the right thoughts in mind and with the right ideals, including diversifying the legal profession. He had the utmost integrity and the utmost faith in LSAC and the admissions process."
At their 40th reunion in 2002, on the eve of Turnbull's retirement, the Class of 1962 honored Turnbull by renaming its class scholarship The Class of 1962 Albert R. Turnbull Scholarship.
Turnbull's son, Albert W. Turnbull '88, now associate general counsel and partner at Hogan Lovells, joined his father as a graduate of the school, as did Turnbull's niece, Janet Turnbull '04, a Justice Department attorney.
In addition to the scholarship, the Law School also named the Albert R. Turnbull Unrestricted Endowment in his honor.
—Mary Wood
On July 28, Murray Stophlet Simpson Jr. died of complications of a stroke. He was 83. Simpson grew up in Chevy Chase, Md., and attended Landon School. In 1959 he graduated from Princeton University and that summer married Cora Straughan of Heathsville, Va. After law school he accepted a position at the UCLA School of Law teaching a course in legal research and writing. He also worked at O'Melveny & Myers and subsequently joined Sutherland Asbill & Brennan in Washington, D.C. Later, Simpson became a partner at Pope Ballard & Loos, specializing in tax and administrative law and estate planning. 
In 1975, Simpson took a leave of absence from the firm to join his brother in running Super Concrete when their father became ill. With that change of profession came his long involvement in the ready-mix concrete industry, serving in leadership capacities in Merit, Evered Bardon and U.S. Concrete. He was chairman of the National Ready Mixed Concrete Association from 1994 to 1997. 
Simpson held a strong belief in the value of excellence in education and was a supporter of the schools he and his wife attended. He was a benefactor also of the schools attended by his children and grandchildren. Always an advocate of sound governance, he chaired or was active on various planning and zoning committees in Montgomery County, Md. He served as president of two neighborhood citizens associations, Wood Acres in Bethesda, where he and Cora lived and raised their family, and Seabreak in Bethany Beach, Del., where he loved to summer with his family. He is survived by his devoted wife, Cora; their sons, Walker (and wife, Lauren) of Kensington, Md., and Scott (Jane) of Corrales, N.M.; and his grandchildren, Catherine (Dylan), Quinn, Ben, Walker, Caroline and William.
1963
Thad Long wrote a novel, "The Impossible Mock Orange Trial," based on a case he tried that received a good deal of local and national attention. [UVA Law Professor Emeritus] Peter Low penned a review on Amazon. Long has decades of practice handling difficult trials and other matters for defendants and plaintiffs in a changing litigious environment. He has consistently been listed in Best Lawyers in America for about 30 years for his abilities in nine different areas of expertise and is also an elected member of the American Law Institute. He has recently been honored with the Lifetime Achievement Award from Marquis' Who's Who in America. Long has written and will shortly publish memoirs of his life and career.
1964
Dapray Muir's book, "The Functions of Government," covers the many aspects of governments, from war and defense to museums and culture. It includes examples from around the world, as well as examples from ancient and medieval history. Muir has served on the boards of the International Federation of Institutes of Advanced Study and the Trust for Museum Exhibitions. He also served as president of the Washington Foreign Law Society and is currently a member of the Washington Institute of Foreign Affairs.
David O. Whittemore shared that he "hung up my shingle in 2019. Now I can observe bad news from my home!"
1967
David Fitzpatrick died at his home in Sun City West, Ariz., on Sept. 1. Born in Montclair, N.J., he graduated from Montclair High School and Princeton University before attending UVA Law. 
After graduating, Fitzpatrick practiced in a Manhattan law firm for three years before striking out on his own. He specialized in entertainment law and handled litigation in copyright, trademark and an extended series of federal criminal trials involving offshore banking. He promoted rock 'n' roll concerts (including 1974's "largest indoor concert in the world," Alice Cooper in São Paulo, Brazil), managed acts (Kool and the Gang, The Stairsteps) and produced theater on Broadway (Broadway Opry '79 at the St. James Theater).
In 1981, Fitzpatrick met his wife, Jenny, in Denver. It was love at first sight, according to his family, and he moved to Reno, Nev., to be close to her, becoming executive director of the Reno Rodeo (even though he'd never seen a rodeo before taking the position). He later served as director of marketing for the Nevada Commission on Tourism and taught copyright law at the Old College School of Law. He also went back to event promotion, co-founding Hot August Nights, producing rodeos around the Western states and promoting the Virginia City Camel Races, Kit Carson Rendezvous, Truckee Lions Sled Dog Races and the Nevada State Fair.
The couple retired to Arizona in 2004. An avid golfer, his lifetime goal was "to shoot his age." Fitzpatrick is survived by his wife, four children and six grandchildren.

William Howell
was elected to the board of directors of the Virginia War Memorial. Howell represented Virginia's 28th District in the commonwealth's House of Delegates for almost 30 years, from 1992 until 2018. He also served 15 years as speaker of the house — the second-longest serving speaker in state history. During his tenure, Howell played a critical role in the General Assembly's strategic investment in education, economic development and mental health services. Of his many legislative achievements, one of his most notable was House Bill 2313 in 2013, a major transportation initiative passed with bipartisan support. Howell helped preserve several state parks through his passion and support of land conservation.
1968
Raymond Donald Battocchi of Round Hill, Va., died Nov. 4 at 78 due to surgical complications. Battocchi was born on May 15, 1942, in Springfield, Mass. He was the son of an immigrant from Northern Italy who founded a lucrative knife-sharpening business that held five patents, and a loving mother who was a devoted homemaker. He was raised in Hartford, Conn., where he attended Weaver High School as an outstanding athlete and scholar, and as senior class president. He completed a bachelor's degree at Amherst College. While there, he received the commendation for the most improved student, where he was also co-captain of the football team and awarded honors. He received the Woods Travis Prize for outstanding excellence in culture and faithfulness to duty as a scholar. He remained an active Amherst alumnus, most recently as president of his class and chairman of his 55th reunion. 
Battocchi was drafted by a semi-pro football team, but opted to teach at Deerfield Academy, prompting him to pursue a legal education at the Law School. During this time, he received a number of honors, including Order of the Coif, Raven Society and Omicron Delta Kappa. After law school, he volunteered for the Lawyers Committee for Civil Rights in the South, which included being an observer of an election in Mississippi.
He served with distinction at the Department of Justice from 1968-77, primarily in the appellate civil section. He practiced with Cole & Groner in Washington, D.C., for 12 years, before joining Gabeler, Battocchi, Griggs & Powell in McLean, Va., specializing in litigation for 12 years. He was selected in 2006 and 2007 to Super Lawyers. He tried countless cases, and briefed and argued numerous cases before the U.S. Court of Appeals. He paid his football years forward by representing former NFL players when financial fraud had been perpetrated against them, or in general business matters. One of his proudest accomplishments was prevailing in a case before the U.S. Supreme Court (Booz v. Barry in 1988). His volunteer activities included pro bono representation for the Public Citizen organization, pro bono representation of an employee of the Army Corps of Engineers, serving as an officer for the Loudoun County Democratic Committee and serving as president of the McLean Bar in 2019.
Battocchi is survived by his devoted wife of 14 years, Minda McCabe; sons, Adam (and wife Leigh Ann) and Brian (Caitlin); stepdaughters, Sarah and Sandra McCabe; granddaughter, Maggie; and brother, Ronald.
Robert Pannell recently retired as an adjunct professor at Emory University Law School, where he taught Venture Capital and other business courses for 10 years. 
J. Rutledge Young Jr. is in his 10th year as special counsel at Duffy & Young, where he concentrates on business dispute resolution. Young's son, Rutledge III (College '93), co-founded the Charleston, S.C., firm in 2007.