Law School Hosts Interdisciplinary Conference on Law and Emotion
Recognizing the role of emotion is critical to a better understanding of family law, experts said Thursday during a conference on law and emotion held in Caplin Pavilion.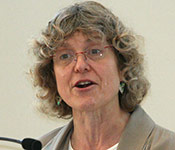 "In recognizing the centrality of emotion, we can learn not only to control, but also to promote passion," said Robert Emery, director of UVA's Center for Children, Families, and the Law. The two-day event was sponsored by the Center, the College of Arts & Sciences, the Law School and the Virginia Journal of Social Policy and the Law.
Linking emotions with law is a fresh theoretical approach in contrast to the conventional wisdom that law is always dispassionate, Emery said in his opening remarks. Examining a broader range of emotions in family law could make legal procedures more therapeutic and help lawyers realize their valuable role as counselors in dispute resolution, he added.
Kathryn Abrams, a law professor at the University of California, Berkeley, focused on the obstacles to recognizing the importance of emotion in family law.
Abrams said the study of emotion in family law lagged behind other legal fields because the nature of resistance to it was very different and much stronger. The family is often treated with more privacy, which may preclude a full assessment of the role of emotion, while family law is often filled with female lawyers who may be afraid to highlight emotion for fear of being stigmatized more so than they already are.
"Resistance in family law is not rooted in stubborn objectivity — it is different," she said.
Abrams ended her talk by citing issues that have implications for future research, including the importance of recognizing emotion within a range of different families, challenging the privacy of emotion in family law and elaborating a different range of legal interventions.
Following Abrams' presentation, UVA psychology professor Gerald Clore provided a more scientific assessment of emotion and the complex ways in which it is demonstrated.
Clore conducted an experiment in which he found the subjects to be happier when asked about their "life satisfaction" during sunny rather than rainy days. When the experiment was repeated and the subjects were first asked about the weather and then separately about their "life satisfaction," they were able to focus their emotions on their personal experiences rather than the weather.
"What you end up feeling depends on what you focus on," he said. Similarly, he added that the role of the law was to focus emotion toward the outcomes of a case rather than at individual personalities, since the latter could lead to blame, anger and other negative feelings.
The conference also included three other paper sessions and one panel discussion with attorneys as well as law, psychology and neuroscience professors. Emery said the event was the first conference to examine family law through law and emotion scholarship.
"Emotions are the stuff of life," Emery said, adding that the first step to studying emotion in family law "is recognizing it."
Founded in 1819, the University of Virginia School of Law is the second-oldest continuously operating law school in the nation. Consistently ranked among the top law schools, Virginia is a world-renowned training ground for distinguished lawyers and public servants, instilling in them a commitment to leadership, integrity and community service.