Bioethicist: Residents of Long-Term Care Facilities Need Election Reform
The election system needs reform to keep residents of long-term care facilities safe from political disenfranchisement and voter fraud, a bioethicist said Friday at the Law School.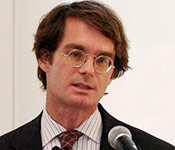 "Simply put, the decision to leave the current system as it is is an unacceptable decision," Dr. Jason Karlawish told a packed Caplin Pavilion.
Karlawish, an associate professor of medicine at the University of Pennsylvania, was the keynote speaker for "Exploring Voting in Long-Term Care Facilities in Virginia," a day-long conference sponsored by the University of Virginia Institute on Aging and organized by Law School Professor Richard Bonnie.
Long-term care facilities such as nursing homes and assisted-living facilities are prime targets for both disenfranchisement and fraud, Karlawish said. Many residents of such facilities want to vote and are capable of doing so, but cannot because of difficulties in obtaining an absentee ballot or traveling to a polling place.
What voting does occur at such facilities is typically done by absentee ballot, a method Karlawish said is highly susceptible to fraud, especially if one staff member is responsible for helping residents at such a facility fill out their ballots.
Voting returns from these facilities are a common source of election disputes, he said.
"People in long-term care facilities suffer doubly," Karlawish said. "People restrict their right to vote and they steal their vote."
The integrity of voting systems in long-term care facilities is increasingly important as the population ages; in Virginia, 11 percent of the population was 65 or older in 2000. There are about 1.6 million Americans in nursing homes and a similar number live in assisted-living facilities, Karlawish said.
Because the majority of states have no guidelines for voting in long-term care facilities, staff members frequently have a great deal of control over whether a resident is able to vote. During a study of voting practices at assisted-living facilities, Karlawish found that many staff members he interviewed would make decisions about whether residents were mentally fit to cast a ballot.
"Here's a quote from one of the people we interviewed: 'Is this person aware there is an election going on? What's it for — is it for the mayor or the president or whatever? Would this resident have the ability to make a decision, or is it just eeeny-meany-miney-moe? It's pretty subjective on my part.'"
Karlawish said he no longer believes that determining whether residents at long-term care facilities are capable of voting is the central issue to ensuring voting rights at such facilities.
"I was initially of this view, but I have transformed in my thinking from believing it is a core issue to thinking that it is a distraction."
He cited the governments of Canada, Illinois and Vermont, which all lack any standard for determining what it means to be competent to vote.
"If someone wants to vote, and if they receive assistance in registering and voting if they need it, they will simply vote or they won't."
It's a mistake to assume that a diagnosis of either Alzheimer's disease or some other form of dementia should automatically disqualify someone from voting, he said. These disorders include a wide range of severity, and data shows that many people diagnosed with cognitive ailments are still able to vote, he said. 
Real reform requires making sure that all long-term care facility residents who want to vote are properly registered, and that election workers travel to such facilities in advance of such an election to make sure that everyone who wants to vote can do so, he said.
Karlawish pointed to the increased prevalence of early voting, and said there is no reason that election officials can't travel to long-term care facilities to ensure the integrity of the voting process.
"If you're going to do early voting, why not do early voting on the go?" he said.
Founded in 1819, the University of Virginia School of Law is the second-oldest continuously operating law school in the nation. Consistently ranked among the top law schools, Virginia is a world-renowned training ground for distinguished lawyers and public servants, instilling in them a commitment to leadership, integrity and community service.