Carolyn Rumer '14 Will Help Domestic Abuse Victims Through EJW Fellowship
Carolyn Rumer, a 2014 graduate of the University of Virginia School of Law, will help domestic abuse victims hoping to regain financial stability in her new role as a recently named Equal Justice Works Fellow.
Through the prestigious two-year fellowship, which is sponsored by the law firm Latham & Watkins, Rumer will work next fall in the Public Benefits Law Unit of the Legal Aid Society of the District of Columbia. The goal of the project is to help break the cycle of violence for low-income abuse survivors by increasing their economic security using legal advocacy. Rumer will focus on employment, public benefits and child support.
"It's a unique project," Rumer said. "There are organizations that do benefits and child support work with domestic violence, but the employment piece is pretty cutting-edge. I'll work on connecting with clients at the critical moment when they are seeking to leave an abusive situation."
Because of the trauma of abuse and the economic upper hand that domestic abusers often hold, victims may have trouble maintaining steady employment or identifying benefits to which they may be entitled, Rumer said. If they can't pay their bills, they may feel they have no choice but to return to the abusive situations.
"Financial stability is the primary indicator of whether a victim will be able to leave, and stay free of, an abusive situation," she said. "Typically because they are so economically strained and financially dependent on their abusive partner, they can't even pursue the temporary protection order beyond the initial date."
Among her duties, Rumer will advise employed clients of their rights under federal and District of Columbia employment laws, and communicate with their employers, when appropriate, to help clients receive accommodations and keep their jobs. She also will ensure that clients have access to critical public benefits, such as unemployment insurance and full Temporary Assistance for Needy Families Benefits (for clients with children) with domestic violence protections.
She said the timing of the project is critical because on Oct. 1 the district will terminate TANF benefits for families who have received benefits for more than five years, cutting off approximately 6,000 families and 13,000 children.
"Domestic violence survivors are exempt from the time limit, but first must be identified and receive the exemption," Rumer said.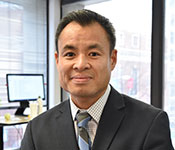 Rumer will work with the support and guidance of Chinh Q. Le, Legal Aid's legal director and a 2000 graduate of the Law School. Rumer met Le as a law student during a presentation to Professor Anne Coughlin's Law and Public Service class. Rumer interned in Legal Aid's Domestic Violence and Family Unit during her second summer of law school.
Le said Rumer is a valuable addition to their team.
"We at Legal Aid are lucky to have someone with Carolyn's talents and commitment joining our organization," Le said. "Carolyn worked closely with us to design a timely, creative and impactful project that we believe will both address an acute need in our client community and capitalize on the skills, talents and experiences she possesses."
Currently, Rumer serves as a clerk for Judge Jennifer Di Toro on the D.C. Superior Court. She also has experience as a full-time extern with the Bazelon Center for Mental Health Law and as a summer law clerk at Public Counsel's Homeless Prevention Law Project.
But she said it was her experience as a volunteer at a rape crisis advocacy center while an undergraduate at the University of Notre Dame that first opened her eyes to the legal needs of abused persons.
"Besides the emotional and practical support, I saw what the victims of domestic abuse and sexual violence need is ongoing legal support and protection," Rumer said. "So I went to law school to continue doing that kind of work."
Rumer said Assistant Dean for Public Service Annie Kim, who directs the Mortimer Caplin Public Service Center; Assistant Dean for Pro Bono and Public Interest Kimberly Emery; and previous Equal Justice Works Fellow Sabrina Talukder '14 were among those in the UVA Law community who were instrumental in offering support and advice.
She also gave ample credit to the Program in Law and Public Service for providing a bridge to practical experience, which she stressed for those who may apply for a fellowship.
"Anything that can help you get more client interactions will help you have a more compelling project," she said.
Founded in 1819, the University of Virginia School of Law is the second-oldest continuously operating law school in the nation. Consistently ranked among the top law schools, Virginia is a world-renowned training ground for distinguished lawyers and public servants, instilling in them a commitment to leadership, integrity and community service.