The accomplished Class of 2019 officially began its journey in legal studies today at the University of Virginia School of Law with the start of first-year classes.
"Law school is going to create opportunities for you that you can't yet even imagine," Dean Risa Goluboff told the class during Monday's orientation — the first class she has welcomed in her new role.
The 297 members of the Class of 2019 were selected from a pool of 4,811 applicants. They earned a median undergraduate GPA of 3.86, a median LSAT score of 169 and represent 138 undergraduate institutions. The students, 45 percent of whom are women and 24 percent of whom identify themselves as minorities, come from 39 states and the District of Columbia, with the most common states being Virginia, California, New York, Florida, Texas and Georgia. The class also is diverse for other reasons: 6 percent served or are serving in the military and 6 percent self-identify as LGBT. (Full Class Profile)
Members of the class include a cybersecurity expert, a teacher, a Marine, a literature scholar and an environmental economist.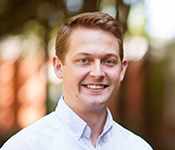 Web Leslie, who hails from Fairfield, Connecticut, has spent the last four years working for the Department of Homeland Security, most recently as special assistant to the secretary on issues related to cybersecurity, privacy and infrastructure protection. He holds a bachelor's in foreign service from Georgetown University and is interested in pursuing national security law.
"Whether it was frequently fooling around with computers or first seeing the 1983 movie 'WarGames,' where a young hacker almost causes nuclear Armageddon, computers and computer security intrigued me greatly from a young age," Leslie said.
He also recently completed a 23-day, solo road trip from Washington, D.C., to the West Coast and back.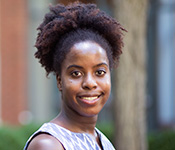 Jasmine Alves, from Roselle, New Jersey, spent three years teaching middle school science in urban public schools as a Teach For America Corps member. In addition, the Columbia University graduate in sociocultural anthropology was a neighborhood organizer for New Jersey Sen. Cory Booker's campaign.
Now Alves is looking to apply her experiences to law school. "I am looking forward to studying the intersection between race and the law, being given the tools to make change for people and applying those tools through a clinic," Alves said.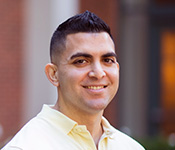 Eric Reissi, of Boca Raton, Florida, rose to the rank of captain in the Marines. The son of immigrants, he is the first in his family to graduate from college and serve in the U.S. military — and now the first to go to law school.
"My family's story epitomizes the American Dream, and I am grateful for the road they paved for me to accomplish my goals," Reissi said.
A graduate of the University of Miami in political science and criminology, he said he knew UVA Law would be a good fit for him because the school's core values matched his own.
"UVA stood out to me personally because of its renowned commitment to instilling leadership, integrity and service among its students," he said.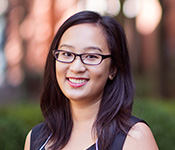 Princeton University and University College London graduate Karen Jin, who comes from Glen Mills, Pennsylvania, brings to the Law School a background in literature and, more recently, experience as an intern in the Department of Justice's Environment and Natural Resources Division.
At the Justice Department, "I got a firsthand look at litigation and rulemaking, attended oral arguments and even saw Attorney General Loretta Lynch in the DOJ cafeteria, of all places," Jin said.
She is excited to learn what it means to "think like a lawyer."
"I'm looking forward to finding out what exactly that entails, and learning over the course of my time here how to apply these legal skills to real-world issues," she said.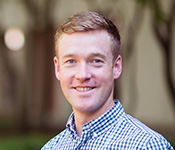 Wade Foster, of Lakeview, Oregon, is an Oregon State University graduate who holds a bachelor's degree in environmental economics, policy and management. He is also a former state president of the National FFA Organization who lately has been working to forge a culture dialogue between the LGBT community and farmers through the Cultivation Change Foundation.
"My dad is a wildlife biologist and many of my friends growing up were ranchers or foresters, so I grew up at the intersection of natural resource management, use and agriculture," Foster said. "I want to be in the middle of the discussion after I graduate from law school."
Foster chose UVA for the community, he said, and because "the degree will take me anywhere I want to go."
Foster also notably placed in the top 500 in the Boston Marathon in 2014. "I'm pretty proud of that," he said.
At Monday's welcome ceremony, Assistant Dean and Chief Admissions Officer Cordel Faulk said that everyone in the class had impressive credentials, but that test scores and past experience were not the sole reasons that the students were chosen.
"Not a single one of you should think we invited you to become a UVA lawyer because of how bright your yesterday was," Faulk said. "If we thought the best you had to offer happened before today, you wouldn't be in Charlottesville."
The orientation included a keynote address from alumna Dasha Smith Dwin '98, an executive with global investment and advisory firm GCM Grosvenor.
She encouraged the class to "take risks, take chances and don't be afraid of the outcome."
Third-year law student A.J. Collins, president of the Student Bar Association, also spoke at orientation. Each speaker emphasized the importance of viewing classmates as friends and a network, rather than competition.
Related Articles
Founded in 1819, the University of Virginia School of Law is the second-oldest continuously operating law school in the nation. Consistently ranked among the top law schools, Virginia is a world-renowned training ground for distinguished lawyers and public servants, instilling in them a commitment to leadership, integrity and community service.