We caught up with five graduates who were profiled as they began classes at the University of Virginia School of Law on Aug. 24, 2016. See where they're headed now and what they gained from their law school experience.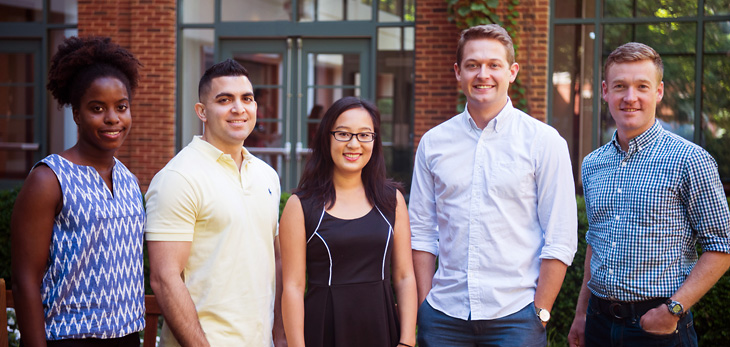 The graduates pose during orientation in August 2016. Photo by Jesús Pino
Jasmine Alves
Entering the class: Columbia University graduate and Teach For America Corps alum from Roselle, New Jersey
After graduation: Will work at law firm Pillsbury Winthrop Shaw Pittman's Silicon Valley office
"One lesson that I learned in law school is that you have to run your own race even if you're not 100% certain of where it will take you. It can be easy to get caught up in what your classmates are doing or come into law school with preconceived notions of what the experience should be or where you should end up after three years. If I had focused on these things, I would have blocked myself from opportunities that I did not even know that I wanted to attract into my life. What has kept me level-headed throughout this law school journey has been being clear on what my core values are, approaching every day with an open mind and doing the things that make me happy. I have gratitude for every experience that I have had here, because these experiences will continue to shape the way that I move forward in the world."
Wade Foster
Entering the class: Oregon State University graduate, top-500 Boston marathoner and former state president of the National FFA Organization from Lakeview, Oregon
After graduation: Will clerk for U.S. District Judge B. Lynn Winmill, District of Idaho, in Boise
"The biggest thing I will miss about law school is being surrounded by smart, motivated, interesting people who also know how to have fun (perhaps too much). Some of my favorite memories come from Dean [John C.] Jeffries' classes (Criminal Law, Federal Courts); he has an amazing ability to teach both theory and doctrine and show how they fit together. I really think he could make a lecture about paint drying incredibly engaging."
Karen Jin
Entering the class: Princeton University and University College London graduate, and former Justice Department intern from Glen Mills, Pennsylvania
After graduation: Will work for law firm Shearman & Sterling in New York City
"Law school taught me to be a more careful and analytical thinker, writer and communicator. But what I value most from my time in law school are the incredible friendships I've made and people I've met." 
Web Leslie
Entering the class: Georgetown University graduate and former Department of Homeland Security employee from Fairfield, Connecticut
After graduation: Will clerk in the Western District of Pennsylvania, in Pittsburgh
"My favorite part of law school was the practical opportunities it afforded me, from immigration legal aid to a year of trial experience in the Prosecution Clinic. I will also never forget being a part of the winningest trivia team at the law school (self-declared)." 
Eric Reissi
Entering the class: University of Miami graduate, former Marine captain and first-generation college (and law) student from Boca Raton, Florida
After graduation: Will work for law firm Bilzin Sumberg in Miami
"I genuinely enjoyed my law school experience here at UVA Law. I have grown intellectually and professionally over the past three years, and I look forward to representing this institution with pride throughout my career. As excited as I am to begin practicing law, I will certainly miss my time here. I have built personal and professional relationships that will last me a lifetime, and I look forward to continuing to build a strong cohesive network in South Florida and beyond."
Founded in 1819, the University of Virginia School of Law is the second-oldest continuously operating law school in the nation. Consistently ranked among the top law schools, Virginia is a world-renowned training ground for distinguished lawyers and public servants, instilling in them a commitment to leadership, integrity and community service.