From a Galaxy Far, Far Away to Law School
Former Disney Cast Member Ryan Kurtiak '23 Channels Creativity at UVA
The Force is strong with Ryan Kurtiak: The second-year University of Virginia School of Law student who worked at Walt Disney World as a "Star Wars" villager and grew up wanting to design theme parks saw law school as a way to channel his creative energy.
Kurtiak, a native of Greensboro, North Carolina, earned his bachelor's degree in contemporary European studies and political science at the University of North Carolina.
At UVA Law, he has served on the editorial board of the Virginia Journal of International Law, as vice president for communications for the Federalist Society chapter and as a research assistant for Professor Aditya Bamzai. He also competed on the Extramural Moot Court team his 1L year and serves as director of training for the team.
In our occasional series "Star Witness," Kurtiak discussed working in his childhood dream job, being a part of the Extramural Moot Court team, and how he and his classmates made a fashion statement in Torts class.
Why law school?
Long before I wanted to go to law school, I wanted to be a theme park designer. I was attracted to the creativity and storytelling that these designers employ on a daily basis to create whole new worlds for visitors to explore. But at the same time, I've always had a desire to help people and tackle the actual problems facing them. Throughout my undergraduate studies, I took law-related classes, such as a comparative constitutional law class and a criminal law class while studying abroad in Scotland (where law is an undergraduate program). I saw how the law affected people's everyday lives and the impact I could have as a lawyer. At some point I realized that these two sides of me — the creative and the practical — were not at odds. The advocacy that lawyers do is fundamentally grounded in imagining unique ways to apply legal principles and precedents to new problems. And lawyers often use storytelling to advocate for their clients. While I may not be designing castles and roller coasters in law school, I do get to approach real-world problems with creativity, and that's what I always wanted. 
Tell us about working at Walt Disney World. 
I worked for Walt Disney World as a cast member right after I graduated from college in 2019 until starting law school the following year. I began my time there as a part of the opening team for Star Wars: Galaxy's Edge, where I was an in-character native of an alien planet, complete with my own backstory. Really my role there was all about guest experiences, solving any issues the guests may have had and ensuring that they had the best possible visit. But I have to say, it was pretty cool to clock in everyday in the Millennium Falcon and to have stormtroopers as my co-workers. 
Working at Walt Disney World was a childhood dream come true, but I also gained invaluable experience while there. I learned what it takes to provide Disney-level customer service, which is the gold standard for the industry. But the things everyone wants to hear about are the behind-the-scenes stories and secrets. Yes, there really are underground tunnels beneath the Magic Kingdom. And a special paint shade called "Go Away Green" is used to make whole buildings disappear from the view of the average guest. But there really is only one Mickey Mouse.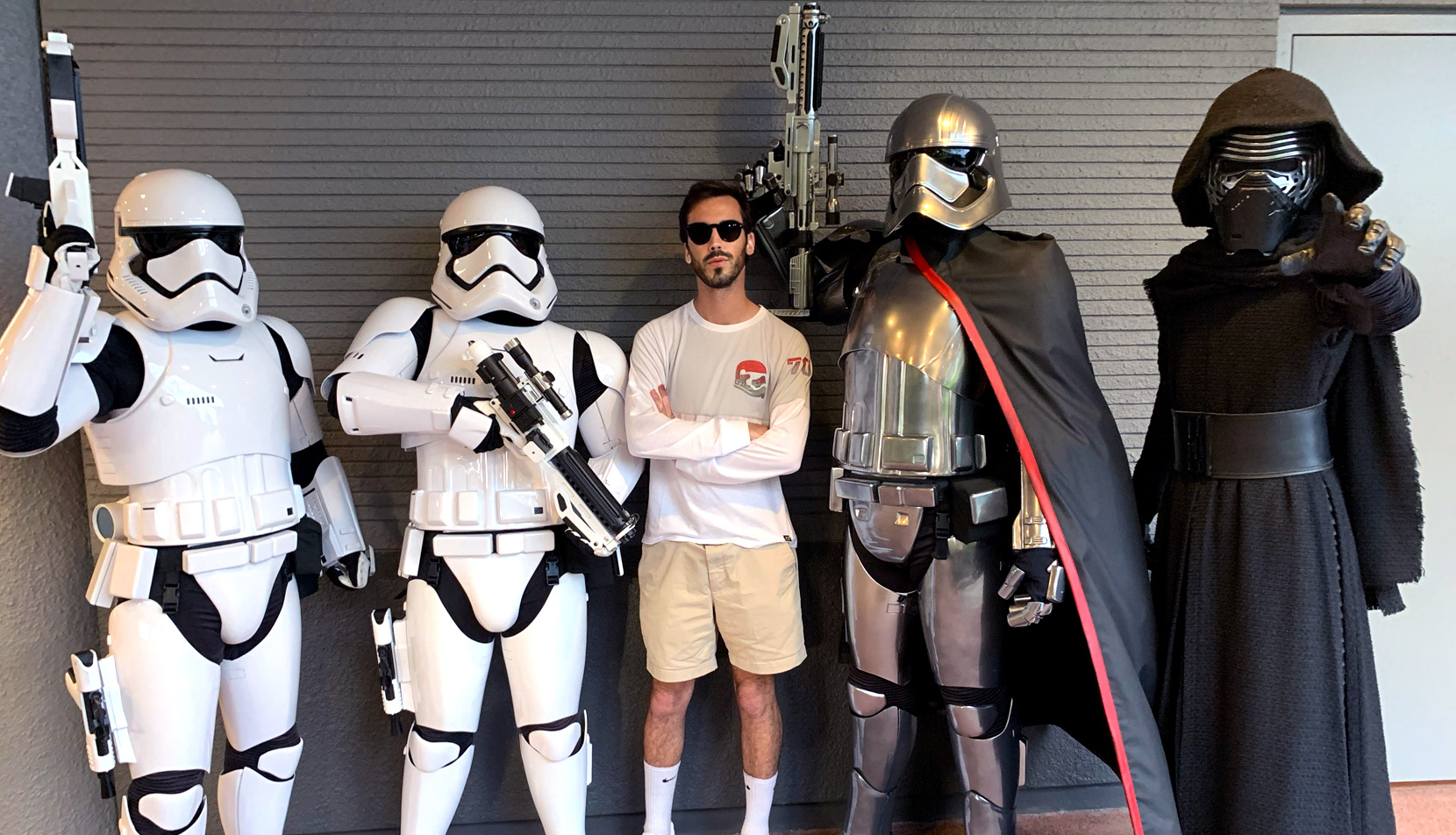 Ryan Kurtiak worked as a cast member at Star Wars: Galaxy's Edge at Walt Disney World. Courtesy photo
Describe your most interesting law school experience. 
My most interesting experience in law school is probably the phenomenon that became "Torts and Jorts." My section had Torts as one of our small-section courses in my 1L fall. About halfway through the semester, someone suggested we all attend Torts wearing jean shorts, aka "jorts." So, I bought a pair and on one October day, I and most of my section showed up wearing jorts. After that, the theme changed weekly — there was Sports and Torts (team jerseys), Resorts and Torts (Hawaiian shirts), and Morts and Torts for Halloween. While our professor may have found us strange, even he dressed up with us for Halloween as the negligent farmer from Vaughn v. Menlove, a classic case taught in Torts. While Torts and Jorts might not have taught me anything about legal practice, it was an experience I will never forget from my first year in law school. 
My most rewarding academic experience has been the ongoing trainings for the Extramural Moot Court team. As both a 1L and now in my capacity of director of training for the team, I have gotten to hear both Professor [Scott] Ballenger and Cate Stetson speak on brief-writing and oral advocacy. Each of their experiences in the field of appellate litigation is renowned, and both are masterful instructors. These trainings were not only pivotal in my own moot court competition success but foundational in how I approach persuasive legal writing and argumentation.
What's something your classmates don't know about you? 
I love to bake — especially French breads and pastries. I've been slowly making my way through a French cookbook "Julie & Julia"-style. Among other things, I've made baguettes, croissants, pain au chocolat and madeleines.  
What's next for you?
This summer I am excited to be working as an associate at Kilpatrick Townsend in Atlanta. I'm hopeful to work with a variety of practice groups, but I am particularly interested in intellectual property. To me, it is such a unique field because of its foundations dating back centuries, yet it is constantly adapting as technology develops. And after taking a survey course in intellectual property and competing in a moot court competition that centered around copyright law, it's definitely something I could see myself pursuing after law school.
Founded in 1819, the University of Virginia School of Law is the second-oldest continuously operating law school in the nation. Consistently ranked among the top law schools, Virginia is a world-renowned training ground for distinguished lawyers and public servants, instilling in them a commitment to leadership, integrity and community service.