The University of Virginia's Law School dean will leave the post at the end of the academic year, concluding an eight-year tenure marked by prolific faculty hiring, record-breaking fundraising and several enhancements to the student experience.
Risa Goluboff made the announcement Thursday. Her final day as dean will be June 30 but she will remain at UVA to teach.
"Risa's tenure as dean has been truly extraordinary, and I'm incredibly grateful for her years of service to the Law School and to the University," said UVA President Jim Ryan '92. "She has strengthened the school immeasurably by investing in faculty, students and academic programs, with a special focus on accessibility, inclusivity and the student experience. At the university level, her leadership chairing the Deans Working Group in the wake of the August 11 and 12 tragedy led to important University-wide changes, and her service to the Karsh Institute of Democracy as vice chair of the board has been invaluable."
He continued: "I'm heartened that she will continue to bring her considerable talent and expertise to the Law School after stepping down as dean, and that her contributions will continue to benefit the Law School community for generations to come."
Executive Vice President and Provost Ian Baucom, who served alongside Goluboff as dean of the College of Arts & Sciences before taking on his current role, praised Goluboff for her service.
"I have had the good fortune to work alongside Risa Goluboff as a dean colleague and as provost, and I am deeply grateful," Baucom said. "Her ability to think critically about complex issues and to translate this to its practical applications is exceptional. Risa has been a remarkable leader for the Law School, and she has strengthened the entire University."
Baucom and John C. Jeffries Jr. '73, the David and Mary Harrison Distinguished Professor, a former Law School dean and counselor to Ryan, will co-chair the committee that will conduct a national search for Goluboff's successor. Full details on the committee and search process will be announced soon.
A prominent legal historian who joined the faculty in 2002 and became dean in 2016, Goluboff is the Arnold H. Leon Professor of Law and a professor of history whose scholarship and teaching focuses on American constitutional and civil rights law. She is the author of the award-winning books "Vagrant Nation: Police Power, Constitutional Change, and the Making of the 1960s" and "The Lost Promise of Civil Rights." Goluboff is a member of the American Academy of Arts and Sciences and the American Law Institute, and a 2011 winner of the University's All-University Teaching Award.
"It has been a true privilege and an immense pleasure to lead this historic institution," she said. "The extraordinary accomplishments of our students, faculty, staff and alumni, and the robust community we share, are a source of unending pride. I will continue over the coming months to put all of my energies into ensuring that this law school remains at the pinnacle of legal education, and I look forward to returning to the faculty that has sustained me for so long."
Goluboff made history as the 12th — and first female — dean of UVA Law. Her tenure has been marked by a hiring spree so extraordinary that it caught the attention of legal academics on X, formerly known as Twitter, with 34 new faculty so far. In addition to recruiting star faculty from top schools across the country, Goluboff harnessed the intellectual firepower of longstanding and new professors by establishing 13 new centers to facilitate and promote their scholarship. As a result, the Law School made significant gains on common metrics of scholarly impact.
The school also has captured accolades such as the Princeton Review's ranking as No. 1 law school for Best Quality of Life every year of Goluboff's deanship. The Law School is also top 5 in Best Career Prospects, Best Classroom Experience, Best Professors and Best for Federal Clerkships.
In 2018, UVA Law graduates Martha '81 and Bruce Karsh '80 helped Goluboff make fundraising history at the Law School when they became its first $50 million donors. Their gift created the Karsh-Dillard Scholarships, endowed professorships, and established the Karsh Center for Law and Democracy. The Karshes later gave $50 million to UVA for the Karsh Institute of Democracy, for which Goluboff serves as advisory board vice chair.
The Karshes' gift kicked off the Law School's portion of the Honor the Future capital campaign. Over the past four years, more than 70% of alumni have given to the campaign, which has raised more than $373 million toward its $400 million goal and is scheduled to conclude in 2025. During Goluboff's deanship, the school's endowment has grown 76%, to more than $831 million today.
"Our dedicated and generous alumni have made possible all that we have accomplished over the past seven years," Goluboff said. "It has been a joy to get to know so many of our graduates and to see the obvious affection they have for this institution."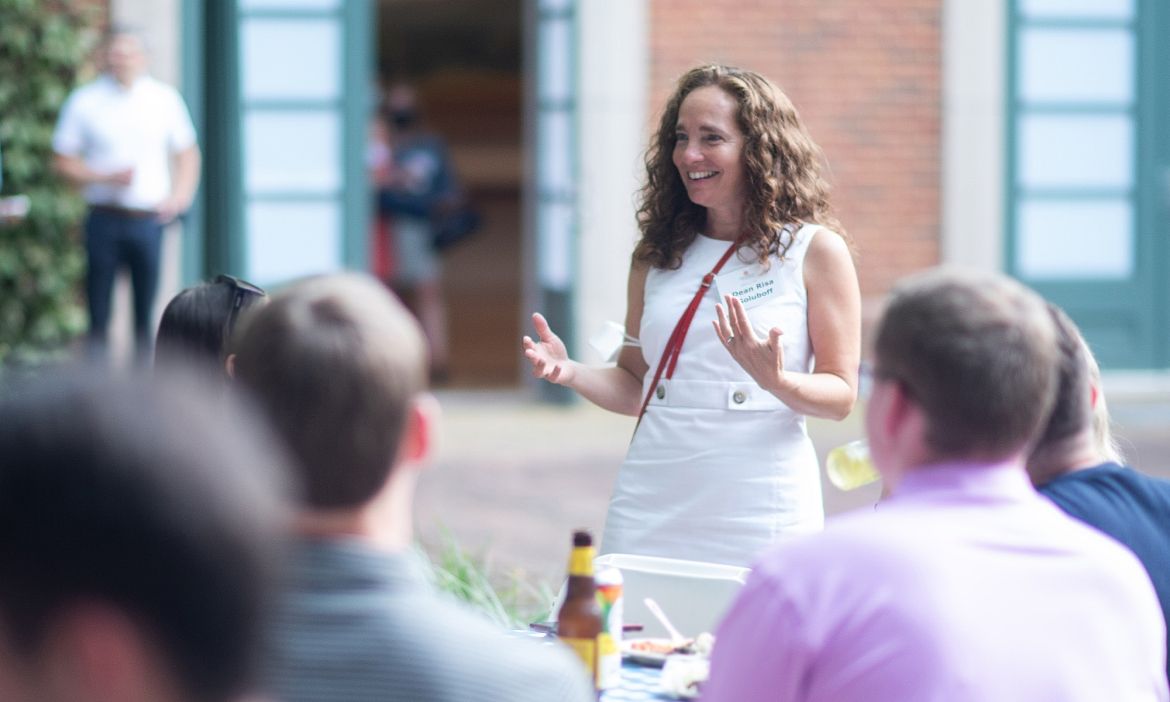 The school has long touted its three-legged stool of private-sector careers, public service and clerkships placement, but during Goluboff's tenure, it notched new records and accomplishments in each area. In public service, the school expanded its Virginia Loan Forgiveness Program, which aids graduates pursuing public service and lower-paying careers; significantly increased funding for summer and postgraduate public service internships; grew the number of clinics to 24; and established the full-tuition Virginia Public Service Scholarships.
The school is No. 4 in alumni obtaining federal clerkships for the classes of 2019-22, and has for many years been in the top 5 in the nation for graduates earning Supreme Court clerkships. In the latest data reported by the American Bar Association, the school was No. 1 in the percentage of graduates obtaining full-time, long-term jobs that require bar passage, considered the gold standard for law graduate employment.
In a national effort to improve access to legal education, Goluboff helped launch in 2022 the innovative Roadmap Scholars Initiative, which provides extensive financial and academic support to low-income and first-generation undergraduates seeking a path to an elite legal education.
Goluboff also helped shepherd the Law School and University through some tragic and challenging times. In the wake of the August 2017 white supremacist violence at the University and in Charlottesville, she spearheaded the UVA Deans Working Group that analyzed what went wrong and recommended corrective actions, policy changes and new programming and investments for the University. During the COVID-19 pandemic, she steered the Law School through the numerous changes required to keep the school open and provide a hybrid curriculum that allowed for both in-person and online learning.
"I've seen our community respond with extraordinary resilience and humanity to some of the most difficult events of our time. It made me prouder than ever to lead this Law School," Goluboff said. "Our students, faculty and staff rely on and learn from each other every day. That is core to who we are."
In addition to forging a path ahead, Goluboff has also honored the Law School's past. In 2018, the school established the Gregory H. Swanson Award, given to students in honor of the first Black student at the Law School and at UVA. The school also commemorated Elaine Jones, who became the school's first Black female graduate in 1970, with a scholarship in her name.   
Goluboff also broadened the Law School's reach through her social-media presence and the podcast "Common Law," which she has co-hosted through five seasons. Despite the increasing demands on her schedule at UVA and her leadership in numerous national organizations, she still dedicated time to teach.
"I love teaching, I love our students, and I love this law school," Goluboff said. "It is an enormous privilege to help our students transform into lawyers and our faculty transform the law. It was the people who first drew me to UVA, and it is the people who have lifted up the Law School and sustained me ever since."
Founded in 1819, the University of Virginia School of Law is the second-oldest continuously operating law school in the nation. Consistently ranked among the top law schools, Virginia is a world-renowned training ground for distinguished lawyers and public servants, instilling in them a commitment to leadership, integrity and community service.