Roadmap Scholars Initiative

About
It is critically important that the lawyers, leaders and public servants UVA Law trains both embrace and reflect the diversity of our nation and the globe. The Law School launched the Roadmap Scholars Initiative in February 2022 to help build a pipeline for undergraduate students from every background into the legal profession.
Purpose
The UVA Law Roadmap Scholars Initiative supports undergraduate sophomores interested in pursuing careers in the legal profession. The program's goal is to expose participants to the law, law school and the legal profession, and to help them become competitive applicants to any of the nation's top law schools. A strong preference is given to applicants who are first-generation college students, students with limited financial resources, and/or students who are interested in pursuing a legal career but lack access to opportunities to learn about law school, the admissions process and the legal profession. Qualified applicants will be selected from a national pool and must show a record of high academic achievement, convey a passion for being challenged as a learner, and demonstrate a commitment to community service.
Program Overview
Summer I: Introduction to Law School and the Legal Profession
The Roadmap Scholars Initiative brings the scholars to Charlottesville for four weeks of the summer prior to their junior year of college to introduce them to law school and the myriad career opportunities the legal profession offers. Students take mini-courses on a broad range of legal topics from the law school curriculum. They learn about the legal profession from alumni and other practitioners through talks, brown-bag lunches, and receptions, as well as during field trips to local and regional law firms, government agencies, private companies, and legal nonprofits. They take an intensive mini-course on critical writing and research. And they demystify the law school application process by working with administrators to help them develop a personal roadmap to law school. Roadmap Scholars live on Main Grounds at the University of Virginia, with room and board provided. Scholars receive free travel to and from Charlottesville and a stipend in the amount of $3,000 to defray living expenses during the course of the program and to substitute for foregone summer employment income.
Junior Academic Year: LSAT, Applications, and Mentoring
For those Roadmap Scholars who successfully complete the summer program and elect to continue, the Roadmap Scholars Initiative will provide a stipend for an LSAT preparation course during the junior year of college. As Scholars prepare for the LSAT on their home campuses, the Roadmap Scholars Initiative will match each scholar with both a current UVA Law student mentor and a UVA Law alumni mentor. Each scholar will also benefit from the advice and counsel of a faculty mentor they identify at their home institution. The Roadmap Scholars Initiative director will hold monthly Zoom meetings with the scholars to maintain community within the cohort, to continue their exposure to law school and the legal profession, and to support scholars' progress on preparing for the LSAT.
Summer II: Sitting for the LSAT, Finishing the Application, Legal Internships
Roadmap Scholars who sit for the LSAT and who submit drafts of the written materials for their law school applications to the program director before the end of their junior year participate in an additional summer of programming that following summer. The Roadmap Scholars Initiative provides a two-week application boot camp in Charlottesville. Scholars then move to a legal internship at a private-, public- or nonprofit sector employer, with travel, housing and stipends provided. During their time in Charlottesville, scholars will prepare and polish law school application materials and participate in an orientation for their internships led by legal employers and recruiters. Scholars then complete their internships in legal markets nationwide, with employers providing travel, housing and stipends to their interns as well as appropriate professional supervision.
Ongoing Support
The formal portion of the Roadmap Scholars Initiative ends prior to the beginning of the participants' senior year of undergraduate study. We nonetheless anticipate and encourage continued contact between scholars, the program director, faculty mentors, UVA Law student and alumni mentors, and other Roadmap Scholars for advice and support throughout the law school application process. From selecting where to apply, to submitting applications, to deciding what law school to attend, the Roadmap Scholars Initiative will continue to be a resource and a guide. In addition to maintaining close ties with the Roadmap Scholars Initiative and scholar mentors, we expect scholars to help mentor succeeding cohorts. Our long-term vision is to create a community of scholars whose bonds remain strong across generations and who pay their experiences forward by becoming successful law students and lawyers and by acting as advocates for, and stewards and ambassadors of the Roadmap Scholars Initiative.
Program Director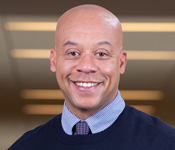 Mark C. Jefferson
Assistant Dean for Diversity, Equity and Belonging
roadmap@law.virginia.edu
Deans, Scholars Discuss Program Aimed at Putting Students on Path to Law School