Coppola, Dockery Win Semifinal Round of UVA Business Competition with 'PetroHedge'
Posted Nov. 17, 2009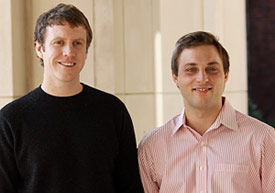 Clint Dockery (left) and Brian Coppola won
the Law School stage of the UVA
Entrepreneurship Cup.
Third-year law students Brian Coppola and Clinton Dockery bet on the economic opportunity offered by a volatile gas market and won the Law School stage of a university-wide business competition last week.
Coppola and Dockery will present their proposal for PetroHedge, a company that allows businesses and consumers to use derivatives markets to lock in current gas prices for future fuel purchases, during the finals of the UVA Entrepreneurship Cup at the McIntire School of Commerce on Friday.
There they will compete with students from the Curry School of Education, the Darden School of Business, the McIntire School of Commerce and the schools of Medicine and Engineering and Applied Science, on proposals ranging from a new kind of life preserver to a concierge service for young professionals (more). The winner will receive a $20,000 cash prize, with $10,000 for second place and $5,000 for third.
"The idea of allowing a consumer to lock in current gas prices was nothing new," said Dockery.
"There were several hurdles that we think kept people from launching in the past that we had to work around," Coppola said, including regionalized gas prices. "We think we have created a process that can actually deliver the service and make it profitable."
Companies with large fleets of vehicles, such as airlines, can now lock in fuel prices in the derivatives market in order to better control their costs and minimize wild fluctuations in their own prices.
"The ability to go into the market and lock in the current price per gallon of gasoline is not available to the medium or small business or to the individual consumer," Dockery said. "By offering what amounts to insurance against relative shifts in the national price of gas, PetroHedge can provide this service in a manner that's affordable to the everyday consumer."   
In practice, "they would have a debit card with a balance that mirrors shifts in gas prices that they would be able to use at gas stations across the country," Coppola added.
Dockery and Coppola both had experience working with start-up companies after college. Dockery, a Yale University graduate, worked for VideoGenesis, a business specializing in voice recognition of local and national newscasts, where he frequently pitched the concept to venture capitalists to raise capital.
After graduating from Penn State, Coppola started a textbook price comparison search engine, textbook411.com.
As roommates during the first year of law school, "We always kind of bounced around different ideas for companies," Coppola said.
The Law School competition was sponsored by the Law & Business Program and theVirginia Law & Business Review, with judging by Richard B. Morrow '82, a partner at Boulder Advisors; Charles R. Cory '82, managing director at Morgan Stanley; and Brian Kannry of Court Square Ventures.
Coppola and Dockery's presentation was "excellent," said Professor George Geis, director of the Law & Business Program. "The idea has been raised before, but they did a very nice job thinking through the project, anticipating questions from the judges, and communicating the complexities of the concept in an entertaining manner."
The team said they will use the feedback given by the judges to refine their proposal. They praised their competition at the Law School semifinals.
"We were honored to win," Dockery said. "Lawyers get a bad rap for lacking business savvy, but everyone presented interesting concepts and thought through how to create viable businesses."
Christopher Siebens '11 and Tim Nguyen '10 won second place for ShoutWhisper, a plan for a new form of e-mail that can be programmed to self-destruct, and third place went to Sarah Wu '11 for Shuo, a nonprofit Mandarin learning center for young children.
Coppola praised his teammate's pitch to the judges. "I think that was one thing that helped us in the competition and will hopefully help us in the next round."
The UVA Entrepreneurship Cup is a competition organized by the Office of the Vice President for Research and the Darden School of Business.
Richard Crawford, managing director of the Virginia Active Angel Network and chairman of the board of its management company, Virginia Investment Capital Group Inc., helped organize the Law School competition.
Founded in 1819, the University of Virginia School of Law is the second-oldest continuously operating law school in the nation. Consistently ranked among the top law schools, Virginia is a world-renowned training ground for distinguished lawyers and public servants, instilling in them a commitment to leadership, integrity and community service.