Professors Debate Climate Change Science, Policy
The ongoing debate over man-made global warming came to Caplin Pavilion on Oct. 11, as skeptics and advocates discussed the science and policy implications of climate change.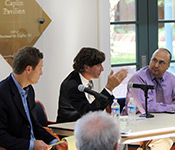 Climate scientists Andrew Dessler from Texas A&M and Richard Lindzen from the Massachusetts Institute of Technology debated the scientific evidence, and Law School professors Jonathan Cannon and Jason Johnston discussed public policy implications.
Dessler began the debate by showing a line graph documenting rising global surface temperatures over the past 150 years. He said other independent evidence corroborates that data.
"Why are scientists so confident that the earth is warming?" Dessler asked. "It's because we have lots of data." He cited findings from surface thermometers, satellites, glacier and ice melt, ocean temperatures and rising sea levels.
He said the Intergovernmental Panel on Climate Change calls that evidence unequivocal, and that there is irrefutable evidence that CO2 warms the earth.
"It's a question of magnitude," he said.
The combination of CO2 with other warming factors such as humidity and the resulting cloud formation provide a recipe for global warming, according to Dessler. He also dismissed the idea that evidence for anthropogenic climate change is based on hypothetical models rather than existing data.
Finally, Dessler criticized the "doubt agenda," likening efforts to discredit global warming to those employed by groups that denied the correlation between smoking and cancer. Climate change deniers, like defense attorneys, need only create doubt, he said.
Lindzen began by claiming that scientists and policymakers misrepresent the debate.
"The debate is not about whether it is warming or not, or even about whether man is contributing some portion of whatever is happening," Lindzen said. "Here we agree. The issue is how much. Is it a matter, or should it be a matter, of concern?"
The problem among scientists, Lindzen said, is one of amplification of the findings. He characterized the findings of global warming advocates as "alarming."
"One has to distinguish between small and large changes… but that it's settled science should be offensive to any sentient individual," he said. The models used by scientists are "exaggerating [global] warming," according to Lindzen.
"The claim of incontrovertibility is far more suspicious than the claim of doubt," he said. "Arguing from authority is commonplace in this field, and obviously you should look at the scientific data and reasoning and even elementary logic."
He criticized the use of phenomena such as ice depletion and melting glaciers as proof of climate change. "[They] are complex phenomena having many causes. "
"The conflation of the existence of climate change — which after all is unquestionable, it's always occurred — with anthropogenic climate change is, of course, misleading," he said.
Finally, Lindzen condemned the scientific culture that has sprung up around the arguments for anthropogenic climate change. "By definition, nothing in science is incontrovertible and especially in a primitive and complex field like climate. Incontrovertibility belongs in religion where it is referred to as dogma," he said.
Cannon said that from a public policy perspective, it's prudent to begin measures to combat man-made climate change, such as a cap-and-trade program or a carbon tax, with the idea that they can be altered as the science dictates.
"We do our best to assess the risks, taking into account the uncertainties as we are able to understand them. We make a judgment about what risks we are willing to accept, and we work within that judgment to try to establish a policy that will limit risks to that level," Cannon said.
Johnston took an economist's view, and said there are too many unknowns to justify potentially harmful policy changes.
"By determining that potential harm we can strategize to reduce or eliminate that harm. Economists have come to think that with climate change we can't really do that," he said.
"We don't know the probabilities that different things might happen and we really don't know the magnitudes." The state of the art for predicting the economic effects of catastrophic climate change is very bad, Johnston said.
The event was sponsored by the Virginia Environmental Law Journal and the Virginia Environmental Law Forum.
Founded in 1819, the University of Virginia School of Law is the second-oldest continuously operating law school in the nation. Consistently ranked among the top law schools, Virginia is a world-renowned training ground for distinguished lawyers and public servants, instilling in them a commitment to leadership, integrity and community service.