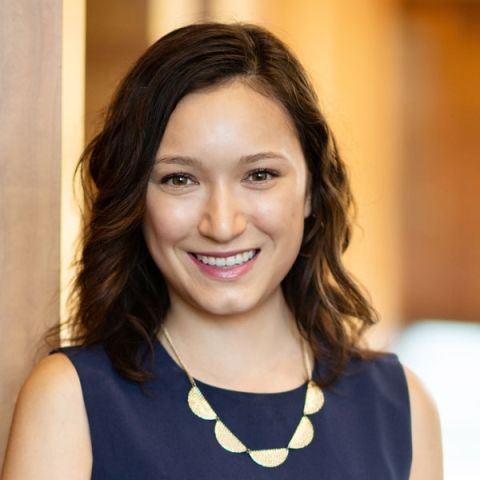 Aspen Ono
Hometown
Anywhere and nowhere, USA
Hometown: Anywhere and nowhere, USA. I moved a lot as a child, with stops along the way in Madison, Wisconsin; Missoula, Montana; and Atlanta. 
Who I was then: In the years leading up to law school, I was in Vancouver, Canada, working on my master's degree in environmental science and policy at the University of British Columbia during the week and skiing on the weekends. As my time there was coming to a close and COVID was shutting the world down, I found myself trying to decide whether to continue on into a Ph.D. program or come to law school. One of my thesis advisers, a superstar environmental rights lawyer, encouraged me to pursue a law degree so that I could better understand environmental law and policy from a practitioner's point of view, and that's exactly what I did. 
Amazing law school class: Frankly, there hasn't been a dud in the bunch. But I particularly enjoyed my work with the Environmental Law and Community Engagement Clinic. Professor Cale Jaffe gave me the opportunity to work on Supreme Court amicus briefs and to work with and learn from inspirational clients like the members of the nonprofit AMMD Pine Grove Project. Being able to apply my growing legal skills to real-world matters and work with and for real clients was a welcome and fulfilling challenge. 
Outside class: I served as the secretary and then the diversity, equity and inclusion co-chair for Virginia Law Women, secretary for Women of Color, outreach chair for the Virginia Environmental Law Forum, and a member of the 2023 Community Fellows class. I particularly loved getting the opportunity to represent and advocate for the women of the law school on matters including the provision of female hygiene products to advocating for diversity in the workplace. I've also had the opportunity to keep a foot in academia by collaborating on an article challenging the species conservation framework with Professor Michael Livermore, and on a book chapter with Professor Cale Jaffe exploring holistic environmental legal protections provided by the Clean Water Act. I'd be remiss in failing to note how grateful I am for my amazing law school friends who have stepped up and showed up for me time and time again over the past three years. 
Favorite outing/activity to unwind: My law school stress relief has been hiking: from exploring the Blue Ridge and Shenandoah mountains with my pandemic puppy, Mochi, to completing the Salkantay trek in Peru last summer, I love nothing more than walking it out in nature.
Noteworthy summer job: I loved both of my summer jobs. I spent my 1L summer as a judicial intern for Judge Dana Christensen at the U.S. District Court in Missoula, Montana, where I had the opportunity to observe court proceedings and work on endangered species cases. I then spent my 2L summer at the D.C. office of the environmental law firm Beveridge & Diamond. As a certified eco-nerd, I enjoyed working on climate change, water quality and environmental justice matters.
What's next: (job/location): I'll spend next year clerking for U.S. Judge Gina Mendez-Miro at the District of Puerto Rico. Then, I'll return to Virginia the following year to clerk for a UVA alum, U.S. Judge Robert Ballou, at the Western District of Virginia District Court. After that, I plan to head out West to work for the environmental law firm Beveridge & Diamond in their San Francisco office.
Who I am now: UVA's faculty and students certainly taught me how to think, read and speak like a lawyer. But more importantly, I think the people here have helped ground me in foundational principles of equity, justice and compassion. Just as President Jim Ryan likes to say, UVA strives to not only make its students great, but also good. And while I have learned many practical skills at UVA Law, my friends and mentors have always reminded me to hold onto my core values. So who am I now? I hope I have retained my values, passions and morals. But what I can say is these last three years have enriched my life with wonderful people who are shining examples of what it is to be an extraordinary mentor, friend, listener, scholar and advocate.
What you should know about Virginia Law: I won't lie, law school is stressful. You will lose sleep, dry out hundreds of highlighters, and stress-eat thousands of free popcorn and goldfish snacks from Student Affairs. But at UVA Law, you'll be facing those challenges with a built-in family and team. From people cheering you on after a hard cold call to grabbing coffee with a classmate with whom you fundamentally disagree, the people at this school will respectfully challenge you and raise you up. They will not only inspire you to be better — if you're open to it, they will make you a better lawyer and a better person.