The Class of 2017: The Stories Behind the Graduates
#UVALawGrad Ceremony Details, Plus Tales From the Class and Speaker Catherine Keating '87
#UVALawGrad on Social Media
We're using the tag #UVALawGrad and #UVAGrad to track social media on the commencement ceremony this weekend. We'll share a selection of posts on our Wakelet page.
---
Sibling Rivalry? Just the Opposite for These Graduating Law Students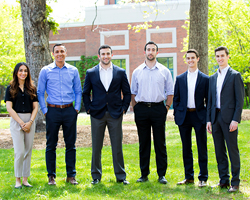 It's not unusual for members of the same family to attend law school at the same time. But it's a rare event when three sets of siblings graduate at the University of Virginia School of Law in the same year — the Class of 2017 has only about 300 J.D. students — and even rarer when the class includes two sets of identical twins. More
 
Graduate Puts 'Having It All' to the Test — and Passes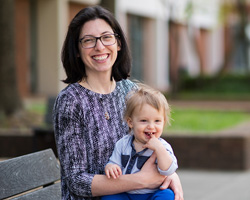 Casey Trombley-Shapiro Jonas, an enthusiastic advocate for women's rights, chose to add a sweet little challenge to her three-year law school experience. She became a mom midway through her studies. "Law school with a baby is harder than law school without a baby," said Jonas, whose son, Coplan, turns 1 on May 23. More
 
Learning To Wield 'a Powerful Instrument': Legal Studies Transform Ajani Brown '17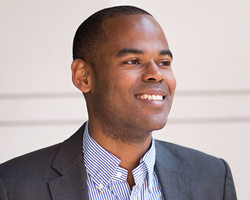 Ajani Brown first became interested in the idea of pursuing law as a career in high school, when he volunteered at the Legal Aid Clinic of Northwest Texas. The would-be clients were grateful to him just for filling out preliminary forms to hand to an attorney. "At that point I realized that law was a really powerful instrument that affected people's lives, and I really wanted to be a part of it," said Brown, who is from Dallas. More
 
Graduating UVA Law Student Built Solidarity: Jasmine Esmailbegui '17 Promoted Diversity, Service to Others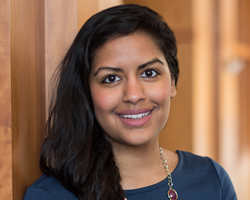 During her first week of law school, Jasmine Esmailbegui went to the annual student activities fair and signed up for every organization that promoted women's interests and LGBT affinity. "I wanted to get involved in those [groups] so that the students who come here will feel comfortable here and know that they will always have friends or community to go to," she said. More
 
Meet Commonfund CEO Catherine M. Keating '87, UVA Law's Commencement Speaker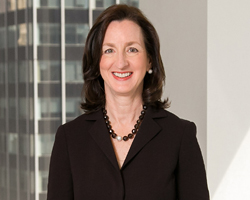 During her career, Catherine M. Keating, a 1987 graduate of the University of Virginia School of Law, has been in charge of hundreds of billions of dollars in investment assets for clients. That's "billions" with a "b." More
 
 
Amber Strickland '17 Wins Virginia State Bar Association's Oliver White Hill Award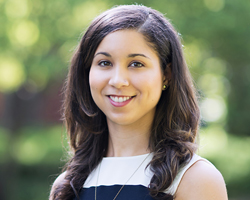 "Amber is a pioneer, a leader and a team player — a student whose efforts and achievements have elevated our institution," Bowers said. "She is much more than an excellent student and a committed public servant. She is a wonderful and decent person, and I am confident that she's going to be a prosecutor of the same conscience, character and caliber. Really, there are not enough superlatives to adequately describe her." More
More News From the Class of 2017
360° of the Holcombe T. Green Lawn
Founded in 1819, the University of Virginia School of Law is the second-oldest continuously operating law school in the nation. Consistently ranked among the top law schools, Virginia is a world-renowned training ground for distinguished lawyers and public servants, instilling in them a commitment to leadership, integrity and community service.