Financial confidence is essential to students entering public service careers. At UVA Law, we build confidence by providing students support every step of the way: full-tuition scholarships, guaranteed summer fellowships, interview travel funding, postgraduate fellowships, and a generous loan forgiveness program. Keep reading to learn more about what we offer and contact us if you have questions.
Virginia Public Service Scholarships
Created in 2017 with flagship endowment funds established by Tim '83 and Lynne Palmer, Dave Burke '93, and Ted '92 and Keryn Mathas in honor of former professor Bill Stuntz '84, the Virginia Public Service Scholarships reflect UVA Law's commitment to advancing justice through the work of public service lawyers. Each year, two or more exceptional J.D. students in the incoming class will be awarded a full-tuition scholarship to support their studies at UVA Law. Scholars are selected based on their commitment to practicing as public service attorneys immediately after graduation, academic excellence, and potential for leadership. All applicants to UVA Law are considered. 
In addition to receiving specialized mentorship and counseling, scholars are admitted to the Program in Law and Public Service (LPS). Both Virginia Public Service Scholars and their fellow LPS members play a key role in shaping the public service community at UVA Law.  
Summer Fellowships
Virginia Public Interest Interviewing Program (VPIIP)
Students traveling 90 miles or more to interview with public service employers for internships and jobs may get reimbursed up to a certain amount for travel costs through the Virginia Public Interest Interview Program (VPIIP).  VPIIP is open to 2L and 3L students. More
Postgraduate Public Service Fellowships
Awards
The Law School offers a number of awards for students doing public service work. More
Virginia Loan Forgiveness Program
The Virginia Loan Forgiveness Program enables graduates to pursue public service careers and practice in underserved parts of Virginia. More
Summer Fellowships
Public Interest Law Association (PILA) Grants
Administered by the Public Service Center and the Public Interest Law Association, this program provides grants to law students who accept low-paying or unpaid public service summer internships. The pre-tax amount of these grants has recently been increased to $4,000 for 1Ls and $7,000 for 2Ls, beginning with the 2021 grant cycle. Funding comes from student fundraising efforts, faculty, alumni and community donors. In 2020, PILA distributed more than $710,351 to 168 grantees. PILA Grantee Job Locations
PILA Grant Applications (Due Feb. 12, 2021)
Katherine and David deWilde '67 Public Interest Summer Fellowship
Provides financial support to outstanding University of Virginia law students promoting the protection of civil liberties, human rights, and the rule of law in public service internships. Generally, two J.D. students will be selected each year for fellowships ranging from $5,000-$10,000 each. More
Squire Patton Boggs Foundation Public Policy Fellowship
Provides one or two students with up to $5,000 in summer funding for public service internships in domestic or international public policy. Applications are collected in March and recipients are selected by the end of the month. More
Justice John Paul Stevens Fellowship
Provides $5,000 to three students or $7,500 to two students to work in public interest legal internships over the summer with a governmental agency or a nonprofit organization for a minimum of ten weeks. Fellowships will not be awarded to judicial interns. Applications are accepted in March and recipients are selected at the end of March or beginning of April. More
Mortimer Caplin Public Service Fellowship
Provides summer fellowships to exceptional law students who accept low-paying or unpaid public service internships.
Linda Fairstein Public Service Fellowship
Provides summer fellowships to exceptional law students who accept low-paying or unpaid public service internships.
Understanding Loan Forgiveness
Students and alumni can view a presentation by the Financial Aid Office on how the Virginia Loan Forgiveness Program works. More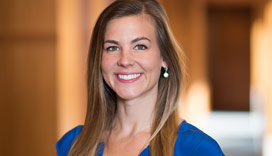 Paving the Way for Public Service
"The guaranteed funding for public service work at UVA has relieved some of the financial stress that can result from pursuing a public service career. Additionally, the counselors at the PSC have been really wonderful about identifying additional sources of funding that are available — both internally and externally — based on my specific career path and personal characteristics."
—Jennifer Popp '18