More than 22.4 million Asian Americans and 1.4 million Pacific Islanders call the United States home, and at least 60,000 attorneys, judges, law professors and law students are of Asian or Pacific Islander heritage, according to the National Asian Pacific American Bar Association.
In honor of Asian American and Pacific Islander Heritage Month, learn more about 20 recent Asian American and Pacific Islander graduates of the University of Virginia School of Law who are prominent in their fields.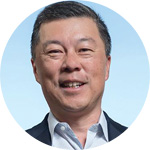 Shortly after graduating from UVA Law, a friend convinced Don Yee '87 to represent a college football player who was preparing for the NFL draft, setting up the origin story for one of the most influential sports agents of the modern era. One of his subsequent clients was not selected until the 199th pick of the 2000 draft. But that client, Tom Brady, is now arguably the greatest quarterback of all time. In addition to his sports practice at Yee & Dubin Sports, Yee is an adjunct professor of law at the University of Southern California Law School and has been a lecturer at UVA Law.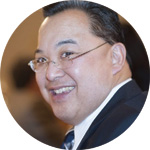 As a cerebral palsy patient, Randall Dong '90 has experienced many of the hardships that people with disabilities suffer daily, including physical barriers to access, inadequate accommodations for disabilities, overly restrictive limitations on health care coverage and everyday indignities. In 2020, he was appointed legal director of Disability Rights South Carolina, an independent, statewide nonprofit that protects and advances the legal rights of people with disabilities.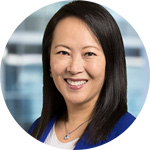 Catharina Min '90 and her family emigrated from South Korea when she was 12. Drawn to law as one of the few threads that bind together a multicultural society, Min took her talents to Northern California by joining the Cooley law firm after graduating from UVA Law as a Double Hoo. From there, she moved to South Korea for 4½ years to work as a U.S. lawyer for a Korean firm, helping the likes of Samsung, Hyundai and SK do deals all over the world. She is currently a partner in Covington & Burling's Palo Alto office. Min and classmate Judy Lee formed the Asian-American Law Students Association in 1989, now known as the Asian Pacific American Law Students Association, or APALSA.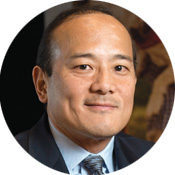 Michael Wu '92 is chief legal officer of L Brands, which includes Bath & Body Works and Victoria's Secret. Previously, he was chief legal officer or general counsel of Madewell; Carters Inc., an American children's clothing company; Rosetta Stone, where he oversaw the company's initial public offering; and Teleglobe International Holdings.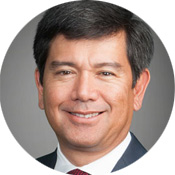 Double Hoo Mark Brazeal '93 is chief legal officer of Broadcom. Previously he served as the chief legal officer and senior vice president of intellectual property licensing for SanDisk Corp. Before turning to in-house counsel roles, he worked in the transactional and IP groups of Wilson Sonsini Goodrich & Rosati in Palo Alto, California; Yuasa & Hara in Tokyo; and Howrey & Simon in Washington, D.C.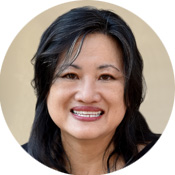 Double Hoo Wendy Wan-Long Shang '94 is an award-winning children's book author and the storyteller behind Corrine Tan, American Girl's 2022 Girl of the Year. Corrine was created in response to the rise in violence and discrimination against Asian Americans since the COVID-19 pandemic began. Shang's first book, "The Great Wall of Lucy Wu," is on the official reading list of nine states.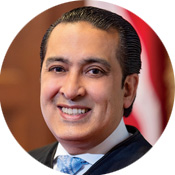 John B. Nalbandian '94 is a federal judge on the Sixth U.S. Circuit Court of Appeals. Nalbandian's mother was born in a Japanese American internment camp during World War II. Before joining the bench, Nalbandian was a partner in the Cincinnati office of Taft Stettinius & Hollister.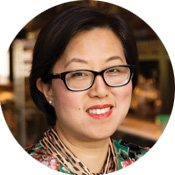 As deputy general counsel at the Department of Homeland Security under Janet Napolitano '83, Leezie Kim '96 helped work on the Deferred Action for Childhood Arrivals program. Earlier in her career, she served as Napolitano's general counsel when Napolitano was governor of Arizona and was the first Asian American partner in the history of her firm, Quarles & Brady Streich Lang. Currently, Kim is the chief legal officer of Fox Restaurant Concepts, a James Beard-nominated restaurant incubator company that operates more than 50 restaurants in the U.S.
Yuji Iwasawa S.J.D. '97 used his UVA legal education to serve his country on the world stage. He was elected in 2020 to a full nine-year term on the U.N. International Court of Justice in the Hague, after serving the remaining two years of his predecessor's term. The ICJ settles disputes between states in accordance with international law and gives advisory opinions on international legal issues. Previously, Iwasawa twice served as chair of the U.N. Human Rights Committee.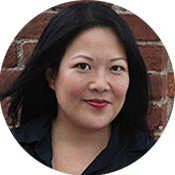 Helen Wan '98 wrote "The Partner Track," a novel about a Chinese American law firm star who finds herself in the midst of a clash of race, class and sexual politics. The book is in production as an original Netflix series. Wan is a public speaker on diversity and inclusion, and her work has appeared in The Washington Post, HuffPost, The Daily Beast, CNN.com and elsewhere. Wan is associate general counsel at Hachette Book Group.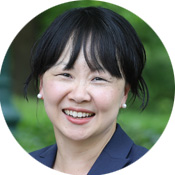 Annie Kim '99, the Law School's assistant dean for public service and director of the Program in Law and Public Service, is also an award-winning poet for her collections, "Eros, Unbroken" and "Into the Cyclorama." She was president of APALSA during her third year at UVA Law.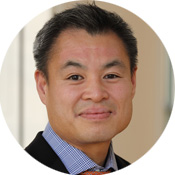 A Triple Hoo, Chinh Q. Le '00 served as legal director for the Legal Aid Society of the District of Columbia for 10 years. Before that, he led the New Jersey attorney general's office's enforcement of state and federal civil rights and family leave laws and served as assistant counsel at the NAACP Legal Defense and Educational Fund Inc. In 2019, UVA Law honored his commitment to public service with the Shaping Justice Award for Extraordinary Achievement. As an adjunct professor at UVA, Le teaches Law Reform and Impact Litigation, and Public Interest Leadership.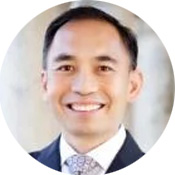 Another Triple Hoo, Nathaniel Vitan '00 is senior vice president, chief legal officer and corporate secretary of Public Storage, the world's largest owner, operator and developer of self-storage facilities. Before joining Public Storage, he was assistant general counsel for litigation for Altria Client Services and an attorney with Latham & Watkins.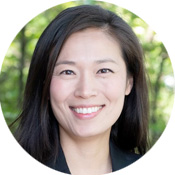 A first-generation Korean American and Double Hoo, Jasmine Yoon '06, is serving as acting University counsel at UVA. Before returning to serve her alma mater, Yoon was a white-collar prosecutor for the U.S. Attorney's Office in the Eastern District of Virginia. She joined the Law School Foundation before moving to the University counsel's office.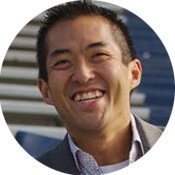 While working as an associate at Dewey & LeBoeuf in New York, Brian Leung '08 would blog about Virginia Cavalier athletics on his own sports blog, Streaking The Lawn. STL, spawned from Leung's Twitter account, is now owned by Vox Media. Leung left private practice to work in the general counsel's office for Vox Media while continuing to manage STL, only stepping down as the site's manager in April. He is now senior vice president and deputy general counsel at Vox. Leung is the author of "100 Things Virginia Fans Should Know & Do Before They Die."
Grace Fu '09, general counsel of KAYAK and OpenTable, addressed the Class of 2024 at their orientation. She has also served as chief legal officer at Barneys New York and as deputy general counsel at Revlon Inc. and Tiger Management.
Nitin Shah '09 served as general counsel of the U.S. General Services Administration, the central procurement agency for the federal government. As GSA's chief legal officer, Shah oversaw all legal matters arising before the 12,000-employee agency and managed a nationwide office of 170 attorneys and staff. In January he received the Law School's Shaping Justice Award for Extraordinary Achievement. He is currently the director of global regulatory affairs for Shopify.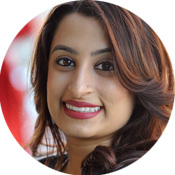 As counsel for United Sikhs, Anisha Singh '12 founded the group's National Anti-Bullying Campaign and won a historic case against the U.S. Army for a young man rejected by ROTC because of his turban and beard. She most recently served as director of judiciary and democracy affairs at Planned Parenthood Federation of America, and her advocacy work also has included immigration, gun violence prevention, AAPI engagement, race and ethnicity, religion, employment discrimination, labor, civil rights and international criminal justice. She has taught a public opinion course at New York University-D.C., has hosted progressive radio and writes a travel blog. In 2016, Singh was named one of Forbes Magazine's "30 under 30″ for law and policy. Note: Singh was named executive director of the Sikh Coalition on May 18, after this story posted.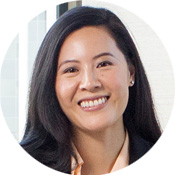 Irell & Manella partner Elizabeth Tuan '13 helped win a $752 million patent infringement verdict in favor of the Sloan Kettering Institute for Cancer Research and Juno Therapeutics Inc. The daughter of Taiwanese immigrants, Tuan studied molecular and cell biology at the University of California, Berkeley, before enrolling at UVA Law.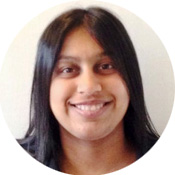 Sejal Jhaveri '15 is a trial attorney in the Voting Section of the Civil Rights Division of the U.S. Department of Justice, where she investigates and litigates violations of suffrage statutes such as the Voting Rights Act of 1965, the Help America Vote Act and the National Voter Registration Act. She was recognized with one of this year's Shaping Justice Rising Star Awards.
Know of more prominent AAPI alums? Contact @email so we can continue to tell their stories.
Founded in 1819, the University of Virginia School of Law is the second-oldest continuously operating law school in the nation. Consistently ranked among the top law schools, Virginia is a world-renowned training ground for distinguished lawyers and public servants, instilling in them a commitment to leadership, integrity and community service.