Members of the University of Virginia School of Law community have recently been singled out for excellence. Among the accolades, Annie Kim '99, assistant dean for public service, won the 2021 Library of Virginia Literary Award for poetry at a virtual ceremony Oct. 16.
The award recognized Kim's poems in the book "Eros, Unbroken," which explores the complicity between art, intimacy and violence between two musicians in 18th-century Spain. Kim's first collection, "Into the Cyclorama," won the Michael Waters Poetry Prize, and "Eros, Unbroken" won the Washington Poetry Prize and was a finalist for the 2020 Foreword INDIES Poetry Book of the Year.
The Library of Virginia established its annual Literary Awards program in 1997 to honor Virginia writers and celebrate their contributions to the literary landscape of the state and the nation, according to the organization's website.
Kim directs the Mortimer Caplin Public Service Center and the Program in Law and Public Service at the Law School.
Stevenson Elected to ALEA Board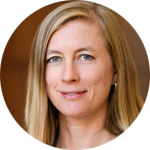 Professor Megan Stevenson was elected to the American Law and Economics Association board of directors, effective Sept. 1. The association is dedicated to the advancement of economic understanding of law and related areas of public policy and regulation.
Stevenson, an economist and criminal justice scholar, has conducted empirical research in various areas of criminal justice reform, including bail, algorithmic risk assessment, misdemeanors and juvenile justice. Her research on bail was cited extensively in a landmark federal civil rights decision, O'Donnell v. Harris, and has received widespread media coverage.
Women's Bar Association Recognizes Goluboff
The Women's Bar Association of the District of Columbia honored Dean Risa Goluboff at its Stars of the Bar event Sept. 22, at which Goluboff and other honorees spoke. This year's theme was "Getting Back to Basics," recognizing women for being first in their respective roles. Goluboff became the Law School's first female dean in 2016.
Student Wins Education Writing Award
Third-year law student Chris Yarrell won the Education Law Association's George Jay Joseph Writing Award in September for his paper "Reviving Rationality and the Federal Role in Education." The award recognizes an outstanding student manuscript addressing one or more legal issues within any of the various contexts of education, including public and private K-12 schools and institutions of higher education, especially current and emerging issues. He was recognized at ELA's conference in October.
Yarrell is a Virginia Public Service Scholar, a full-tuition award given for recipients' academic excellence, leadership potential and commitment to public service immediately following graduation.
Excited & honored to have been selected as this year's George Jay Joseph Education Law Writing Award winner.

I'm deeply grateful for my @UVALaw faculty mentor, @ProfKJRobinson, whose support has been truly invaluable.

The essay will be published in @JLED_at_uofsc next spring! pic.twitter.com/S2t0iereVr

— Chris Yarrell (@chris_yarrell) September 12, 2021
Fore Named Center for Teaching Excellence Fellow
Professor Jore Fore '11 joined UVA's Center for Teaching Excellence as a 2021-22 Faculty Fellow in July. Faculty Fellows work alongside full-time center faculty to help support the center's core mission of improving teaching and learning at the University. Responsibilities include conducting instructional consultations with other instructors, leading workshops, developing resources, and supporting and developing programming.
Fore is co-director of the Law School's Legal Research and Writing Program.
We'd like to introduce the CTE's newest Faculty Fellows: Marina Escámez Ballesta of @UVA_College - Spanish, @Joe_Fore of @UVALaw, and Ann Reimers of @UVAEngineers! Our team can't wait to work with and learn from you! #facultyfellows pic.twitter.com/Ltz2G0XfTU

— UVA Center for Teaching Excellence (@cte_uva) August 19, 2021
Shalf Appointed to Community Action Agency Board
Charlottesville City Council appointed Professor Sarah Shalf '01, to the Monticello Area Community Action Agency board on Sept. 20. MACAA's goal is to eradicate poverty, primarily through education. The agency operates Head Start and Early Head Start, and also runs programs to support low-income families and prospective first-generation college students.
Shalf, who serves as director of clinical programs at the Law School and leads the Community Solutions Clinic, will advise and support the agency related to its programs, events, fundraising and policies.
Student Paper on Fiduciaries Recognized
Third-year law student Christopher Benos received an honorable mention from the 2021 Mary Moers Wenig Student Writing Competition. "Trust Protectors as Fiduciaries: Three Approaches and Beyond the UDTA" examines the role of trust protectors as fiduciaries under various state approaches and suggests improvements to the Uniform Directed Trust Act. Entries are judged by members of the American College of Trust and Estate Counsel Foundation's Legal Education Committee.
Students Raise $3,306 for Refugees
Students raised $3,306 through a bake sale and collecting donations Sept. 6-10 for the International Rescue Committee to help resettled Afghan refugees in the Charlottesville area. The Muslim Law Students Association partnered with the Middle Eastern and North African Student Association, American Constitution Society for Law and Policy, International Refugee Assistance Program and National Lawyers Guild for the fundraiser.
#UVALaw students raised $3,306 through a bake sale and collecting donations this month for @RESCUEorg to help resettled Afghan refugees in the Charlottesville area. pic.twitter.com/Bj7HuiizJz

— UVA Law School (@UVALaw) September 21, 2021
Founded in 1819, the University of Virginia School of Law is the second-oldest continuously operating law school in the nation. Consistently ranked among the top law schools, Virginia is a world-renowned training ground for distinguished lawyers and public servants, instilling in them a commitment to leadership, integrity and community service.