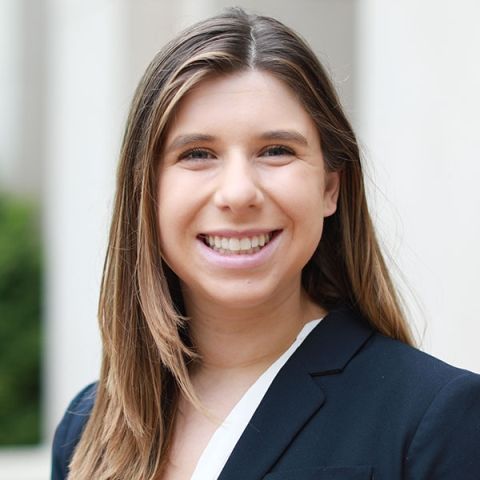 Hometown: Atlanta
Who I was then: I graduated from the Batten School at the University of Virginia in 2020. I loved Charlottesville too much to fathom leaving — I still feel that way! — so it was an easy call to stay for three more years.
Amazing law school class: I can't pick just one! I loved Federal Courts with Payvand Ahdout, Class Actions with Scott Ballenger, Civil Rights Litigation with Thomas Frampton, and Religious Liberty with Micah Schwartzman ['05]. I also had a really great experience with my independent study, and would definitely encourage anyone who, like me, has a never-ending list of grievances about the law to write about them — and get credit for it!
Outside class:  I served as articles development editor for the Virginia Law Review and co-chair of the Graduation Committee. I was a research assistant for Professors A. E. Dick Howard, Sai Prakash and Payvand Ahdout. I was also a Law Ambassador, and co-chair of Admitted Students' Weekend. Getting to meet prospective students was definitely one of my favorite parts of law school.
Favorite outing/activity to unwind: I got a puppy last summer, and have been loving taking him to all of my favorite Charlottesville spots. He notoriously loves to get pup cups at Shenandoah Joe. My goal for 3L year was to visit every coffee shop in Charlottesville, and I'm proud to say I only have a couple left on my list. It's been a fun way to explore Charlottesville away from Grounds.
Noteworthy summer job: I spent my 1L summer interning for Judge James Boasberg on the U.S. District Court for the District of Columbia. I'm incredibly grateful to have gotten to learn from Judge Boasberg and his clerks, and to have gotten courtroom experience my first summer.
What's next: (job/location) I'll return to Williams & Connolly in D.C. next fall, then will clerk for Judge Stephanie Gallagher on the U.S. District Court for the District of Maryland in 2024 and for Judge Albert Diaz on the Fourth Circuit in 2025.
Who I am now: I never expected to like law school as much as I did. As excited as I am for new adventures, I'm really sad that law school's over, and even sadder to leave Charlottesville. I've spent literally my entire adult life here, and really have started to call it home. With the help of so many people here, I figured out what I'm passionate about, and how to channel all that energy into something productive. I'd say it's been seven years well spent.
What you should know about Virginia Law: Around every corner here, you'll find people who want to cheer you on. Law school is hard, but it's a lot easier when you're surrounded by people who want you to succeed, and equally want you to be happy. It's probably clichéd to say that we really love each other here, but in my experience, it's true. That has made all the difference for me.