They shaped the University of Virginia School of Law, and they shaped current events — check out the top newsmakers and stories of 2017.
Former Professor Jim Ryan '92 Named UVA's Next President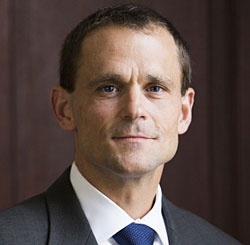 James E. Ryan, who graduated from UVA Law in 1992 and was a UVA Law professor for 15 years, will return to Charlottesville to take the helm as UVA president on Oct. 1.
At the Law School, he was founding director of the Program in Law and Public Service and served as academic associate dean (now called vice dean). Ryan has been dean of the Harvard Graduate School of Education since 2013.
Kirstjen Nielsen '99 Tapped for DHS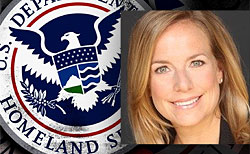 Kirstjen Michele Nielsen, a 1999 graduate of UVA Law, was nominated in October to be the next secretary of the U.S. Department of Homeland Security.
Nielsen is a cybersecurity expert who, pending confirmation, will leave her current position as a White House deputy chief of staff under John F. Kelly — the previous secretary of Homeland Security. She served as his second in command there as well, in the chief of staff role.
Dean Merrill Remembered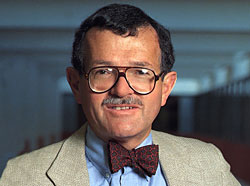 Former Dean Richard Merrill, who died Oct. 30 at age 80, was remembered by former students and colleagues not only as a mentor and innovator in education but also for his kindness and professionalism.
Merrill, whose expertise was administrative, environmental and food and drug law, was a member of the UVA Law faculty for 38 years — including as dean from 1980 to 1988 — before retiring in 2007.
Special Counsel Mueller Known as Lawman of Integrity
Before he was special counsel in the inquiry of Russian interference in the 2016 election, before he was FBI director and before he was a federal prosecutor, Robert S. Mueller III was a UVA Law student, graduating in 1973.
Former classmates remember how Mueller's time at UVA shaped him as a dedicated public servant, which he then conveyed back to the UVA Law community years later.
A Hero for Coed Education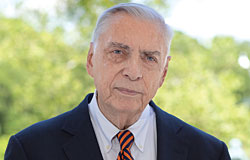 When attorney John Lowe '67 learned in 1969 from his employee Virginia Scott that UVA didn't fully accept women, he replied, "Well, then, we'll just have to take care of that."
So he filed suit, and Scott enrolled at UVA the following year as part of the first coed enrollment effort.
Lowe died Oct. 15 at age 80.
Jeffries Wins Jefferson Award for Scholarship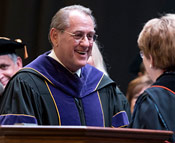 John C. Jeffries Jr. graduated first in his UVA Law class in 1973, received the Z Award for the highest academic average, was editor-in-chief of the Virginia Law Review and was dean from 2001 to 2008. At UVA's Fall Convocation on Nov. 3, he notched another achievement.
Jeffries received at UVA's Thomas Jefferson Award for excellence in scholarship, the highest honor given to a member of the University community.
Kendrick Named Vice Dean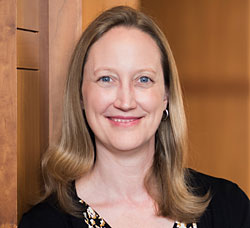 Professor Leslie Kendrick, an expert in free speech, torts, property and constitutional law and a 2006 UVA Law graduate, became vice dean July 1.
Kendrick succeeds UVA Law professor George Geis, who returned to teaching and researching full-time as the William S. Potter Professor of Law.
UVA Law Goes to Supreme Court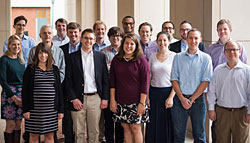 The Supreme Court Litigation Clinic will be participating in two cases this term at the U.S. Supreme Court. Professor Dan Ortiz argued before the court in the labor case Epic Systems Corp. v. Lewis in October, and the court will also hear another clinic case, City of Hays v. Vogt, dealing with Fifth Amendment rights, in January.
New Pro Bono Clinic Debuts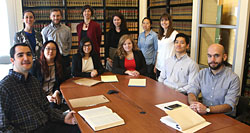 UVA Law students will gain practical experience working on civil rights and racial justice cases through a new pro bono clinic.
The Civil Rights Litigation Pro Bono Clinic, a partnership between the Law School and Charlottesville's Legal Aid Justice Center, received an $80,000 grant from the Jesse Ball duPont Fund. Students are working on civil rights cases involving topics found in many of today's headlines, such as policing and race, criminalization of poverty and mental health.
Innocence Project Client Released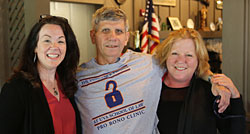 Emerson Stevens, a client of UVA Law's Innocence Project, walked out of the Greensville Correctional Center on May 19 a free man.
In 2016, the clinic was alerted to the existence of a box of documents pertaining to the investigation that Stevens' defense had not seen during the trial. According to the clinic, the documents included evidence of coercive police practices, witness statements that contradicted the prosecution's case and lists of additional witnesses that may have undermined the case.
Moore Celebrates 50 Years at UVA Law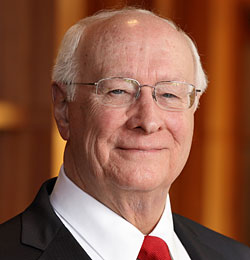 His work has explored boundaries of war and pathways to peace. Professor John Norton Moore is an influential figure in the realms of national security and oceans policy who is celebrating 50 years of teaching at UVA Law.
Having taken academic leave at various times in his career to serve in key government posts, Moore launched the U.S. Institute of Peace, led law-of-the-sea talks and was involved in drawing new boundaries for Kuwait following the first Gulf War.
UVA Law Stood Up for Charlottesville
During and after the Aug. 11-12 protests in Charlottesville, UVA Law community members discussed the troubling issues raised by the events and supported each other.
Versteeg Wins Carnegie Fellowship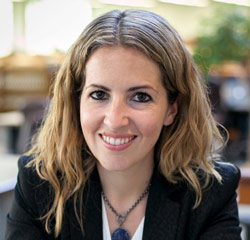 Mila Versteeg, a University of Virginia School of Law professor who studies the world's constitutions, was named a 2017 Andrew Carnegie Fellow in April.
Versteeg is one of 35 fellows nationally to each receive the $200,000 award, given by the Carnegie Corporation of New York to fund significant research and writing in the social sciences and humanities. The fellowship is the most generous stipend of its kind.
North Grounds Softball League Turns 40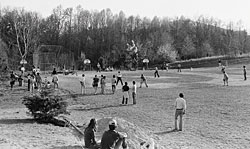 Everyone who has participated in the North Grounds Softball League has a memory. In honor of the 40th year of NGSL, which organizes regular-season play as well as the popular UVA Law Softball Invitational in the spring, past commissioners shared some of their favorite stories.
Project Eyes Criminal Justice Reform
A new project spearheaded by Professors Richard Bonnie, Brandon Garrett and John Monahan was launched this summer to improve the criminal justice system through the collection and analysis of criminal justice data.
The Virginia Criminal Justice Policy Reform Project will research — and encourage the adoption of — policies aimed at improving the fairness of criminal adjudication, preventing wrongful convictions, reducing recidivism, reducing costs, diverting low-risk offenders from jail or prison, and easing societal re-entry for the formerly incarcerated
Ginsburg Chooses Alumna for Clerkship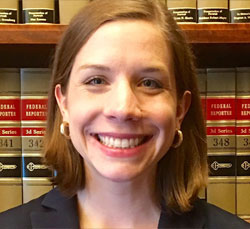 Katie Barber '15 interviewed with Supreme Court Justice Ruth Bader Ginsburg for a clerkship — and was hired on the spot. She will clerk during the 2018 term.
At the Law School, Barber served on the board of the Public Interest Law Association, was a member of the Program in Law and Public Service, served as a Peer Advisor and was a notes editor on the managing board of the Virginia Law Review, an experience she found "incredibly rewarding."
Indonesian Diplomat to Clerk for U.N. Court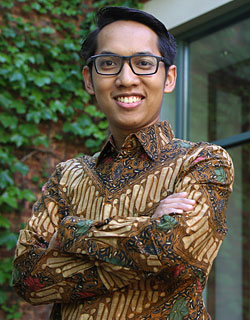 Gulardi Nurbintoro, a foreign diplomat from Indonesia and an LL.M. and S.J.D. graduate, will clerk at the International Court of Justice, the primary judicial branch of the United Nations, in the upcoming year. The Law School is one of a small group of leading academic institutions worldwide invited annually to submit candidates for the traineeship program.
Virginia Law Review Editor-in-Chief Named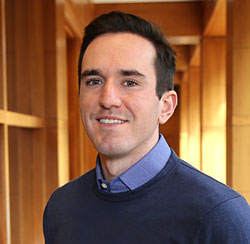 Daniel Richardson in February was named editor-in-chief of the Virginia Law Review, now in its 104th year of publication. He has served as president of the Virginia Employment and Labor Law Association and vice chair for career and alumni engagement for Lambda Law Alliance. After graduation, he will be clerking for Judge J. Harvie Wilkinson III '72 of the U.S. Fourth Circuit Court of Appeals.
New Books Published, Faculty Honored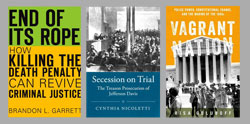 Professor Brandon Garrett's latest book, "End of Its Rope: How Killing the Death Penalty Can Revive Criminal Justice," analyzes why the death penalty is in decline and how that bodes well for criminal justice reforms in general. Professor Cynthia Nicoletti's "Secession on Trial" examines the politics and legal history of why Confederate President Jefferson Davis was never tried for treason.
Additionally, Dean Risa Goluboff's "Vagrant Nation," on the end of vagrancy laws, has been repeatedly honored with national book awards.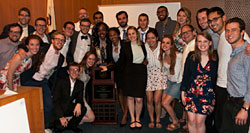 In other faculty news, UVA Law professor Toby Heytens '00 and numerous UVA Law community members coached UVA's undergraduate mock trial team as they won the National Championship Tournament in April in Los Angeles.
New Faculty Join UVA Law
2017 was homecoming for two new resident faculty members.
Crystal Shin, a 2010 UVA Law graduate with experience in child advocacy and special education law, was named the first full-time director of the Program in Law and Public Service. Dayna Matthew, a 1987 graduate and former assistant professor at UVA Law, returned in fall as a full professor.
Additionally, legal historian Farah Peterson will join the faculty as an associate professor after the New Year. Melody Barnes, a former White House Domestic Policy Council director, joined the Law School as a distinguished fellow.
Founded in 1819, the University of Virginia School of Law is the second-oldest continuously operating law school in the nation. Consistently ranked among the top law schools, Virginia is a world-renowned training ground for distinguished lawyers and public servants, instilling in them a commitment to leadership, integrity and community service.