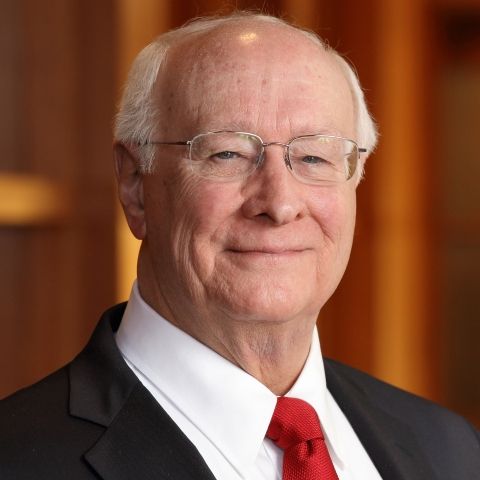 John Norton Moore
Walter L. Brown Professor of Law Emeritus
John Norton Moore, who joined the faculty in 1966, is an authority on international law, national security law and the law of the sea. He also teaches advanced topics in national security law and the rule of law. Moore taught the first course in the country on national security law and conceived and co-authored the first casebook on the subject. From 1991-93, during the Gulf War and its aftermath, Moore was the principal legal adviser to the Ambassador of Kuwait to the United States and to the Kuwait delegation to the U.N. Iraq-Kuwait Boundary Demarcation Commission.
From 1985 to 1991, he chaired the board of directors of the U.S. Institute of Peace, one of six presidential appointments he has held. From 1973 to 1976, he was chair of the National Security Council Interagency Task Force on the Law of the Sea and ambassador and deputy special representative of the president to the law of the sea conference. Previously he served as the counselor on international law to the State Department. With the deputy attorney general of the United States, he was co-chair in March 1990 of the U.S.-USSR talks in Moscow and Leningrad on the rule of law. As a consultant to the Arms Control and Disarmament Agency, he was honored by the director for his work on the ABM Treaty Interpretation Project. He has been a frequent witness before congressional committees on maritime policy, legal aspects of foreign policy, national security, war and treaty powers, and democracy and human rights. He has been a fellow of the Woodrow Wilson International Center for Scholars at the Smithsonian Institution.
Moore is a member of advisory and editorial boards for nine journals and numerous professional organizations, and he has published many articles on oceans policy, national security and international law.
Books
Textbooks
Book Chapters
Articles & Reviews
Reports & Datasets
Op-Eds, Blogs, Shorter Works
All Courses
Indochina War: Legal & Policy
International Law
National Security Law
Oceans Law and Policy
Rule of Law: Controlling Government in Contemporary Legal Thought (seminar)
War & Peace: New Thinking About the Causes of War and War Avoidance (seminar)
Education
LL.M.
,
University of Illinois College of Law
,
1965
LL.B.
,
Duke University School of Law
,
1962
A.B.
,
Drew University
,
1959
Expertise
International law

National security law

Law of the sea

Palestinian-Israeli conflict

War on terrorism

The Gulf War

War crimes

Conflict management

Terrorism

Nuclear weapons,

Central American conflict

Foreign affairs

Vietnam War

Intelligence

Constitutional law

Democracy and the rule of law