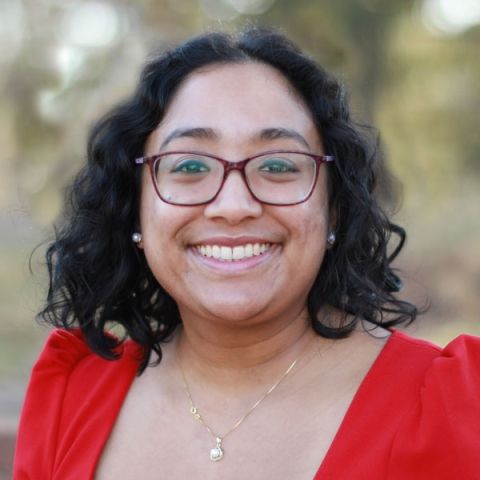 Sujata Bajracharya
Hometown
Hastings-on-Hudson, New York
Hometown: Hastings-on-Hudson, New York
Who I was then: I graduated from Barnard College in 2015, and went on to get my M.A. in religion from Syracuse University in 2017. After graduate school, I worked for a nonprofit called the Tanenbaum Center for Interreligious Understanding, doing diversity, equity, and inclusion consulting and training.
Amazing law school class: It's really difficult to pick a favorite! I loved Professor Andrew Block's Children and the Law and Professor Kim Forde-Mazrui's Racial Justice and Law, both classes I still think about a lot. I'm so grateful that Professor David Law and Professor Chinh Le co-taught Asian Americans and the Law this past fall — it was a great group of people and a fantastic opportunity to explore how intertwined Asian American history and American legal history are. I have also loved every class I've taken with Professor Rip Verkerke (Employment Law: Wage & Hour has proven particularly useful!) and Professor Annie Kim (for any public service-oriented students, the fellowships short course is really helpful even if, like me, you end up not going the fellowships route).
Outside class: I was a legal writing fellow for Professor Joe Fore, a professional programs co-chair for Virginia Law Women, the vice president for pro bono and later the vice president for career development for the Virginia Employment and Labor Law Association, a Law and Public Service Fellow, and on the editorial board of the Virginia Journal of Social Policy & the Law.
Favorite outing/activity to unwind: I loved going for tea at Twisted Branch Tea Bazaar and then browsing bookstores on the Downtown Mall. There are some really great bookstores, and the Virginia Festival of the Book is incredibly fun. I also loved going to see movies at the Paramount Theater when possible because it's a beautiful old theater. Charlottesville is a great town for bakeries, and I would take any excuse to eat Marie Bette pastries and bread.
Noteworthy summer job: I loved both my summer jobs! My 1L summer I was as a Peggy Browning Fellow at the National Treasury Employees Union, where I got work with both their Office of General Counsel and their D.C. field office. I spent my 2L summer with the Department of Labor's New York Regional Solicitor's Office and loved it. I got to see and be involved with the wide range of work that regional DOL offices take on, from wage and hour, to health and safety, to employee benefits work. Those experiences really solidified my commitment to labor and employment law.
What's next: I will be a clerk for the administrative law judges in the Office of the Chief Administrative Hearing Office, in the Executive Office of Immigration Review at the Department of Justice. I'm really excited to be working at the intersection of immigration and employment law!
Who I am now: I'm more confident in my abilities, particularly that I can be an advocate and creative legal thinker. Law school has made me think much more about how to be a clear and accessible writer, and taught me to become aware of and to let go of my assumptions when meeting and talking to new people.