Appellate Litigation Clinic
This clinic allows 12 students to engage in the hands-on practice of appellate litigation through actual cases before various federal circuit courts of appeals. The students are teamed up and assigned to handle primary responsibility for work on at least one appellate case during the course of the year. In addition, the students work together as a small law firm to provide secondary-level assistance to each other.
Clinic students identify the issues to be raised on appeal through factual analysis and legal research, prepare opening and reply briefs persuasively advocating for the client's position on those issues and, in a number of cases, personally present oral argument on the issues to the appellate court. Because of the requirements contained in the student practice rules at these courts of appeals, this clinic is only open to third-year students.
Students are expected to attend a weekly class that covers key topics of appellate practice and procedure, and will participate in group discussion of issues relating to the cases pending in the clinic generally. Student teams also meet individually with the clinic director for guidance on preparing the appeals for which they are primarily responsible. Finally, all students will have the opportunity to participate in multiple moot courts designed to enhance their argument skills.
Through this process, clinic students receive real, professional training in the arts of oral and written advocacy, as it is practiced in some of the highest courts in the nation. The clinic's caseload is expected to include both civil and criminal cases, as well as cases involving government agencies.  Occasionally, students will work on amicus briefs, petitions for rehearing and petitions for writs of certiorari.    
Building a Record of Success
During the 2015-16 academic year, all 12 students in the Appellate Litigation Clinic had the opportunity to present oral arguments for clinic clients before federal circuit courts of appeals. Six students argued before the Fourth Circuit in Richmond, three students argued before the Sixth Circuit in Cincinnati, two students argued before the Eighth Circuit in St. Louis, and one student argued before the U.S. Court of Appeals for the Armed Forces sitting in Charlottesville. The appeals argued included issues of constitutional law, immigration law, criminal law, federal civil and appellate procedure, sentencing, statutory interpretation and civil rights. 
"Having 100 percent of the students in the clinic be able to present oral arguments, in so many different federal courts of appeals, on such a wide variety of issues, made this the most successful year yet for the newly expanded Appellate Litigation Clinic," says Clinic Director Stephen Braga. According to Braga, the highlight of the year was a successful collaboration with the Immigration Law Clinic on an appeal to the Fourth Circuit that reversed a deportation order for a clinic client who had ample reason to believe he would be murdered if he was deported back to his country of origin, and so literally saved the client's life. (More)      
Skills Taught
Oral and written advocacy, appellate practice, research, petitions, preparing opening and reply briefs
Course Length
Meets
Course Credits
Application?
No
Instructors
Faculty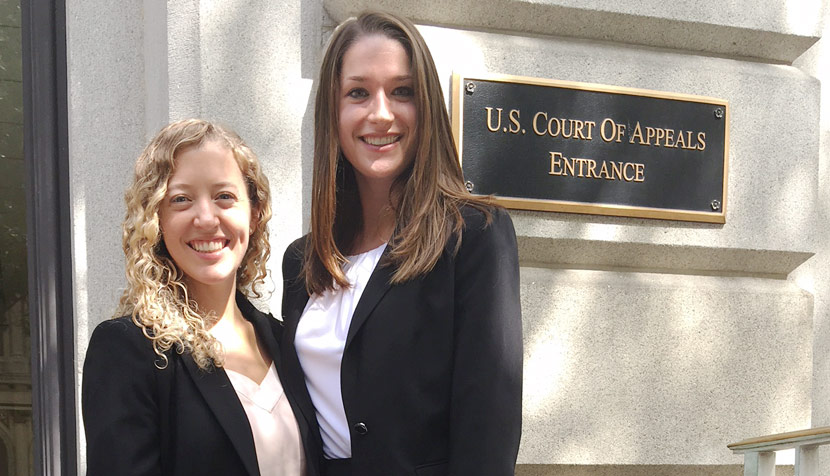 Burchard, Lineberry Help Ensure Sentencing Is Fair for Client
Academics