Each year, the University of Virginia School of Law accepts a small number of visiting scholars from around the world. Given the difficulty of choosing among many qualified applicants, we typically limit invitations to full-time academics currently affiliated with a university who have a special need for our library resources in order to complete a well-defined research project. In exceptional circumstances, we also will consider applications from judges, government officials, or practitioners who otherwise meet these requirements.
Please note that our visiting scholar program is not open to students currently pursuing doctoral or other degree programs at other academic institutions, whether in the United States or abroad.  Such candidates are invited to consider applying for admission to our LL.M. program.
Under our program, visiting scholars have access to the Law School's library facilities, to the legal research services such as Westlaw, Lexis, and Bloomberg, and to the resident faculty. Scholars may also informally audit up to two Law School courses each semester, provided there is room in the desired courses after degree-seeking students have completed registration. Please note that our visiting scholars pay research tuition and fees. For 2022-23, this fee is $9,600 per year or $4,800 per term.
Those interested in being considered for participation in the program should send an email to graduatestudies@law.virginia.edu with their curriculum vitae, proposed dates of residence, an outline of their proposed research program, at least one letter of recommendation printed in letterhead and signed with a pen (wet signature), and recent (no more than two years old) English proficiency test scores (TOEFL or IELTS accepted), please refer to this page for minimum scores required.
Your research proposal and letters of recommendation can be addressed to:
Chair of the Graduate Studies Committee
c/o Graduate Studies Office
University of Virginia School of Law
580 Massie Rd.
Charlottesville, VA 22903-1738
Applications for the Visiting Scholars Program must be received by March 1 for the following academic year or part thereof. Invitations are usually made in April or May.  Candidates who require an earlier response in order to meet the requirements of their prospective funding source, such as the China Scholarship Council, should clearly state in their cover e-mail the date by which they require an answer, and ensure that their application is complete at least 6 weeks prior to that date.
Graduate Studies Office
University of Virginia School of Law
580 Massie Road
Charlottesville, Virginia 22903-1738
Telephone: (434) 924-3154
Fax: (434) 982-6682
e-mail: graduatestudies@law.virginia.edu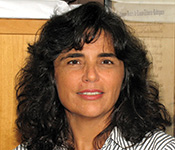 "I know many other libraries, both in the U.S. and in Europe, and I have no doubt to affirm that UVA's law library was the best I have ever known, not only because of its collections but mainly because of the fantastic librarians who helped me a lot during the completion of my LL.M. and S.J.D. degrees."
—Carmen Tiburcio LL.M. '87 S.J.D. '98, Brazil