The Law School prides itself on providing learning experiences that stretch beyond the classroom and give students practical experience and insight into the way the law functions.
 
Principles and Practice Program
Virginia's Principles and Practice Program, a curricular innovation that was the first of its kind in the country, offers courses designed to give students the opportunity to apply legal theory in real-life situations. The program teams law professors with practitioners, judges and other distinguished professionals for a semester or more. Lauded by students and practitioners alike, the program melds the insights of theory with those of contemporary practice, giving students a more sophisticated and useful understanding of a field than either perspective can yield on its own.
Principles and Practice Courses
Short Courses
In addition its regular semester- or yearlong courses, the Law School offers a variety of intensive short courses that allow students to focus on specific subjects ranging from Islamic Law to the finance of small enterprises. Often taught by practicing lawyers, these courses allow students to spend anywhere from a few days to a few weeks studying real-world problems with some of the top practitioners and scholars in the field.
Elective Courses
Professors also find ways to bring in practical experiences into regular courses that don't include a particular focus on real-world lawyering. For example, Professors John Monahan and Richard Bonnie bring guest speakers in law, policing and medicine into their Current Issues in Law and Psychological Science course (offered during the 2017-18 school year).
Simulation Courses
The following is a list of simulation courses offered during 2018-21. Numbers in parentheses indicate which academic year(s) the courses were offered, i.e.,  2018-19 is coded (19), 2019-2020 is coded (20), and 2020-2021 is coded (21). (SC) stands for short course and (YR) stands for yearlong.
Advanced Criminal Law: From Theory to Practice (19)
Advanced Criminal Procedure Seminar (19,20,21)
Advanced Legal Argument (SC) (20)
Advanced Legal Research (19,20,21)
Advanced Verbal Persuasion (19,20,21)
Alternative Dispute Resolution in the Workplace (20) 
Appellate Practice (19)
Balancing Public Safety and Civil Liberties: Law Enforcement Policy-Making (21)
Bioethics and Law Internship Seminar: Health Policy and Administration (19,20,21)
Border Policy and Politics (20,21)
Business Reorganization Under Chapter 11 (19,20,21)
Commercial Arbitration (19)
Computational Text Analysis for Legal Practice (SC) (20,21)
Conservation Planning and Law (19,20,21)
Corporate Social Responsibility (SC) (19,20,21)
Deals (21)
Defining Leadership Moments (SC) (19,21)
Drug Production Liability Litigation: Principles and
   Practice (19,20,21)
Electronic Discovery (19,20)
Emerging Markets: Principles and Practice (19,20)
Employment Law: Principles and Practice (19)
Estate Planning: Principles and Practice (19,20,21)
Federal Criminal Pre-Trial and Trial Practice (19,20,21)
Federal District Court Practice (SC) (19,21)
Federal Litigation Practice (19,20,21)
Federal Regulation of Investment Companies (SC) (19)
Gender-Based Violence: US Law and Policy (20)
Government Ethics: Conflicts of Interest, Lobbying and Campaign Finance (20,21)
Gun Legislation and the Second Amendment (SC) (20)
Hallmarks of Distinguished Advocacy (19,20)
Human Rights Study Project (YR) (19,20)
Innovating for Defense (20,21)
Internal Investigations (SC) (21)
International Business Negotiation (19,20,21)
International Tax Practicum (19,20,21)
Juvenile Justice Seminar (20)
Law and Psychology of Dispute Resolution (SC) (19,20,21)
Law of Public-Private Partnerships (21)
Legal Research and Writing I (19)
Legal Writing Fellow (YR) (20,21)
Legislative Drafting and Public Policy (19,20,21)
Litigation Skills and Professional Liability Law (20,21)
Medicare Practice Seminar (21)
Music Law: Analytical and Client Management Skills (SC) (21)
Negotiating a Joint Venture in China (SC) (19,20,21)
Negotiating Constitutions (SC) (20)
Negotiation (19,20,21)
Nonprofit Organizations: Principles and Practice (19,20,21)
Oral Presentations Outside the Courtroom (19)
Oral Presentations In and Out of the Courtroom
   Seminar (20,21)
Persuasion (SC) (19,20,21)
Pretrial Litigation Skills: Civil Rights (20,21)
Professional Liability (19)
Public Interest Law and Advocacy Skills (19,20,21)
Real Estate Transactions and Litigation (20,21)
Regulatory Law and Policy (19,20,21)
Rhetoric Seminar (19,20,21)
Rules (19)
Sanctions and Boycotts (SC) (20,21)
Securities Litigation and Enforcement (20,21)
Startup of a Medtech Company (SC) (19,20,21)
Taking Effective Depositions (19,21)
Tax Treaties and Other International Topics (19,21)
The Business of Banking and Prudential Regulation (SC) (20,21)
Topics in Private Company Acquisitions (SC) (19,20,21)
Transactional Approach To Mergers and Acquisitions (21)
Trial Advocacy (19,20,21)
Trial Advocacy College (SC) (19,20)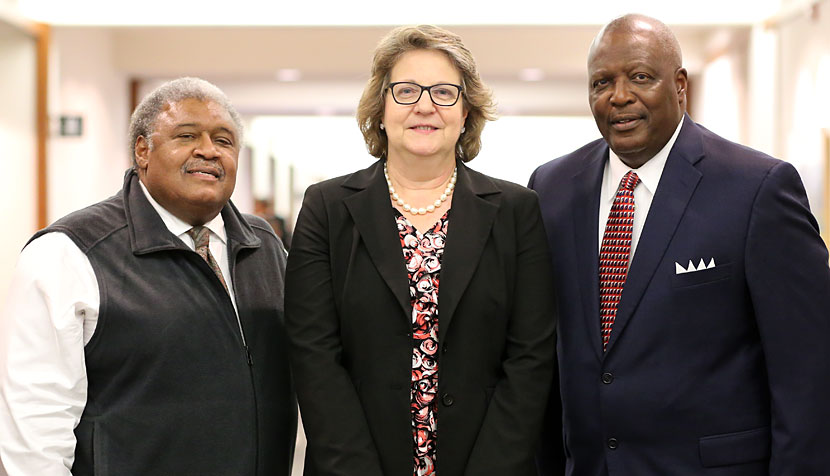 Teaching the Art of the Appeal
Three of Virginia's most accomplished legal minds are introducing University of Virginia School of Law students to the art of the appeal in a new seminar.
Retired Supreme Court of Virginia Justice John Charles Thomas '75, retired U.S. Judge James R. Spencer and current Virginia Senior Assistant Attorney General Virginia B. Theisen are presently teaching Appellate Practice. The three-credit fall course is designed to instill in law students the skills required to make them effective advocates at the appeals level.